Laura Rives
VP of Sales and Marketing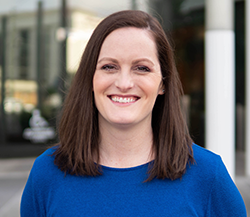 Email: laura.rives@hannonhill.com
What do you do for Hannon Hill?  
As VP of Sales and Marketing, I am responsible for expanding Hannon Hill's amazing portfolio of clients. And we do that by sharing our passion and expertise with organizations that will benefit from our product suite.
Why do you work at Hannon Hill?  
I work for Hannon Hill because of its progressive culture embedded in hard work and mutual respect. At Hannon Hill, all employees have a voice and we work as a team to ensure a high level of customer satisfaction.
Superpowers at work:  
At work, I enjoy research and uncovering market insights. I am a curious person and have a genuine interest in coming up with creative solutions for web and content marketing challenges.
Superpowers outside of work:  
At home, I enjoy spending quality time with my husband and young daughter. We're perfectly happy to put on loud music and sing and dance in the living room.
Best advice you've ever received:  
The best advice I've ever received is to question the status quo and approach tasks and challenges in a way that's appropriate for the current situation. Don't do something one way just because that's how it has always been done.
What do you do for fun?  
For fun we take the baby to the park, the mall, or Target (my favorite!). We also love to visit family in Florida.
If you didn't work in technology, what would you be doing?  
If I didn't work in technology, I'd probably work for a public relations firm or advertising agency.
Favorite quote:  
"It's hard to beat a person who never gives up."
- Babe Ruth