Meg O'Connor
Support Specialist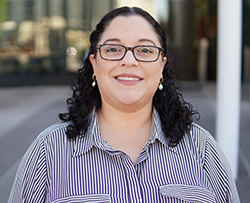 Email: meg.oconnor@hannonhill.com
What do you do for Hannon Hill?
I'm a Support Specialist with the Product Support team. When I'm not answering questions or troubleshooting problems for our customers, I'm improving our product knowledge bases and promoting cool new features.
Why do you work at Hannon Hill?
Every one of my teammates at Hannon Hill is as serious about customer satisfaction as I am. And we're all as ready to support and collaborate with each other as we are with our customers.
Superpowers at work?
I think support work is itself a superpower. Often it takes real creativity and critical thinking to interpret unique problems and find solutions for them.
Superpowers outside of work?
I've successfully picked up all kinds of skills from YouTube. How to knit, how to make brioche, how to change the headlights on a 2007 Toyota Yaris (it's harder than you think). Absolutely anything you might want to learn, someone out there is willing to share their knowledge.
Best advice you've ever received?
Don't stop at treating people the way you want to be treated; treat them the way they want to be treated.
What do you do for fun?
Knitting, baking, curling up with a book and cup of tea. And when I'm not being a homebody I'll go for a walk in nature.
If you didn't work in technology, what would you be doing?
I think I would be a reference librarian. I worked in the library through college and never had a dull day.
Favorite quote
"Listening fast, and caring immediately, is a skill in itself."
- Amanda Palmer