Centralized vs. Decentralized Web Governance - What's Right for You?
By Laura Rives — Dec 6, 2018 11:00 AM
The topic of web governance has moved beyond buzzword status and is now a must-have framework for web teams of all sizes. It requires thoughtful hard work that may feel like a distraction from a more apparent need, but you must forge on and determine who's really in charge, how decisions will be made, and how web success will be measured.
Web Governance Overview
In our experience working with hundreds of web teams over the past 17 years, we've discovered that it's not uncommon for organizations to lack a unified response to the following questions:
Who is ultimately responsible for the web strategy?

What is the decision-making process for defining or augmenting the web strategy?

What are your web goals and who is responsible for creating / managing / optimizing content?

Does your current team structure give you the highest likelihood for success?
If this sounds like you, don't fret. There are steps to prompt organizational change and get the right pieces in place. Start by writing down the following, even if it's imperfect:
Who, by title, is responsible for making sure the web is managed properly?

What does each person on that team do, how will they interact with each other (including when issues arise), and what rules should they follow?

How will you ensure that both the team and the web properties are, to put it simply, doing what they are supposed to be doing?
For this blog post, we're focusing on the first bullet point and outlining the two primary ways in which your organization can structure its web team(s). Opting for one over the other depends on what's realistic for your organization, the scale and complexity of its sites, and its technology stack. In fact, you might actually find that it's time to review your current solutions and make some changes to better support your desired model.
Centralized Website Management
A centralized model can be defined as a single team assigned to a variety of web projects across the enterprise that is responsible for all core web functions. In some organizations, this means a small team publishes content on behalf of their organization. In others, it means they accept very little input from others at all.
Advocates of a centralized structure might say they produce higher-quality content, operate more efficiently because this is their area of expertise, save time by not having to train end users, and easily disseminate information.
Decentralized Website Management
Alternatively, a decentralized model means business groups are supported by unique web teams. This can mean that multiple departments and/or individuals are responsible for core web functions.
Advocates of a decentralized structure might say they save money by unburdening skilled resources from making minor web changes, promote accountability and foster engagement among content creators, and enable quick decision making and change.
What's Right for You?
Ultimately, we encourage organizations to stop the turf war and focus on what we all want—great content that converts anonymous visitors into known leads. There is no right or wrong web governance model, but it is important to empower the team and create working documentation that changes based on the needs of your organization.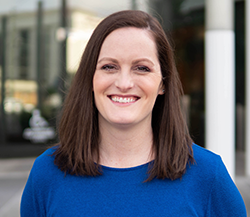 Laura Rives
VP of Sales and Marketing
  laura.rives@hannonhill.com
Categories