By Kat Liendgens — Aug 28, 2018 11:00 AM
Welcome to part two in our series about the many ways in which our customers are integrating Cascade CMS with other applications and systems. In our previous post, we looked at the University of Montana's mobile app and how it displays program listings that are managed in Cascade. Today, we'll turn the spotlight on Sauk Valley Community College in Illinois, who has been using Cascade CMS since 2005.
Sauk Valley Community College's approach to Cascade is to utilize it as a tool to not just publish web pages, but to leverage it as a data transformation tool that allows them to import anything and output it in any format. As a result, double-entry of data can be avoided, and it is much easier to maintain content.
Pulling schedules, events, and faculty information from Banner
For instance, SVCC imports the following XML feeds from Ellucian's Banner and displays the content on their web pages:
Course Schedules
,
Directory/Faculty Schedule
,
Daily Events
,
Weekly Room Schedules
,
Room Reservation Calendars
, and their
Home Page Calendar
.
For several of the calendar pages, both recurring schedules and basic event listings needed to be incorporated. SVCC used Velocity as a transformation language to optimally accommodate the logic and display. The calendar and scheduling pages have had a big impact on stakeholder satisfaction, as it has drastically simplified the process of booking a room using the web interface instead of Banner. The faculty schedules in particular have been well received and make it much easier for students to find times to meet with instructors.
Four Winds Interactive Campus Map
Sauk Valley Community College imports XML wayfinding data from Four Winds Interactive to publish their online campus map pages in Cascade CMS. Since the data is stored in CMS, it was very simple to parse and display it by using PHP and Velocity.
Cascade CMS is also utilized to push XML/RSS feeds to Four Winds Interactive for display signage, including sports updates, cafeteria menus, and job openings:
Emergency alerts with e2Campus
Another tool with which SVCC have integrated Cascade Server is Omnilert's e2Campus emergency alert system. Cascade CMS consumes e2Campus text to publish both cancelled classes and emergency alerts.
Course Catalogs in Acalog
Sauk Valley Community College manages its course catalog in Acalog by DIGARC. Through web services, Cascade CMS imports the data and outputs Certificate Program information and a Degree List.

As you can see, there's no shortage of ways in which Cascade allows you to connect to other systems, both homegrown and third-party. If you would like to share how your organization has implemented a Create Once, Publish Strategically (COPS) content management and distribution architecture, we'd love to hear from you.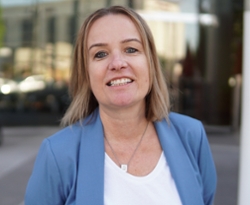 Kat Liendgens
CEO
  kat@hannonhill.com
  @katliendgens
Categories