Customer Spotlight: State Center Community College District
By Kat Liendgens — May 17, 2018 11:00 AM
State Center Community College District is a California Community College System district that includes Fresno City College, Reedley College, Clovis Community College, as well as satellite campuses Madera Community College Center and Oakhurst Community College Center.
The Challenge
Last year, SCCCD decided to go through a complete redesign of the district site and all of the associated Colleges and Centers. The idea was to allow each site to maintain their unique identity while at the same time establishing consistency for a better user experience. SCCCD also decided to move to a new CMS, as the existing one could no longer support the needs of the organization. The committee put together an extensive list of requirements, including these high priority items:
Flexibility and independence of in-house developers. It was important that internal webmasters and developers would be able to make changes to templates and implement new templates on their own, rather than having to go through the CMS vendor.

Integration capability and scalability. The new CMS needed to have the ability to integrate with other systems and to distribute content across multiple sites.

Granular permissions. Website administrators wanted to fully control who had access to what content and the level of access. The ability to lock down CSS and not let users add in changes to content such as unwanted fonts or text color was a must.
After evaluating the responses to the Request for Proposal, several vendors were invited to finalist demos. In the end, the committee selected Articulate Solutions for design services, Cascade Cloud as the CMS, and Hannon Hill as the implementation partner.
Implementation
After Articulate Solutions delivered the new templates, the SCCCD team tested the new design on a plethora of devices in order to ensure mobile-friendliness. Once the designs were approved, Hannon Hill's Professional Services team first implemented the sites for the colleges and centers and then the district's site. Due to the fact that the sites were fairly similar, the implementation could be expedited exponentially. In addition to the homepages and interior page types, Hannon Hill also implemented a custom calendar for each site after receiving detailed requirements, which included multiple display formats, search, categorization, and, most importantly, cross-site sharing of events. Prior to content migration, each webmaster brought their existing content into GatherContent, an online collaboration platform for web teams, and Hannon Hill wrote custom scripts to bring all of the content into the appropriate pages, regions, and fields.
Outcome
SCCCD and its colleges and centers now all have mobile-friendly sites that are easy to manage by end users. Content can be shared and re-used easily between sites, which are all hosted on a shared instance of Cascade Cloud.
According to Debbie Nichols, webmaster at Fresno Community College, one of the greatest success of this project was "that the entire transfer happened very quickly after the CSS was approved and that we uploaded clean code and not just transferred our old site over. Our new site has a completely new layout of information. The old site was organization driven. Our new site is information driven." This strategic approach to both content and design has paid off. Visitors love how easy it is to find information and how well the site works on every device.
Nichols also mentioned that Cascade users love the flexibility available to them through the multi-option template that is on each page.  Now users can add an accordion, a responsive table, and general content on the same page without asking for developer support. In addition, being able to enter information in one location and publish out on multiple locations makes keeping information accurate.
Best of all, the district won the Gold medal in the international 2017 dotCOMM Awards competition.
Congratulations on an amazing suite of websites, SCCCD!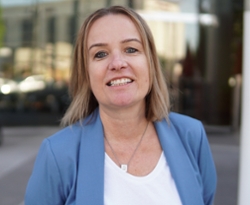 Kat Liendgens
CEO
  kat@hannonhill.com
  @katliendgens
Categories