By Kat Liendgens — Apr 26, 2018 11:00 AM
Point Park University rolled out a new CMS in conjunction with a brand-new website redesign. After evaluating several systems and having the finalists demo their products, the evaluation committee decided on Cascade CMS. NewCity was chosen as the design firm for the new site.
Point Park University was very clear with regard to the goals of the project. First and foremost, visitors to the site needed to be able to quickly find what they were looking for at different stages of their journey and be compelled to act.
According to Keith Kuzmovich, Director of Online Communications, "We believe an exceptional customer experience should begin with the first web visit and continue through a lifetime of Point Park University interactions, online and in person." In addition, Point Park University needed to create a mobile-friendly site that accurately reflected the University's unique and dynamic personality and focus on experiential learning. In order to most effectively manage the new site, the University needed a CMS that was very flexible and scalable in order to support Point Park's growing needs, such as the ability to reduce content to market time, keep content fresh and to distribute it to multiple sites and platforms.
Point Park University's goals for their site's redesign:
Make it easier for visitors to find desired information and act
Create a mobile-friendly site
Reflect Point Park's unique brand and focus on experiential learning
Working with the Hannon Hill team
Even prior to the delivery of the new templates to Hannon Hill for integration into Cascade CMS, Point Park's web team, NewCity, and Hannon Hill had several meetings to discuss the optimal implementation approach. The goal was to make each page customizable by the user while modularizing the content as much as possible in order to achieve maximum ability for content reuse and distribution. Hannon Hill built the homepage, a landing page with a grid, an interior page, news articles, student profile, and a profile feed as part of the QuickStart. Users also have the ability to quickly push out Emergency Alerts to the site. Hannon Hill set the Point Park team up with a framework and best practices and provided training and consulting. With the use of Hannon Hill's migration tool, the team also helped Point Park migrate thousands of pages from the old site into the new design as part of this project.
Outcome
One of the key factors to the success of this sizable project was the fact that the Enrollment Marketing team was able to balance existing workloads and was open to new ideas based on research. Kuzmovich stated, "We're proud of the final product and excited about how the CMS will evolve to meet our future needs." He continued to say "The feedback from stakeholders has been overwhelmingly positive. The new website and content management system is the beginning, not the end, of the journey. The new capabilities will allow us to do a better job sharing the distinctive qualities of our people and programs. Point Park has compelling stories and great storytellers. We will have a wonderful stage to share those stories at PointPark.edu."
Point Park's CMS users have adopted Cascade CMS very quickly and frequently comment on how much they enjoy the capabilities it provides that had not been available in the previous system. Our CMS users have also responded well to the new website.  A common remark from non-technical users is that Cascade CMS is intuitive, and provides many new capabilities that Point Park did not have before.
Congratulations, Point Park University, on your beautiful new site and successful Cascade CMS implementation!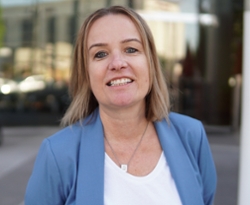 Kat Liendgens
CEO
  kat@hannonhill.com
  @katliendgens
Categories