By Kat Liendgens — Jul 31, 2018 11:00 AM
The times in which you could simply focus on your web content in order to provide helpful information to your target audience are long gone. These days, you need to push content to many different platforms in a multitude of different formats. Of course, you don't want to duplicate content, so you strive to create a framework that allows you to manage each piece of content in one place and distribute it strategically. We often call this approach "Create Once, Publish Strategically", a slight modification to "Create Once, Publish Everywhere", since you probably don't want to push each content piece to every available channel, but want to be more selective about it.
There are many ways in which Cascade CMS allows you to consume content from and push content to other systems, such as apps, databases, enterprise systems, social media, or digital signage. In this blog series, we'll highlight some of the tie-ins that our customers have implemented.
At the last Cascade User Conference, Kayla Pierson of the University of Montana, talked about how the web team rolled out a new mobile app. The University of Montana decided to add another channel through which to reach its audience, namely by building a mobile app on the ExLibris CampusM platform. The idea was to make information about academic resources, services, events, and logistics quickly available to students on their mobile devices.
Since the University had already been using Cascade CMS to manage the content on their (several hundred) sites, it made sense to reuse some of the existing content and push it to the new module app. For instance, the University's Degrees and Majors listing was already powered by Cascade, using custom Data Definitions and Velocity to create and style the table to display the different degree offerings. Each subject is built as a page asset. The CMS presents users with custom content entry fields in which to specify the links in the catalog and department website and to select for which degree levels the subject is offered. Smart fields, which is Hannon Hill's term for progressive disclosure of form fields, then ask the users for additional information about each level offers, such as available degree focus options and availability of the degree in an online format.  An Index Block in Cascade runs an inventory of the content of those pages to generate the listing page.
The idea was to make those listings available on the mobile app, so in order to create a tile in the app, the web team was looking to tap into the existing content but display it in a different format. One of the best ways to accomplish this was to produce an XML feed, which would serve as the data source for the mobile app tile.
Next, the team leveraged the AEK React framework of CampusM to generate the tiles. The framework consumes the XML feed pushed out by Cascade and formats it specifically for display in the mobile app.
As a result of their content sharing approach, the University of Montana can maintain all of their programs and listings in Cascade and keep their mobile app updated as well.
What about you? What are some of the ways in which your organization has implemented a COPS/COPE architecture? We would love to share your success.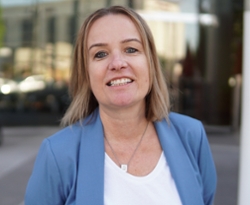 Kat Liendgens
CEO
  kat@hannonhill.com
  @katliendgens
Categories