By Laura Rives — Dec 4, 2018 11:00 AM
How did you first learn about Hannon Hill?

I found out about Hannon Hill through a posting on the Atlanta Tech Village job board. The opening at Hannon Hill aligned well with my experience and background, and after speaking with the team and doing my own research, I knew this was a team I wanted to join.

What drew you to us originally?

The Hannon Hill team seemed focused on helping people solve problems. That's something that I've loved doing in my professional background. At Hannon Hill, there is a unique opportunity to do more than just sell a product. We help people express themselves and share their vision.  We enable people to tell their story. That's empowering for our customers -- and helping them achieve that is truly gratifying for the folks at Hannon Hill. 

What do you find most challenging about working at Hannon Hill?

Keeping up with the changes in technology. As with any company that works in an industry like ours, it's important to stay hungry for knowledge and informed, to make sure you are up-to-date with the latest innovations and changes that may impact our customers and our company's path. Beyond that broad challenge, the individual challenge is to stay focused on my job responsibilities and how I can contribute to our customer's success, our team, and our overall company goals.

How do you balance your career at Hannon Hill and family?

It's important to remember why you are working.  Work is not only about a fulfilling job but also about the personal life that it enables you to live.  When you enjoy your work, it's easy to neglect your personal life -- to forget to set aside time for relationships and family.  When I started at Hannon Hill, I moved from the suburbs to midtown Atlanta so that I could avoid a long commute that could cost me two-to-four hours a day of personal time.  This has helped me have time for both work and play, to balance professional time with personal time and nourish relationships with friends and family.

What does true leadership mean to you?

True leadership is about listening. Inspiring. Encouraging. I think great leaders are ones that are also on a quest to learn more. They have an insatiable, contagious curiosity to learn more about themselves and the world around them.

Before working at Hannon Hill, what was the most unusual or interesting job you've ever had?

Well, I was the Director of IT for a Classic Rock radio station here in Atlanta. In addition to my many job responsibilities in IT, I was also a DJ on-air and hosted a nightly radio show.



And now for some fun questions....

Favorite Atlanta Food?
Lobster Bisque from Steamhouse Lounge in Midtown Atlanta. I can't get enough of it!

Something that would surprise most people?
I was a Classic Rock Radio DJ for several years here in Atlanta.

What is your motto or mantra?
It's hard to get into a routine of not getting into a routine.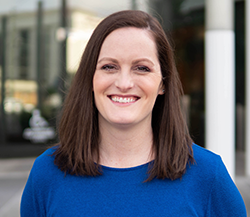 Laura Rives
VP of Sales and Marketing
  laura.rives@hannonhill.com
Categories