By Kat Liendgens — Aug 21, 2018 11:00 AM
Over the course of the past 17 years working with higher education professionals, we have accumulated a wealth of knowledge through conversations with CIOs, VPs, IT staff, marketers, webmasters, and content contributors. With the constant pressure that comes with low budgets and high expectations, it can be a real challenge to find the right software products like a content management system, CRM, or engagement platform. Today, let's talk about one of the most common pitfalls that we've seen, and arguably the most consequential one: starting with the technology instead of your goals.
Buying a product is nobody's goal
Let's face it - It's not your "goal" to buy a CMS. The CMS should support your goals. Here's an analogy that might resonate. It's nobody's goal to own a treadmill or an elliptical. Your goals might include developing healthier habits, shedding X number of pounds, being able to complete a specific challenge, or lowering blood pressure. And that's why you buy the equipment. You don't buy a product and then figure out what you want to accomplish with it based on what you've bought. Instead, you identify your goals, your constraints (such as the time you will be able to dedicate to exercising or the space you have available in your place), and your resources and then decide which piece of equipment is the best fit for you.
Think in terms of goals and objectives in order to avoid the "feature trap"
Similarly, when going through the process of evaluating new technologies, you don't want to start with a product and then figure out how it can help you achieve your goals, as that would hamstring your organization. By starting with your goals, you can avoid falling into the feature trap. Instead of looking for a specific feature, you will assess how each product will help you alleviate pain points and help you achieve your goals, so you increase your chances of finding the best possible solutions.
When identifying your goals for a CMS, for instance, you may ask yourself the following:
What are the key performance indicators used to measure my performance or my department's performance?

What are the KPIs for our website? For instance, is it the desired number of student applications or the targeted amount of donations generated?

What are the KPIs with regard to our CMS?

Go to market time for a new piece of content?

Freshness of content?

Absence of QA issues, such as broken links or accessibility violations?

Time and cost (if any) involved in making changes to a template?

Time it takes to share a piece of content across multiple pages, sites, and platforms?

Activity levels and engagement of end users?

Number of tasks completed?
Next, identify the metrics that would help you assess if you're on the right track towards achieving those goals. For example:
Visits and pageviews are a quick way to gauge how much interest your content is gaining. In addition, time spent on page gives you an indicator of whether your audience is actually consuming your content.

Conversion rates are the truest indicator of the success of your content marketing. After all, attracting a million visitors a week doesn't mean anything if those visitors don't convert. Consider tracking the following:

How many anonymous visitors filled out a form and became qualified leads?

How many visitors took the next step that we wanted them to take (register for an open house event, sign up for a newsletter, or make a donation).
Customer experience is key, and your technology should support it
There's no question that only by providing an engaging experience to your target audience will you be able to achieve your goals. Each visitor, whether they're a prospective or current student, donor, parent, or faculty/staff member, expects a stellar experience when interacting with you in person or via digital channels, so focusing on the customer experience is key. And once again, don't fall into the "tools first" trap. Brian Solis, marketing technologist turned "digital anthropologist", who was recently interviewed by CMSWire.com, lamented the fact that all too often, organizations think about technology first: "The irony of customer experience today is it's a technology-first discussion. Think more about customer's experience. Focus first on helping people and understanding where to add value, and then technology becomes an enabler."  It makes sense, doesn't it? Why would you let your tools dictate your customer experience strategy? Shouldn't it be the other way around?
Wrap Up
The practice of "force-fitting" products is unfortunately a scenario we hear about all too often. In some lucky cases, implementing a new product without the compass pointing towards objectives works out just fine. But, in our opinion, it's more important to focus on what you hope to accomplish with a new piece of software before choosing a vendor. The first thing that comes to mind should not be a flashy feature, but rather well-defined organizational goals.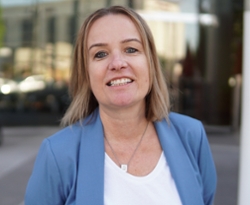 Kat Liendgens
CEO
  kat@hannonhill.com
  @katliendgens
Categories