By Kat Liendgens — Dec 19, 2019 11:00 AM
One of the things that our customers love about Cascade CMS is that we always strive to provide our customers with ways to do more with less. We understand that you may need to build out new sites and new functionality quickly - sometimes on a shoestring budget. That's why we continue to deliver fully functional examples and starter sites that can be downloaded for free from our Cascade Exchange. You can find starter kits that allow you to quickly implement site maps, emergency notifications, vanity URLs, and FAQ pages, among many others, and also complete sites that you can customize to your branding and your needs. 
We recently rolled out new versions of some of our most popular sites. Let's take a look!
News/Blog
The new news room can also be used as a blog site (or multiple blogs if you so choose). It has an updated look and feel and is versatile in its display, allowing you to choose between different listing styles, such as image cards, lists, and tiles. The site is compliant with WCAG 2.0 AA standards and, of course, responsive, as it is based on the Bootstrap framework. 
The news site includes several page types, including a home page, an individual news article page, category pages (all of which are configurable), and yearly archive listings. A central repository is set up to host all of your image files for easier management. The category listings and archive listings are generated based on selected categories and end dates. 
Creating a new article only takes a few minutes for non-technical content contributors. Users can flag certain articles as being "home page material", meaning that once the article becomes relevant based on start date and time, it will be displayed on the home page.  The main copy of the article is managed in a WYSIWYG editor. 
The homepage, as well as all of the other page types, can be displayed in a one-column or two-column layout. The sidebar lets users select what types of components, such as social media buttons, contact information, or calls to action to display, and users can also rearrange the order of components on an ad hoc basis. 
Berkeley College recently rolled out their custom branded version of our News starter site. Check it out!
Faculty and Staff Directory
Our new directory, which runs on Bootstrap 3 and adheres to WCAG 2.0 AA standards, allows non-technical users to manage their online profiles with just a few clicks. 
Users simply enter all pertinent information and headshots into the content entry fields, and can also include an unlimited number of tags, which can be leveraged for search purposes and content reuse. If needed, you can add a quick approval workflow. 
The listings page automatically generates a directory view, which can be filtered by website visitors by name, title, department, and the tags mentioned above. The search box offers a type ahead search that expedites the process. 
Users can customize the layout of the page by choosing the listing style, image positioning, items per page, profile sidebar location, and default image. 
You may also pull information from other systems into Cascade. 
Stay tuned for some exciting new additions to the Exchange!
If you've implemented one or more of our starter sites, we'd love to hear from you and get your feedback. We're also happy to answer any questions that you may have if you're contemplating taking advantage of what we've created for you on the Exchange. As always, our Professional Services team would love to assist you with the customization of any of these sites. To contact us, just fill out the form below.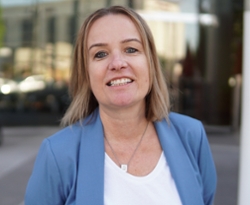 Kat Liendgens
CEO
  kat@hannonhill.com
  @katliendgens
Categories