By Kat Liendgens — Aug 8, 2019 11:00 AM

Aurora University has been a Cascade CMS customer since the beginning of 2008. Their latest website redesign was completed by mStoner, with whom our Professional Services team has collaborated on dozens of Cascade CMS implementations. Even before templates were designed and approved, we met with both the key stakeholders at both Aurora University and mStoner to better understand the goals of this project - big and small - and create a project plan that would work well for all involved.
Once mStoner passed the baton to us by delivering the HTML for the templates, we put together a Statement of Work that outlined each of the nine Content Types to be developed. It also specified how the content for each region would be generated. We even got as granular as identifying the specific content entry controls available to end users.
Home Page
The homepage replicates the existing alerts functionality that Aurora already had in Cascade. It allows users to quickly put alert banners on the site by specifying content, publish and expiration dates and colors. The homepage features a banner area as well as feature cards, which lets users update the heading and subheading for this section, as well as featured Program Image, Program Title, and Program Link. The View All Programs button links to the Program Finder page, while the AU Online button links to AU Online website.
The Feature Testimonials are easily updated by selecting an image, quote, attribution, degree, and tags. Those testimonials are presented via a slider. 
The AU Experience section contains configurable boxes and tags for boxes of content to display based on the selected topic from a dropdown box. The user has the ability to upload image for image blocks and choose color from pre-determined list for color blocks. For text cards, users can choose from two formats: large numbers with smaller text below, or small text with a small line of text followed by a larger line or text. Image cards have fields for image or video (YouTube or Vimeo) chooser, heading text, link text, and link chooser.
Additional elements of the homepage include the Arts at AU section and a feature slider, which are also managed though content entry, a Juicer feed to pull in social media content, and the news and events sections, which are populated dynamically based on date. 
Secondary Pages
Aurora University wanted the ability to have full width secondary pages and pages with side navigation. Each page type allows users to manage content via WYSIWYG editors that utilize the CSS styling developed by mStoner, but also embed prebuilt content entry modules, such as Call to Action buttons and images, News by category, Events, By the Numbers blocks, Slideshow Gallery, collapsible content (both tabs and accordions), callouts, and social media. The full width page type contains some additional features such as listings. 
An example of the full width page is the Admissions Page and an example of the page with side navigation can be found on the Student Life Page.
Programs
Users can create individual pages for each program offered by the University. Elements include both dynamic content and content entered by the users, such as the Banner, the main content area, faculty listings, curriculum highlights, program highlights, feature boxes, and feature boxes. Check out the Business Administration Program Page as an example. 
The Program Finder Page automatically lists all of the programs and links to the individual program pages. Visitors can also filter by area of interest, school, program level, and location. 

Schools
Schools also have their own page type managed in Cascade. The School of Liberal Arts is one example to look at. Users have the ability to customize the content as they see fit by modifying elements such as the Banner, Feature Area, and the Virtual Carousel. The school page also contains dynamically generated content by pulling in the programs that were tagged for this particular school. 
Faculty
Hannon Hill also implemented pages for individual faculty members. Faculty members are searchable and also listed on the individual school and program sections. 
Calendar
Since we already have a fully functioning Calendar on our Cascade Exchange that our users can download for free, it only made sense to take advantage of it. We imported it into the Aurora instance and then made a few customizations. 
Project Completion
The project was completed on time and within budget. After we finished the integration, we walked the Aurora web team through each use case, and, as always, we encouraged them to start editing content and gave them a quality guarantee period during which we would make any necessary tweaks. 
"It was a pleasure working with the Hannon Hill team on our site redesign project. They were attentive to our needs and worked closely with us to ensure the back end worked seamlessly with the front end. Elisabeth Hutzel did an amazing job coding in the CMS to streamline the entire publishing process. I was able to easily scale the system to add additional features while using her framework as the foundation. I have also been able to train our Cascade users on the new system without any complications due to the simplicity of the new UI that Elisabeth came up with. I wouldn't hesitate to use Hannon Hill's client services in the future." 
-John Kocsis, Team Lead for Aurora University
"The Aurora University team did a great job leveraging Hannon Hill for their site. Fundamentally, the site structure was strong and well-organized, and content was kept up-to-date. This project gave Aurora University the opportunity to do a better job of storytelling and to create a dramatic new visual presentation that better represented the campus and community."
-Voltaire Santos Miran, CEO of mStoner
Congratulations on the new site, Aurora University!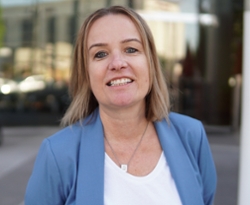 Kat Liendgens
CEO
  kat@hannonhill.com
  @katliendgens
Categories