By Kat Liendgens — Dec 10, 2019 11:00 AM
Like many of our customers, Berkeley College opted to roll out a newly designed website along with the implementation of their new CMS, Cascade CMS. The College's web team handled the design of the new templates in-house and delivered the HTML to Hannon Hill's Professional Services team, who integrated all of the page types into the system. The project was done in several phases. 
Phase 1: QuickStart
Our QuickStart is a project designed to get new Cascade CMS customers up and running as quickly as possible. For Phase 1 of this extensive project, we did a scaled down QuickStart, consisting of the homepage, interior page, and Berkeley Today. Components such as the slider images, text, and call to action buttons are customizable by authorized users. 
The Calls to Action are managed in blocks, which can be put on the home page with just a few clicks. Blocks are an important component of Cascade CMS, since they make it much easier to reuse content.
The events section displays the latest events. This section was set up to allow for manual selection of events to be featured.
The header and footer of the site are static XHTML blocks and are used on every page of the site. 
When building out the Interior page, we wanted to give end users as much flexibility as needed. Users should be able to select which components to add or remove on their page. They can add as many rows as needed (and choose the number of columns for the row), including simple WYSIWYG editor managed content, features with images, by the numbers components, calls to action, or stories. 
The Berkeley Today site used Berkeley College's custom design in combination with Hannon Hill's News site found on the Cascade Exchange.
 Phase 2: Campus, Online, & Social Pages, and Directory
The next phase included the integration of the Campus, Online, and Social templates, sitemap, site search implementation, and Directory. 
The Online page type is one of the more complex ones, since it can contain any number and combination of 12 different elements that the user can choose from. Through the use of shared Data Definitions, which are content entry fields that can be used on multiple page types, the development was greatly expedited.
Berkeley College's Faculty and Staff Directory uses the version that is available on our Cascade Exchange.  Our developers made a few customizations to the directory to match Berkeley College's new designs. 
 Phase 3: Blog and Social Media Mashup 
Berkeley College also took the opportunity to use our Blog and Social Media Mashup from the Cascade Exchange. With just a few simple customizations, both features were ready to use, update, and publish!
Phase 4: News Room and Berkeley Today Search
Berkeley College has a separate site for their News Room, which uses the Interior page template.  Hannon Hill developers implemented Berkeley College's custom News Room home page design with our News example site on the Cascade Exchange.

One of the customizations that Berkeley College requested was a search for both of their news sites, similar to the search in the Directory.  Hannon Hill developers implemented a custom news search index page for both Berkeley Today and their News Room to include a dynamic search with typeahead, pagination, and topic filtering.
Phase 5: The Berkeley Post, Newsline Email, Vanity URLs, and Workflow
The Berkeley Post is the College's digital news magazine. The email newsletter contains links to articles in the Berkeley Post. We implemented a single page type in Cascade to manage it on a scalable level. Users can choose between a one, two, or three column layout and add as many content rows as needed.
Berkeley College will be using Salesforce Marketing Cloud to send the Newsline Email newsletter. Cascade CMS will be used to generate the content for each newsletter and output the HTML. When creating the newsletter in Cascade, users can simply point to the articles that they want featured, as well as enter additional content. 
The web team wanted to be able to handle vanity URLs in Cascade, so we created a redirect request page, to be used internally in the CMS. The vanity URL setup kicks off a workflow to approve and publish any of the redirect pages. In addition to the vanity URL workflows, we implemented custom workflows for other assets, and custom searches. 
Phase 6: Emergency Alerts, Custom Department Directory Links, and Bricks
For Phase 6, Hannon Hill developers implemented Berkeley College's emergency alerts.  The emergency alerts will be displayed at the top of the majority of their pages until they are dismissed by the page visitor.  Users have the option to select the banner color, add a headline, summary, and link to an alert page.


The additional two items included in Phase 6 of the project were custom department directory links and bricks.  Custom department directory links allows users to create pre-filtered links to the directory with their individual college or department.  Bricks are a way to embed shareable and reusable content inside WYSIWYG editor content with a pseudo/short-code to describe which piece of content to embed.  Berkeley College had these on their Catalog site, so Hannon Hill developers created additional bricks to be used across all of their sites.
Wrap Up
Our Professional Services team greatly enjoyed the implementation of Berkeley College's new site and especially working with the Berkeley team.  One of our Services Developers, Rebecca Crow, who worked on the project, said about working with Berkeley, "The Berkeley College team was a great team to work with and was really enthusiastic and excited about the project. I really enjoyed the overall design that their team put together as you can definitely tell they laid out each page very thoughtfully with unique and interesting features on each page."
As you can see, we provide a lot more than just the QuickStarts. We can do it all for you. And using the examples from the Cascade Exchange can really help bring the cost down and decrease implementation time.
Congratulations, Berkeley College, on your new CMS and your new site!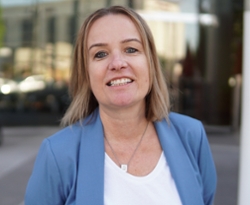 Kat Liendgens
CEO
  kat@hannonhill.com
  @katliendgens
Categories