By Kat Liendgens — May 2, 2019 11:00 AM
Mount St. Mary's University, a Catholic liberal arts university in Maryland, recently went through a complete branding and website overhaul. The university chose Up&Up Agency as a strategic partner for the rebranding and messaging, which included an on-campus site architecture/UX/content
workshop, content evaluation, content creation, content drop and migration, website design, front end website development, and QA testing. Check out the case study about the process and the results of the rebranding.
Mount St. Mary's University decided that it was also an opportune time to move to a new content management system that would allow them to keep the website fresh more easily, and to share more content across different pages and sites. After evaluating several products, MSMU selected Cascade CMS. In order to expedite the rollout, the webteam opted to use Hannon Hill's Professional Services team for the implementation of the new design.
As with most customers, we started with a QuickStart project, which is designed to get new customers up and running quickly in Cascade. We built out the homepage, several interior pages, a newsroom, and emergency notifications. It was important to MSMU to be able to reuse components across different pages and page types. After all, breaking your content up into smaller, more reusable chunks is much more preferable than the old-fashioned way of keeping all of your content in a giant WYSIWYG editor. Therefore, we built a multitude of components that users can embed in their pages, including different variations of hero images, video and image modules, quote modules, calls to action, curriculum, news, and events, tables, tabs, programs, career opportunities, pods, blog posts, and statistics, to name but a few.
The newsroom allows users to create new articles, tag them, flag them for the homepage where appropriate, and to share them on social media. Cascade CMS automatically shares the articles on the homepage and on the newsroom landing page, monthly listings, archives, and RSS feeds.
After building out interior pages such as program pages and generic interior page types, we moved to the second phase of the implementation, which consisted of the integration of the school landing page type, event pages, calendar, faculty directory, bio pages, and "Lives of Significance" pages. Once again, the ability to share and reuse content across multiple pages and sites was of great importance.
We tailored our Calendar to Mount St. Mary University's needs, including custom filters and views.
We particularly enjoyed the set-up of the Lives of Significance section, which showcases the personal experiences and stories of current and former students at Mount St. Mary's University and should be considered one of the focal points of the website. Those stories can be featured on other pages, but also within the LoS archives.
Finally, we implemented the ability for users to manage vanity URLs, to embed forms within templates, and assisted with search set-up and customizations.
Elisabeth Hutzel, our team lead on this project, particularly enjoyed the integrateion of the calendar module. She said "This was a really unique implementation because Up&Up took our base Calendar and applied a beautiful design for all the pages. I then implemented this design with the Calendar module and added some additional functionality such as the text search and filter events dropdown, which work dynamically on the page!"
Elisabeth also created two microsites based off the main site: https://seminary.msmary.edu/ and https://inside.msmary.edu/ and set up Google Custom Search Engine. "The interesting part is GCSE has a "trending" queries option that you can embed, which I thought was fun to implement!", Elisabeth noted.
As you can see, we're here to help you get the most out of your new website and of Cascade CMS. Contact us at services@hannonhill.com to chat about how we can best assist you.
They have the ability to select both categories and tags for news and events. Then on the news/events content item, they can select categories and/or tags to pull the news and events in with.
The

Directory

uses the backend of our directory module for search, filter and pagination, but also has a complete design done by Up&Up
Since the site's launch in October 2018, the University has experienced amazing results, including:
34.4% increase in page views to the admissions page, with a 20.7% increase in time on page (due to consolidating information and navigation updates) 
9.2% increase in mobile sessions to the homepage 
20% increase in new users on the home page
9% increase traffic to the academic program landing pages
2.4% reduction in bounce rate 
In addition, the team has won numerous awards validating the hard work of every contributor involved and the quality of the final product. Those awards include:
2019 Webby honoree for Mount St. Mary's University Website; Category: School/University

2019 Silver Addy Award for 

Mount St. Mary's University Website; AAF-Greater Frederick Chapter

Merit Winner for Mount St. Mary's University Website; Education Advertising Awards (2019)

Merit Winner for Mount St. Mary's University .EDU Website Redesign; 6th Annual Education Digital Marketing Awards (2019)
Congratulations!
Our Professional Services team is here to help, no matter how big or small your project is. Feel free to reach out to us anytime at info@hannonhill.com to discuss how we can best meet your needs.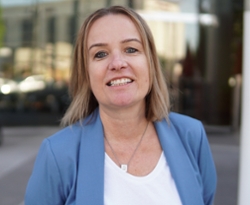 Kat Liendgens
CEO
  kat@hannonhill.com
  @katliendgens
Categories