By Kat Liendgens — Jun 6, 2019 11:00 AM

In 2018, the University of St. Thomas in Minnesota went through a complete rebranding effort, spearheaded by the creative agency 160over90. The university also needed a new information architecture, analytics strategy, usability testing, and a smart content strategy that spans across hundreds of content owners across the organization.
As Rachel Emery of 160over90, explained, "not only did we need to create a design system for the .edu, we also needed to completely redesign their school of business web presence. To make sure we were building efficiencies in our process and not designing two completely different websites, we developed a content strategy that shares content modules across both platforms. While there are differences in CSS and front-end, we were able to deliver two unique platforms with distinctive presentations appealing to undergraduate, graduate, and continuing education audiences."
UST decided to first roll out a new site for the OPUS Business School. Once the design materials were delivered to Hannon Hill, our Professional Services team got to work. As always, we created a detailed Statement of Work, which outlined exactly which page types we were going to create, how the content for each region would be generated, and what the content entry fields would be for end users. Once the SOW was signed off, we jumped into STU's instance and began the implementation.
We integrated a number of different page types, including the homepage, a universal page with many reusable and interchangeable components, a course detail page, academic calendar page, search page, news listings page, and degrees and programs landing page. Content would be reused in and from various modules, including news, events, faculty, course content, and program. In addition, we developed an executive education course finder module and executive education course cards module.

We implemented an API integration with Flatbridge, so that pertinent data could be pulled into the appropriate pages. For instance, course details can be populated into two formats – Hero areas within the Course Detail Pages and into modules that feature Course content. Program details are displayed in the Program Finder page.
After the successful launch of the OPUS website, it was time to tackle University of St. Thomas' main site, which was also designed by 160over90. As with the OPUS project, the Professional Services team met with both the design firm and the client in order to ensure that all functional requirements were accurately understood and captured.
For the .edu site, we built out the homepage, a top level landing page in three variations, a sub level landing page, and interior page types. The interior page was created to contain several intro blocks in order to make content as reusable as possible across different pages and sites. Those blocks included primary calls to action, callouts, related links, side navigation, and stat.
In order to make all page types as flexible as possible and to allow users to switch components on the fly, we made sure to create 26 global components that every page could utilize.
In addition, we developed specialized modules for events, news, videos, quotes, interactive maps, forms, and other shareable blocks.

Lauren Murray, our Project Coordinator, greatly enjoyed working on this implementation and said that there were several reasons why it was so successful. "The project was very straightforward.  The client knew exactly what they wanted going into the project and were very easy to work with. 160over90 provided detailed documentation that helped our team accurately scope the project. Our weekly check in calls with the client were very productive.  They tried to really understand how to use Cascade CMS and how each piece of what we built related to the entire site. We set expectations from the beginning of the project for who is responsible for each part of the project (us, them, 160over90) and what to do if we had any questions or noticed any issues with the design."
We love working on web projects with our clients and to make sure that they get the best possible CMS implementation that can really move the needle. If you would like to see how we can help you, please feel free to contact us at services@hannonhill.com.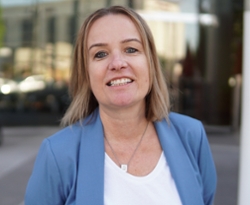 Kat Liendgens
CEO
  kat@hannonhill.com
  @katliendgens
Categories