By Laura Rives — Mar 7, 2019 11:00 AM

We all understand that technology is evolving at an incredible pace, customers expect companies to communicate with them via their preferred channel, and automation helps marketers reach more people for less money.
It's true that there's no stopping these trends, and that, in fact, a lot of good has come about. Marketers are able to make better decisions about what to share, with whom, and when. We have many tools in our kits to present relevant content to our target market.
But are we leaving something valuable out of the conversation?
It's rare that we talk about how important it is to remember your voice when crafting content. What is it that makes your organization stand out from the competition? Are you funny or buttoned up? A risk taker or tried and true?
Authentic content marketing, remaining honest and transparent, can lead to deeper relationships, spark conversation, and long-term engagement. Afterall, Millennials, Gen Zs, and younger audiences want to be part of a conversation. They want to rally behind a cause, think for themselves, and be inspired. They don't trust traditional advertising and are using ad blocking products at an increasing rate.
Here are our top three tips to remain authentic in a time of automation:
Tip #1: Personalize Content
Authentic and personalized content will not appeal to everyone, but that is okay. Strive to create tailored experiences for those more likely to convert into students, customers, brand advocates, or whatever it is you're striving for. Serve them content based on information collected from form submissions - or even based on their digital body language. Creativity, not conformity, will set you apart.
Tip #2: Use Self-Promotion Sparingly
Today's readers are tech savvy, keen to trends, and aware of media gimmicks. They are inundated with brands pitching products and services, so do your best to create original content with your signature voice. Highlight positive reviews, success stories, testimonials, quotes, and brand advocate-generated content. Always write from your own perspective, just remember that you are not your target audience.
Tip #3: Keep it Relevant and Engage
Focus on consistency of voice across marketing channels, engage with audience members, and participate in broader industry discussions. Provide value with informative content that's true to your brand and personality.
To conclude, I'd like to leave you with a few quotes about the power and importance of authenticity as an element of your content marketing strategy:
"Everyone loves a good story. When you free yourself to write a story, you're freeing your own unique and unforgettable voice." - Neil Patel for HubSpot
"While your audience should certainly be front and center, there is a lot to be said for keeping some focus on your passions, as well." - Michele Linn for Content Marketing Institute
"Building your brand authority involves a certain professionalism, but that doesn't mean your copy needs to be full of long-winded sentences and obscure words. If you want to stand out from the crowd, your copy needs to speak to people in a way they can relate to." - Jamie Thomson for MarketingProfs
"Authenticity means more show, less tell." - Tom Fishburne for Marketoonist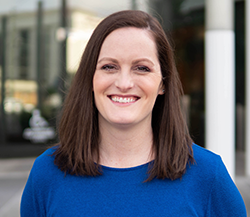 Laura Rives
VP of Sales and Marketing
  laura.rives@hannonhill.com
Categories