By Kat Liendgens — Sep 5, 2019 11:00 AM

As you may know, we recently released Clive, our new engagement platform that integrates with and comes with Cascade CMS. One of its powerful features is the form builder, which allows non-technical users to create custom web forms and embed them on their Cascade-powered pages within minutes.
Let's run through a few great benefits of Clive forms:
1. No styling necessary
You don't have to know CSS in order to style your forms. The forms simply inherit the CSS of the pages in which they're embedded, so they look great right out of the box. You can also check if you want the labels to be positioned on top of the form fields or on the left. Of course, you also have full control over the content of the labels of fields and buttons, as well as default values and placeholder text. 
2. 1-click CAPTCHA
It's easy to avoid pesky SPAM submissions. With Clive's form builder, you can add CAPTCHA to your forms with just one click. 
3. Conversion and visitor tracking
You can view the number of times each form has been viewed and the number of times the form was filled out, as well as the conversion rate. This will allow you to continue to optimize your forms by being able to see what works best. You can also drill down to a list of submissions for each form and track the visitors who filled it out. 
4. Progressive disclosure
Seeing too many fields at the same time can be overwhelming to users. Progressive profiling allows you to show fields under certain conditions. For example, you may want to ask a visitor which program they're interested in and show a specific drop-down box depending on whether they've selected "undergraduate" or "graduate" from another drop-down box. 
5. Personalized completion messages
Upon submission of a form, you have the choice to either redirect your visitor to another page or display a completion message on the same page as the form. If you choose the latter, you now have the ability to personalize the message by selecting a token. 

This is by no means a complete list. It just highlights some of the things we enjoy about Clive forms. Stay tuned for more!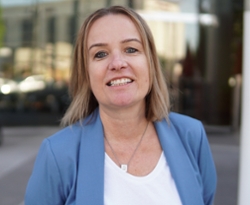 Kat Liendgens
CEO
  kat@hannonhill.com
  @katliendgens
Categories