By Chris Rapozo — Dec 20, 2022 11:00 AM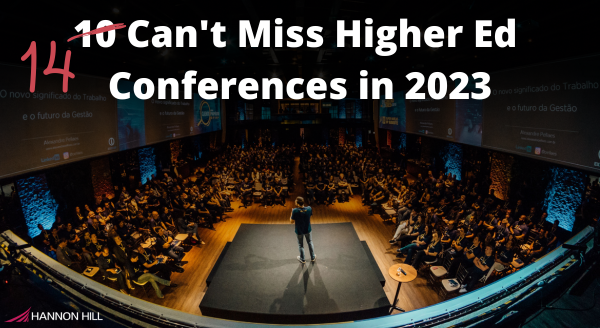 *updated April 2023
Conference season is in full swing, and if you attended any of the higher education conferences in the Fall of 2022 or Winter of 2023, you couldn't help but notice the positive energy and excitement in the air. People were thrilled to be back in person!
We successfully executed the 2023 Cascade CMS User Conference in February and attended the 2023 NCMPR National Conference in Orlando, FL.
We're already looking forward to other conferences in the Spring, Summer, and Fall and hope to welcome you at our booth.
If you're still deciding which conference to attend this year or need some inspiration, we updated our original post from 10 to 14 can't miss conferences benefitting the higher-ed industry in 2023. 
We hope to see you at a few of them soon!
Index
1 - Cascade CMS User Conference
3 - Ellucian Live
4 - NCMPR23 National Conference
5 - ACE2023
6 - Confab
7 - CASE Annual Conference on Marketing and Branding
8 - #PSEWEB 2023
9 - eduWeb Summit
10 - National Small College Enrollment Conference
11 - HighEdWeb 2023 Annual Conference
12 - EDUCAUSE Annual Conference
13 - 2023 AMA Symposium for the Marketing of Higher Education
14 - UPCEA MEMS23
1 - Cascade CMS User Conference
Hannon Hill's Cascade CMS User Conference is an annual gathering of customers, partners, and staff dedicated to sharing what's new and what's possible with Cascade CMS.
Each year Hannon Hill invites customers to demonstrate how they use Cascade CMS to solve common problems at their organization. We are always impressed by our clients' technical abilities, innovative ideas, and willingness to share detailed information with others. The 2023 conference is completely online, provides expert training, and gives an inside look at product and peer success roadmaps, and provides phenomenal networking opportunities.
When: February 20-22
Where: Virtual
Learn more: https://conference.hannonhill.com/ 
2 - Carnegie Conference
Carnegie focuses on higher education marketing and enrollment strategy, offering groundbreaking services in the areas of research, strategy, digital marketing, lead generation, slate optimization, student search, financial aid optimization, website development, and creative.
The 2023 Carnegie Conference was designed for higher ed enrollment leaders and recruitment marketers. It provides an interactive event that will explore the critical connection between marketing strategy and recruitment. With interactive sessions, actionable breakouts, and expert speakers, the event will touch upon the marketing mix of traditional and digital tools that can lead to increased familiarity, a stronger reputation, and meaningful engagement. 
When: January 25-26
Where: Disney's Yacht Club Resort, Lake Buena Vista, FL
Learn more: https://www.carnegiehighered.com/2023-carnegie-conference/
3 - Ellucian Live
Ellucian develops solutions that power the essential work of colleges and universities. As the world's leading provider of software and services designed for higher education, Ellucian works with more than 2,500 institutions in nearly 50 countries, enhancing operations and enriching the experience for over 18 million students.
Ellucian Live is Ellucian's annual user conference of more than 8,000 higher education leaders. At its core, Ellucian Live is focused on bringing together higher education administrators and technology leaders to share best practices focused on technology solutions that drive student success.
When: March 26-29
Where: New Orleans, LA
Learn more: https://www.ellucian.com/ellucianlive/save-the-date
4 - NCMPR23 National Conference
The National Council for Marketing & Public Relations is the only organization of its kind that exclusively represents marketing and public relations professionals at community and technical colleges. As one of the fastest-growing affiliates of the American Association of Community Colleges, NCMPR has more than 1,600 members from nearly 550 colleges across the United States and Canada.
Whether you're a one-person staff or a team of 20, new to the group or boasting plenty of conferences past, NCMPR in Orlando will be just the thing so you can feel sure in your role. That's because they have 20 Breakouts and 10 Short Takes to help you work better.
When: March 30-April 1
Where: Orlando, FL
Learn more: https://www.ncmpr.org/national-conference
5 - ACE2023 
The American Council on Education (ACE) is a membership organization that mobilizes the higher education community to shape effective public policy and foster innovative, high-quality practice.
ACE2023, the council's annual meeting, attracts presidents, senior executives, and other higher education leaders from all institutional types to be inspired by forward-thinking approaches. The event is designed to help top leaders across all higher education sectors network and bring data-driven insights back to campus. 
When: April 13-15
Where: Washington, DC
Learn more: https://www.acenet.edu/Events/Pages/ACE2023.aspx
6 - Confab 
Confab is an event for people who care about making content more useful and usable for everyone. Attendees don't have to be content strategists to attend. If you lead, design, build, or manage digital content, Confab is an event to consider in 2023.
Confab attendees get to spend time with the people whose work is shaping the global content strategy conversation. The presentations cover a range of interrelated topics, including website strategy, SEO, analytics, content accessibility, and design. Confab is designed to help people connect the dots between the different fields of practice and get the job done.
When: April 30-May 3
Where: Minneapolis, MN
Learn more: https://www.confabevents.com/ 
7 - CASE Annual Conference on Marketing and Branding
Building a strong brand for your institution has never been more important. 
The 2023 CASE Annual Conference on Marketing and Branding helps participants balance the reality of your campus with the overwhelming nature of being a marketer today, identify, explain, and integrate the key ingredients to creating, sustaining and measuring the impact of a successful brand strategy and market position. 
Join your colleagues to gain insights into how to start the process, bring your campus stakeholders with you, build the optimal organization, determine metrics that matter, and develop inspiring creative work that supports your effort. 
This conference is designed for professionals with mid-level responsibility.
When: June 26-28
Where: Seattle, WA
Learn more: https://www.case.org/conferences-training/annual-conference-marketing-branding-2023
8 - #PSEWEB 2023 
#PSEWEB is Canada's College & University Digital Marketing Conference. The conference was born out of the HighEdWeb Conference in the United States and aims to bring the same level of content, high-quality experience, and community to those of who happen to work in Canada.
The event is a practitioner-led conference for college and university marketers, programmers, designers, digital architects, and community managers: the people behind the online faces of their institutions.
#PSEWEB's "Building Bridges" theme encourages attendees to think about how they connect with purpose and build community daily.
When: July 12-13, 2023
Where: Vancouver Island, BC, Canada
Learn more: https://pseweb.ca/?fbclid=IwAR3DLRdp8S_S2jWUGSZJf_43JBh-XSRgU8moyF2s6keKyy_RQzuyk_9Crzw 
9 - eduWeb Summit
eduWeb is a community of higher education professionals and industry partners passionate about advancing their marketing, communications, and digital work from colleges and universities in the U.S. and abroad.
The eduWeb Summit will celebrate its 18th year in 2023 and focuses on the problems higher education marketers and communicators face and the exploration of solutions. Sessions offered at the summit were curated from a collection of challenges voiced by higher education professionals through a survey provided by the faculty behind the conference.
When: July 18-20
Where: Washington, DC
Learn more: https://www.eduwebsummit.com/
10 - National Small College Enrollment Conference
The National Small College Enrollment Conference (NSCEC) is one of the only educational and networking events focused on small colleges and universities. This summer conference offers small college professionals essential education and support.
This year's theme is "Sharing in Success". Attendees can choose from sessions about admissions, enrollment management, retention, Slate CRM, financial aid, marketing, and more. Attendees can attend all the sessions in a specific track or mix and match for a more customized experience. Altogether, the three days at NSCEC will cover cutting-edge strategies and practices to take back to campus.
When: July 24-26
Where: Charlotte, NC
Learn more: https://www.nscec.com/
11 - HighEdWeb 2023 Annual Conference 
HighEdWeb's mission is to educate digital professionals who work at higher ed institutions by providing materials and opportunities that develop knowledge, skills, and abilities.
The HighEdWeb annual conference is created by higher ed professionals all across departments and divisions. It focuses on the digital issues facing colleges and universities to help attendees achieve their institutions' goals. The conference is offered in a hybrid format so everyone can join regardless of location or circumstances.  
When: Oct. 8-11
Where: Buffalo, NY and Online
Learn more: https://events.highedweb.org/heweb23
12 - EDUCAUSE Annual Conference
EDUCAUSE is a nonprofit association and the largest community of technology, academic, industry, and campus leaders advancing higher education through the use of information technology.
With the best presenters, the best content, and the best networking, this premier higher education IT event brings together professionals and technology providers from around the world to discuss their discoveries, grow professionally, and explore solutions to continuing challenges.
When: Oct. 9-12
Where: Chicago, IL
Learn more: https://events.educause.edu/annual-conference
13 - AMA Symposium for the Marketing of Higher Education
The annual AMA Symposium is hosted by the American Marketing Association. Each year the AMA Symposium for the Marketing of Higher Education increases knowledge on the best uses of marketing principles and practices for colleges and universities.
AMA Symposium attendees will gain the necessary knowledge to increase their abilities to build and advance strong brands, improve reputation, achieve enrollment and fundraising success, improve competitive positioning, and maintain financial strength. The conference sessions focus on the practice of higher education marketing, provide ideas, and offer solutions participants can apply at their own institutions.
When: November 12-15
Where: Chicago, IL
Learn more: https://www.ama.org/events/conference/2023-ama-symposium-for-the-marketing-of-higher-education/
14 - UPCEA MEMS23
The 32nd Annual MEMS: Marketing, Enrollment Management, and Student Success conference is coming to Portland, Oregon this November 29-December 1.
The 2023 MEMS Planning Committee is already hard at work developing an engaging program, creative networking opportunities, and building on the successes and lessons learned from our previous events. This year the committee plans to bring an amazing lineup of speakers and sessions, filled with data-driven strategies and proven tactics to meet today's challenges to help you grow your enrollments and support your students' success.
When: November 29-December 1
Where: Portland, OR
Learn more: https://conferences.upcea.edu/marketing/
Conclusion
As you can see, there is an array of opportunities to take your higher education marketing strategy to the next level in 2023 with the conferences outlined above. Our team at Hannon Hill will be sure to attend a few of them, and we look forward to meeting many of you there. 
We can't wait to see you there!