By Chris Rapozo — Feb 27, 2023 11:00 AM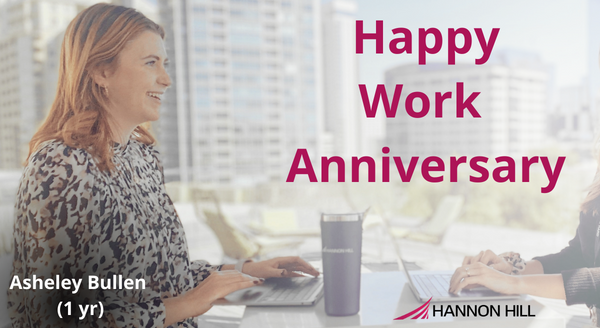 In February, we celebrated our Human Resources Manager, Asheley Bullen, on her one-year work anniversary with Hannon Hill and thanked her for her positive impact on our company during her first 12 months.
This Alabama native spent most of her childhood and young adult life in the south  before moving to Colorado for three years while her husband served at Fort Carson, a U.S. Army base located in Colorado Springs.
When it came to making the decision to either chant "Roll Tide" or "War Eagle" during her undergrad studies, Asheley decided to enroll at Auburn University and follow the footsteps of notable Tiger alumni, such as Tim Cook, CEO of Apple, and actress Octavia Spencer.
Her degree in biomedical science has little to do with her chosen career field in Human Resources; however, her minor in business administration proved to be invaluable in navigating her current responsibilities.
You may ask yourself, how did the biomedical science major end up running the HR department at a major tech company? 
The first step in her HR journey came when she joined a healthcare company in Colorado Springs as a Branch Manager. After just eight months in that role, the company promoted her to HR Manager where she built the company's HR department from the ground up. The more she learned about the role of HR in supporting employees and business objectives alike, the greater her desire to build a career in the field became.
Early in 2022, Asheley and her family moved back to the southeast. While searching for her next role in Atlanta, she came across Hannon Hill's HR Manager job listing on a job board. 
The robust job description and company intro told a story about a passionate group of individuals and a healthy company culture – something Asheley craved and wanted to be a part of.
She started at Hannon Hill remotely from Colorado as her family prepared to move across the country, then arrived in Atlanta to meet the team in person in March.
"My first day was a lot of remote training and tons of screen sharing," she recalls smiling. "After working remotely for a month, coming into the office and meeting people face-to-face for the first time was great!"
The best thing about working at Hannon Hill is the ability to grow professionally. It's, therefore, no surprise that in just one year, Asheley's position evolved. In addition to heading Hannon Hill's HR department, she also works closely with the Atlanta Ventures portfolio as Manager, Human Resources Business Partner.
The favorite part of her job is the amount that she has learned about the HR industry and the positive impact she can have in her role.
"My favorite part is the environment that is so conducive to learning. I feel like I'm pushed to learn in the best way and that I really have the trust to learn, to fail forward, and to grow from mistakes" she says.
When it comes to her biggest achievement thus far in her role as HR manager, Asheley is proud to have successfully created a comprehensive performance management system that starts with a thorough job description on day one.
"Our performance management system focuses on establishing and communicating expectations, making sure that people are on track to learn in their training when they first start," she says.
When thinking back on the past twelve months, her favorite memory about working at Hannon Hill was the day the building that holds our office, the Atlanta Tech Village, opened its rooftop after renovation. Asheley and a few of her colleagues joined the celebration on a pleasant autumn day in Atlanta.
Regarding Hannon Hill's future, Asheley predicts a healthy amount of growth—more team members and maybe a bigger office to continue to meet the customers' needs. Whatever the future holds, she knows that the company will continue to be on the cutting edge of the CMS industry and a leading player in the higher-ed tech space and beyond.
Asheley, congratulations on your one-year anniversary with Hannon Hill. We thank you for your service and dedication to making Hannon Hill a healthy working environment that fosters professional growth while offering a stellar work-life balance for all team members.