Marketing in Higher Ed: 5 Content Marketing Trends in Higher Education to Watch
By Kat Liendgens — May 22, 2018 11:00 AM
We're finishing our Marketing in Higher Ed series by highlighting some of the most prominent content marketing trends that are shaping the industry. We'll tell you why they matter and explain how to respond to them.
A ton of articles and white papers highlight marketing trends in higher education. While some findings are surprising, others continue to point out things we already know (yes, mobile is indeed important!).
One thing we cannot ignore is declining enrollment at colleges and universities. According to Inside Higher Ed, "Nationwide enrollments began their slide in 2012 and have now continued for the last 10 consecutive college terms." These developments have impacted and will continue to impact marketers. Not only will marketers be expected to boost enrollment with innovative campaigns, C and VP level stakeholders are now understanding that in times of enrollment downturn, you need to invest more.
Here are five trends to watch over the next 12-18 months.
Expand, not retract
Usually, there's a tendency to cut budgets when student applications decline. Based on many conversations I've had with partners and customers, decision makers are starting to see that this is not the right response. Institutions must, instead, invest in marketing to drive applications.
Maintaining healthy marketing budgets during periods of decline help your organization compete. Leaders in higher education are starting to see the value of having not only a well-designed website, but also one that's filled with fresh, quality content.
Websites are one of the most important tools in attracting students. Make no mistake: competition is getting steeper, and not just because the number of applications is declining. Nearly a third of college-bound students apply to seven or more colleges, compared to 9% in the 1990's. Cutting marketing budgets risks losing prospective students to the competition. Don't be that organization. Do yourself a favor and invest in marketing to boost applications and enrollments.
Emphasis on storytelling and other social proof
Since we know that lower enrollments yield more competition, marketers must get better at convincing prospective students of the merits of their institution. One of the best ways to communicate your institution's unique value is with storytelling and social proof. According to the Guardian and Social Media Week, 70% of people put more trust in peer recommendations and reviews than brand-generated content, and 72% of brands believe that user-generated content engages their audience.
Highlighting the experiences of current students, alumni, and faculty members is a powerful way to convince prospective students that your organization is right for them. These stories can highlight all the best things about your institution like the quality of education offered, personal development opportunities, social activities, and more.
How can you do this?
Feature students who represent your target audience. Remember: your goal is not just to attract the right audience, but also repel the wrong one, so be sure to create authentic content, coming straight from the students themselves.
You need UGC as an integral part of your content arsenal. It can (and should) take many different forms, such as videos, social posts, and contests, or student blogs (check out what the University of Richmond has done). Your marketing team won't be able to do it all. Grow your CMS user-base to publish more content, faster. Empower contributors to not just write their own content, but also move it into your CMS, so to reduce the go-to-market time for fresh content.
Video is important, but not the end all, be all
While Video is vital, it can't be the only part of your content marketing mix. Relying on video to convey your message and to engage prospective students won't deliver the results you expect.
Here are few stats from a recent study conducted by mStoner that explain why;
64 percent of teen college prospects prefer to consume college website content through text and articles.

54 percent of teen college prospects rated having compelling text on college websites as highly important

Only 40 percent of teen prospects prefer to consume video content on college websites
So while video can be a valuable tool for communicating with prospects, remember that your audience needs and wants text-based content too. It's all about choosing the right medium for the right audience at the right time.
What does this look like?
Keeping text-based content fresh

Eliminating broken links, misspelled words, accessibility issues, and blurry images

Teaching contributors the essentials of writing for the web

Separating content from presentation whenever possible
Less obsession with SEO, more with engagement
A few years ago, inbound marketing was all the rage. The idea was that using the right keywords on your website would attract new visitors to your site, show them that you're knowledgeable and trustworthy, and ultimately convince them to become customers.
Don't get me wrong, creating content that answers the questions your audience wants to know should be the focus of your content marketing efforts. The emphasis, however, should be on engagement.
Think about it. Most prospective students know which colleges they want to check out. They don't search for keywords or phrases and stumble upon new institutions they later attend. It simply doesn't work that way. Instead, they visit many college websites, and most of them return to sites several times before applying. The better you are at providing top-notch experiences that encourage prospective students to come back to your site, the more likely you are to increase application submissions. Make your website engaging by offering interactive resources, omnichannel experiences, and personalized content.
More business marketing practices in higher ed
Based on many conversations with customers, partners, and other industry leaders, we noticed that more and more marketers in higher ed appreciate quality websites. They're also embracing other sales and marketing trends that are common outside of the industry. Words like "lead" or "conversion" or "funnel" are no longer frowned upon, because marketers know that it is all about attracting and converting the right prospects. It's no surprise that a recent article by ecityinteractive revealed that many marketers in higher ed want to approach enrollment marketing like a business.  
"I'm hoping to see more business marketing practices used in higher education. You have to build and nurture the funnel and pipeline to impact the bottom line. Ultimately, student recruitment and retention parallels customer acquisition and retention. I would like to see education pushed as a tangible product and service that has its pros/cons just like any other consumer product good or service."
-De'awn Bunch
Executive Director Of Enrollment Services Communication & Marketing
University Of Houston
"Broadly speaking, I would like to see higher education learn from the private sector. There is a lot we can learn and apply to higher education especially when it comes to user-experience and the idea of listening to the voice of the customer – whether these are students, family, faculty, or alumni. Marketing in higher education needs to evolve to encompass all aspects of marketing – from product to price – flexing its muscles to offer strategy to advance the institution."
Michelle Bartonico
Director For Strategic Communications & Marketing
Trinity University
It's not a matter of if this shift will happen, it's a matter of when. We're seeing more and more marketers in higher ed embrace personalization and targeted content delivery, omnichannel experience, and engagement management.
Conclusion
More recognition of the importance of your website, faster execution, and embracing modern business marketing approaches such as personalization are among the most promising developments in higher education marketing. It's an exciting time for those who are agile and willing to maximize engagement.
What about you?
What are some of the content marketing trends in higher education do you see? Share your thoughts with us below or tweet your favorite trends to us @hannon_hill.
Want to know even more about what's next for marketers in higher ed? Join us at #CUC18! We'll share trends, tips, and case studies all designed to help you overcome some of higher ed's biggest marketing challenges using Cascade CMS!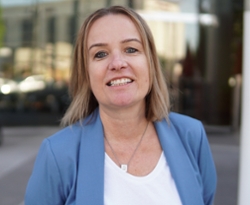 Kat Liendgens
CEO
  kat@hannonhill.com
  @katliendgens
Categories