Brad Kazmer
Director of Professional Services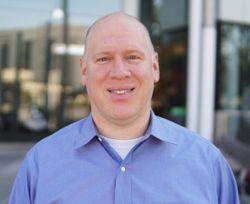 Email: brad.kazmer@hannonhill.com
What do you do for Hannon Hill?  
As the Director of Professional Services at Hannon Hill, I coordinate with organizations to get them what they need to effectively use Cascade CMS and Spectate. My main functions are to listen to prospects and clients to determine needs, remove barriers, and provide custom solutions because no one organization is exactly the same.
Why do you work at Hannon Hill?  
The people, both colleagues and clients. Everyday I get to work with really smart people that are just as generous and thoughtful as they are talented.
Superpowers at work:  
Velocity, XSLT, HTML, CSS, Javascript, multi-tasking, making lists
Superpowers outside of work:  
Patience and critical problem solving
Best advice you've ever received:  
Two things: be yourself and work hard.
What do you do for fun?  
Travel, cook, watch sports (any sport really -- I like spectating), and spend time with my dog.
If you didn't't work in technology, what would you be doing?  
I'd probably be a teacher, most likely math.
Favorite quote:  
"You never fail until you stop trying."
-Albert Einstein