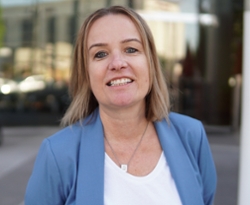 Email: kat.liendgens@hannonhill.com
What do you do for Hannon Hill?
I'm responsible for the planning and execution of Hannon Hill's strategic vision. This includes making sure that the right people are hired, coached and nurtured, that our product roadmap hits the nail on the head, that our company values are the basis of everything we do, and that Hannon Hill is the best company to work for and to work with.
Why do you work at Hannon Hill?
Oh, where should I begin...My team members are some of the greatest people you would ever want to work with. Their dedication to our customers, their colleagues, and their craft is truly inspiring. I love the way we foster innovation and collaboration and that we can serve as an example to other companies that you can be wildly successful without shady sales tactics simply by being genuine, by being good to your people, and by caring about everyone you interact with.
Superpowers at work:
Foreseeing trends in the content management and content marketing world, ability to adapt quickly to new situations, great estimating skills (knowing how long something will take and/or how much will cost). I work fast.
Superpowers outside of work:
Great estimating skills (knowing how long something will take or how much it or how much it will cost). I can turn most meat dishes vegetarian. Dog whisperer.
Best advice you've ever received:
The only things in your career that you can control are your work ethic and your attitude.
If you didn't work in technology, what would you be doing?
This is a tough question to answer, because most jobs involve technology at some level. I've always dreamed about running an animal rescue.
Favorite quote:
"It is only with the heart that one can see rightly; what is essential is invisible to the eye."
- Antoine de Saint-Exupéry, The Little Prince