By Laura Rives — Apr 14, 2020 11:00 AM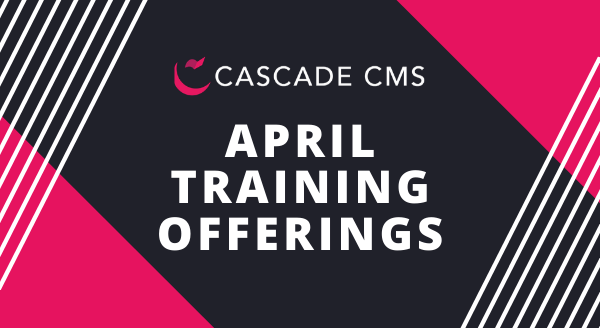 Your website is likely the hub of your crisis communication strategy, so it's crucial to use Cascade CMS to its full potential at this time. In an effort to best support a range of needs, Hannon Hill is excited to offer two training opportunities that we encourage you and your team to take advantage of.
Groupcamp
Join us April 27-28 for two full days of Cascade CMS training delivered virtually by our Lead Trainer. If you are a System Administrator, Webmaster, or Developer that needs an accelerated learning plan, Cascade CMS Groupcamp is for you.
Details:
Date: Monday, April 27 - Tuesday, April 28
Time: 10:00am - 6:00pm EST (both days)
Format: Remote via screen share (this will be a shared environment with attendees from other organizations)
Attendees: Cascade CMS System Administrators, Webmasters, Developers, and Power Users
COVID-19 Relief Pricing: $650 plus taxes and fees
Topics Covered:
Cascade Interface, Dashboard and Site Content Views
Administration, Users, Groups, Roles, and Workflows
Creating a Page, Converting an HTML Page to a Cascade Page
Coding Formats, Using Velocity for Page Content
Formats and Index Blocks, Navigations and Breadcrumbs
Content Reuse/Syndication through News, Articles, and Archives
Managing a Site, Settings and Publishing
Important Information:
Groupcamp will be delivered live, so please be available all day for two days.
You will need a dedicated screen to view the Hannon Hill trainer's screen and their own computer/workspace with a network connection.
Attendees should come prepared with access to an IDE to help streamline the coding process. Free examples: Atom, Sublime Text, and TextWrangler.
We kindly ask that no more than two people per organization register for Groupcamp.
End User Training Webinar
We understand the importance of having an accurate and up-to-date website during this time of need. With this in mind, as well as ensuring that new and existing end users who may need some help with the basics of managing content in Cascade CMS have a resource, we'll be hosting a free End User Training webinar Thursday, April 30.

Your specific implementation can (and will) vary based on your design. However, this webinar will highlight the major areas of the user interface and a number of different content creation examples End Users should know about.
Details:
Date: Thursday, April 30
Time: 2:00pm - 3:30pm EST
Attendees: Cascade CMS End Users
Price: Free to all Cascade CMS Customers
Topics Covered:
Login, Dashboard, Sites, Asset Tree
Create, Edit, Publish, Live, Unpublish, Delete, Comments, @ Mentions, Drafts
Pages (Rich Text, Structured), Images/Files, Folders, Content Checks
Submitting into Workflow
My Content (Recent, Drafts, Locks, Workflows)
 We hope to see you there. Please direct questions to Charlie Holder by emailing charlie.holder@hannonhill.com.