By Laura Rives — Feb 11, 2020 11:00 AM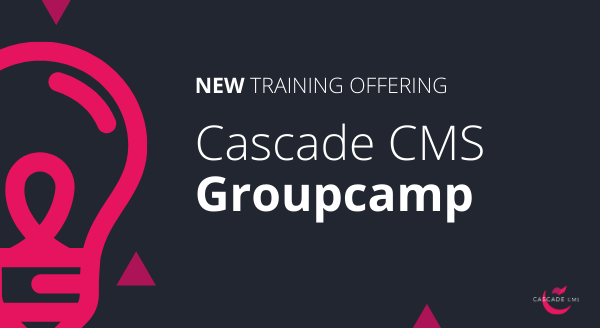 Cascade CMS is evolving and improving on a daily basis. We are committed to this product and to the success of its user base, which is why we're excited to launch a NEW training offering: Cascade CMS Groupcamp.

Cascade CMS is a robust product built to support system-wide implementation. It's our job to help you navigate its powerful features, stay abreast of new releases, and get the most out of your investment. We're launching this training offering to help meet all of these requirements.

Groupcamp is designed for organizations with Developers and System Administrators that either never went through technical training with us or need a refresher on best practices. If you've hired someone new, reallocated resources, or simply need assurance that you're doing things right, Groupcamp is for you.
Groupcamp Details:
Date

: Monday, March 2 - Tuesday, March 3

Time

: 10:00am - 6:00pm EST (both days)

Format

: Remote via screen share (this will be a shared environment with attendees from other organizations)

Attendees

: Cascade CMS System Administrators, Webmasters, Developers, and Power Users

Cost

: $750 plus taxes and fees
Topics Covered:
Cascade Interface, Dashboard and Site Content Views

Administration, Users, Groups, Roles, and Workflows

Creating a Page, Converting an HTML Page to a Cascade Page

Coding Formats, Using Velocity for Page Content

Formats and Index Blocks, Navigations and Breadcrumbs

Content Reuse/Syndication through News, Articles, and Archives

Managing a Site, Settings and Publishing
FAQs
Will I be able to ask questions and interact with the presenter?
Yes! You will be able to interact with the presenter, as well as your peers from other organizations attending the training.
Do I need to block my calendar for those dates, or can I watch at my own pace?
Groupcamp will be delivered live, so you need to be available all day for two days.
What do I need to prepare beforehand?
It is necessary for each participant to have a dedicated screen to view the Hannon Hill trainer's screen and their own computer/workspace with a network connection. Attendees should come prepared with access to an IDE to help streamline the coding process. Free examples: Atom, Sublime Text, and TextWrangler.
Our organization is new to Cascade CMS. Is Groupcamp a good fit for us?
Registration is limited to organizations that have been using Cascade CMS for one year or more. We recommend a dedicated boot camp if your organization is within its first 12 months using the product.
How many people from my organization can attend?
We kindly ask that no more than two people per organization register for Groupcamp. If you have a larger group requiring training, please reach out to charlie.holder@hannonhill.com to discuss your options.
Will you offer Groupcamp again in the future?
Yes! Our plan is to offer Groupcamp multiple times throughout the year. If these dates don't work for you or the event sells out, we encourage you to participate the next time Groupcamp is offered.
Is there a waitlist for this event in the event of a sell out?
There is not a formal waitlist for this event. We will, however, keep a list of inquiries on a first come, first served basis in the event someone wants to cancel.

We can't wait to see you there! Please direct questions to Charlie Holder by emailing charlie.holder@hannonhill.com.