By Daisy Perper — Jan 28, 2021 11:00 AM

About 
Colorado Mesa University (CMU) is a public university located in Grand Junction, Colorado, with additional locations, including a Bishop Campus and a Montrose Campus. The university offers associate, undergraduate, and graduate degree programs, including doctoral degrees. Accredited by The Higher Learning Commission, CMU currently reports an enrollment of approximately 11,000 students.
A Switch to Cascade CMS
After an extensive RFP process, CMU chose Cascade CMS to fuel their university website because of its functionality, pricing, user-friendliness, and the ability to support CMU's desired outcomes. 
Getting Started
QuickStart Implementation
In collaboration with Hannon Hill's Professional Services team, the university's website was implemented in Cascade CMS with maximum content reuse and a minimum involvement of technical resources in mind. Within just a few weeks, the main website was integrated in the new CMS, along with a calendar and faculty and staff directory. Now, users have multiple templates to choose from when creating new pages.
Even though the university's web team consisted of only one member at the time, the project was completed on time and within budget. The university quickly grew the user base to 210 content contributors across campus.
Project Highlights
Faculty and Staff Directory
In addition to the QuickStart package, the Hannon Hill Professional Services Team worked to implement a faculty and staff directory. The faculty page utilizes the same template as the standard page, but incorporates several metadata fields specific to necessary data collection. These fields allow for sorting on directory pages, as well as individual search functionality.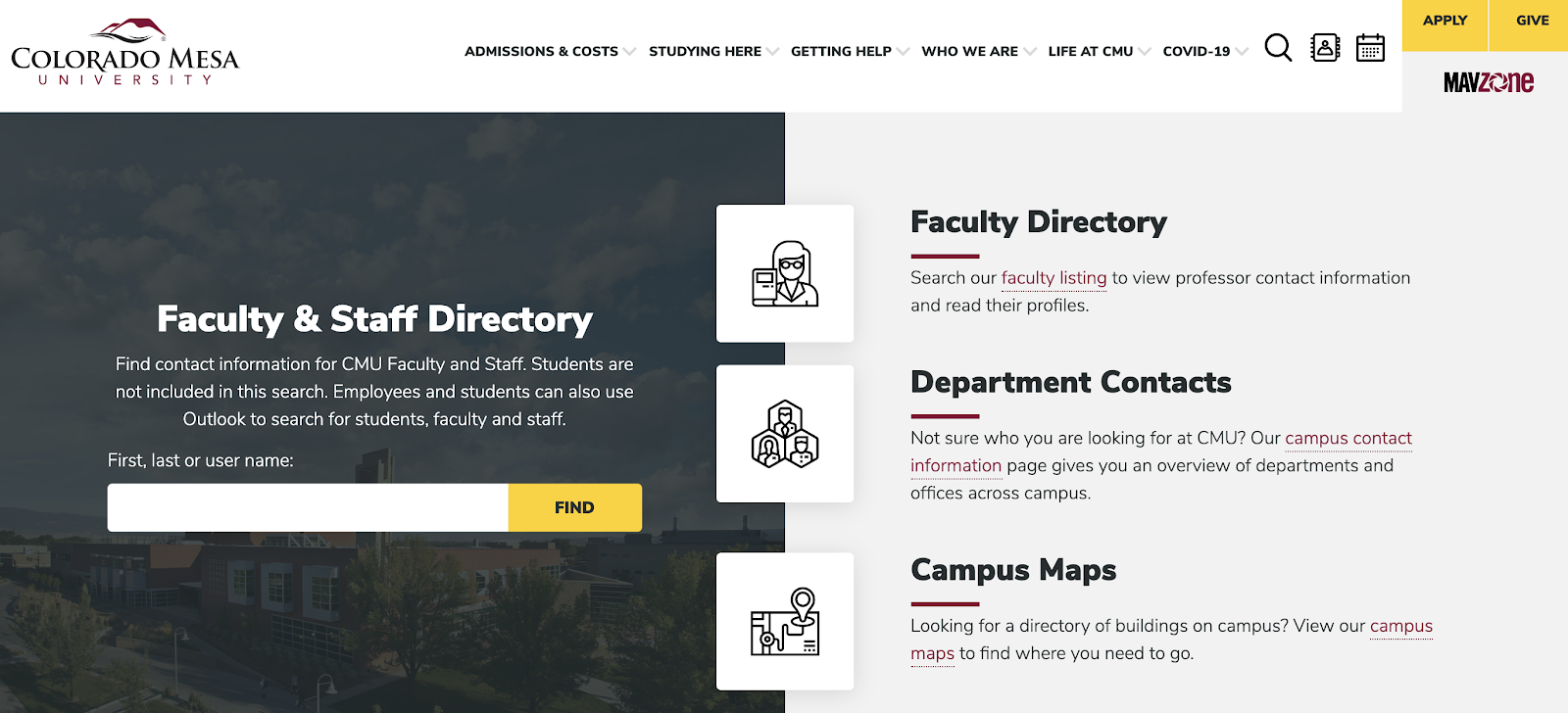 Calendar
In order to create a custom calendar for the CMU team to utilize, the Services team implemented an event template with pre-built metadata fields, a monthly calendar view that is auto populated based on event entry, and custom organization features such as categories and colors. The calendar enables users to toggle between monthly, weekly and daily views.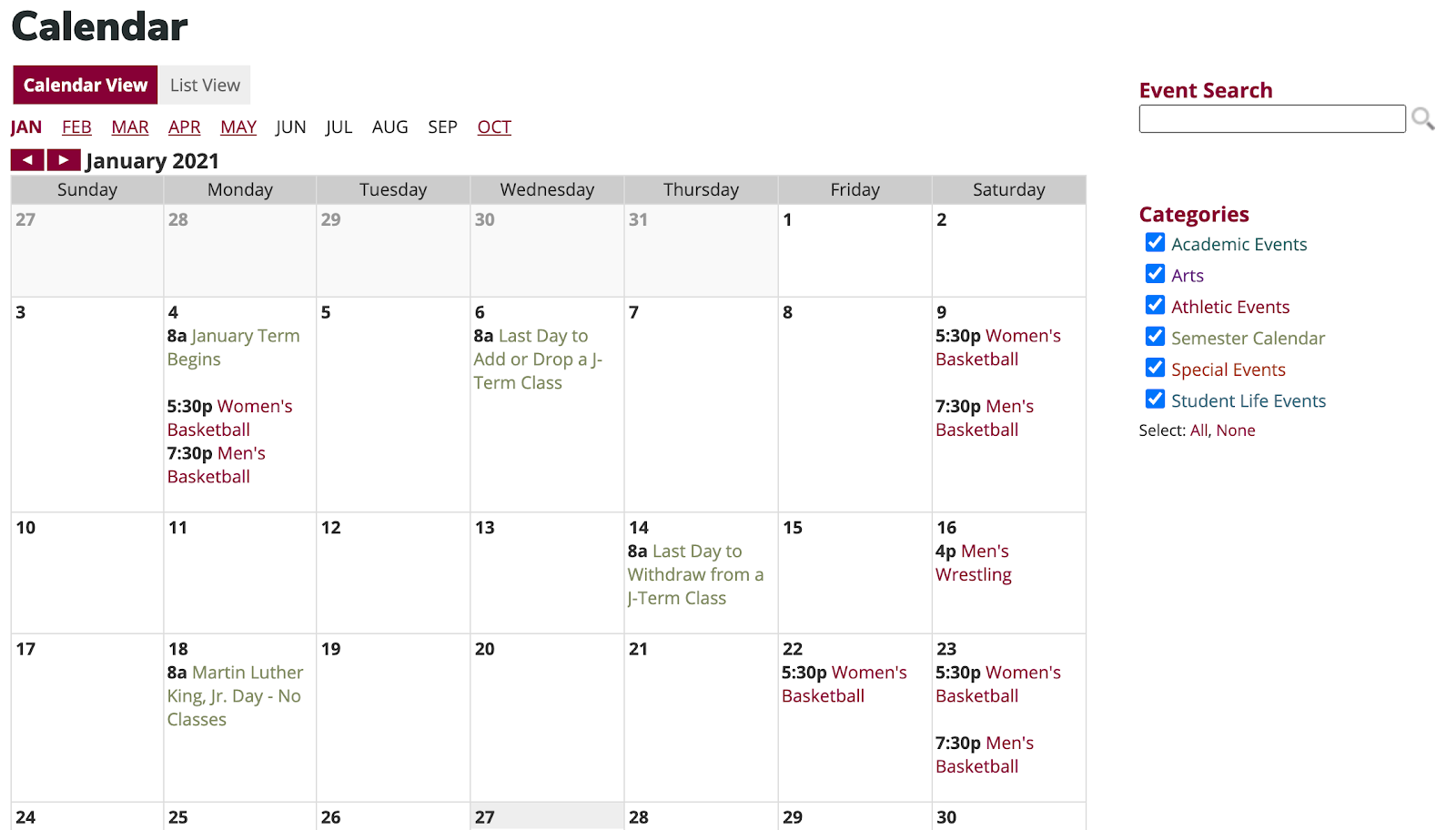 In addition to the calendar format, events are available in list view.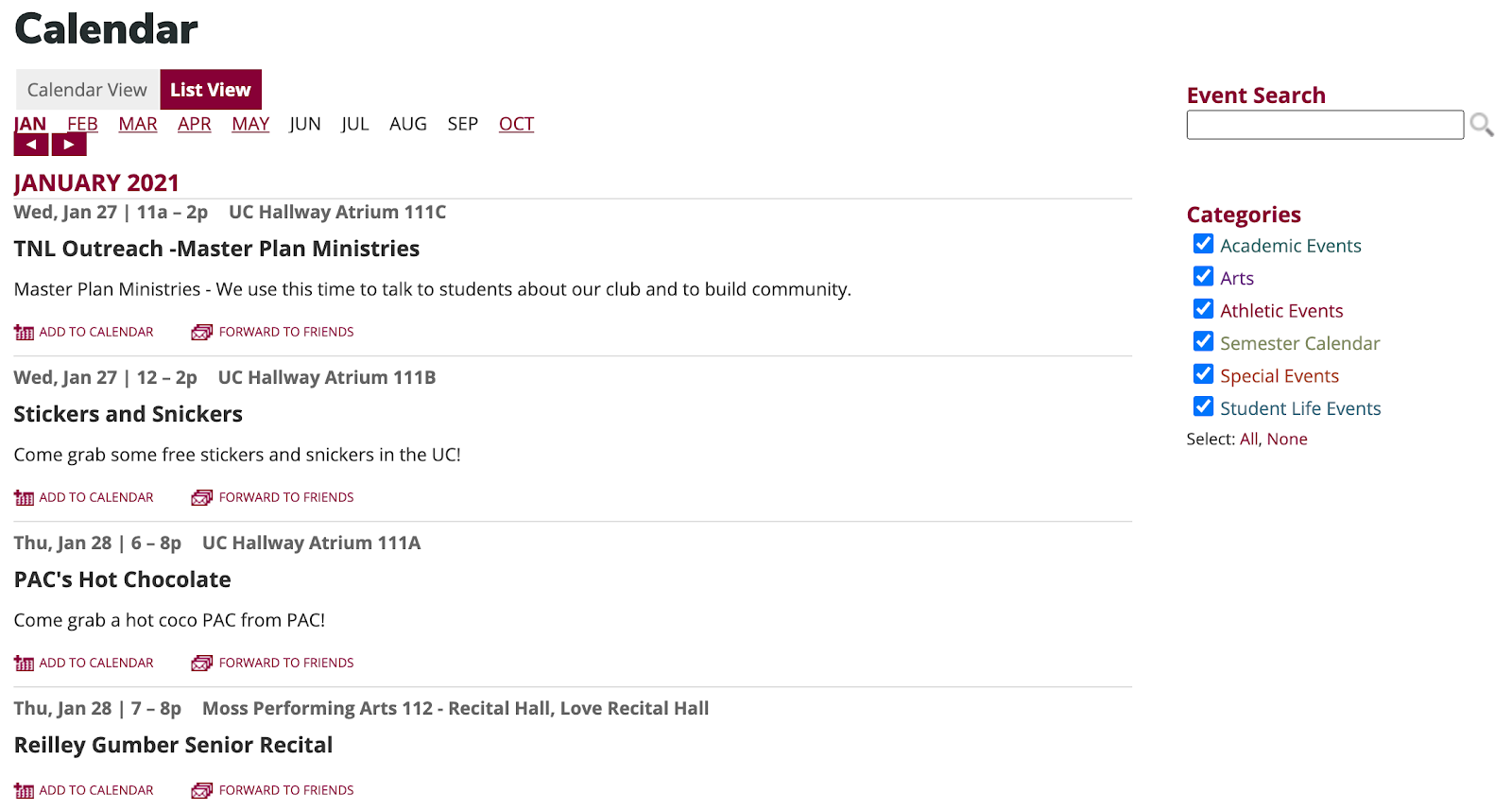 Emergency Alerts
The Emergency Alert page type was built to be used in the event of an emergency (ex. earthquake, flood, etc.) to communicate priority information to website visitors. Emergency Alerts are maintained as separate pages inside of Cascade CMS to allow CMU to pre-load emergency messages and Active/Deactivate as needed. Emergency Alerts also have the ability to be created/edited during an emergency on an ad hoc basis.
Summary
After the switch to Cascade CMS and services projects, the CMU team has been able to efficiently reuse templates and content types to meet the needs of their evolving and ever-growing website. Additionally, the team looks forward to utilizing Clive to expand digital personalization efforts across its site. With new projects on the horizon, the Hannon Hill team is excited to continue its partnership with the CMU team.

For a more in-depth view into Colorado Mesa University's switch to Cascade CMS including the challenge, product evaluation, solution and results, we encourage you to visit our recently-published case study.