By Daisy Perper — Oct 21, 2021 11:00 AM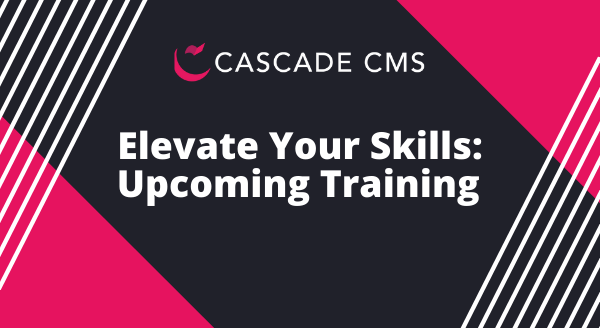 As the world continues to adjust to the "new" normal, we understand the elevated role organizational websites play as the main resource hub for audiences. We are constantly improving our products and service offerings to better serve customer needs and exceed visitor expectations.

With this in mind, we received a lot of positive feedback coming out of last month's Cascade CMS User Conference requesting conference-style technical training workshops throughout the year. As we look to incorporate additional workshops into the calendar, we're excited to highlight a few opportunities that are currently available to you and your team.
Cascade CMS Groupcamp
Groupcamp is designed for organizations with Developers and System Administrators that either never went through technical training with us or need a refresher on best practices. If you've hired someone new, reallocated resources, or simply need assurance that you're doing things right, Groupcamp is for you.
Please note this training is for customers who have been with us for more than 1 year and is limited to two users per organization. A maximum of two users per organization will be admitted.
The last Groupcamp of 2021 is approaching. Here are the event details:
Date: Monday, November 8 - Tuesday, November 9
Time: 10:00am - 6:00pm EST (both days)
Format: Remote via screen share (this will be a shared environment with attendees from other organizations)
Attendees: Cascade CMS System Administrators, Webmasters, Developers, and Power Users
Cost: $750 plus taxes and fees
Topics Covered:
Cascade Interface, Dashboard and Site Content Views
Administration, Users, Groups, Roles, and Workflows
Creating a Page, Converting an HTML Page to a Cascade Page
Coding Formats, Using Velocity for Page Content
Formats and Index Blocks, Navigations and Breadcrumbs
Content Reuse/Syndication through News, Articles, and Archives
Managing a Site, Settings and Publishing
Cascade CMS Bootcamp
The Cascade CMS Bootcamp is a great option for organizations that either need more than two staff members trained and/or desire a private, more personalized experience.

The Cascade CMS Bootcamp is conducted over two and a half days. The first two days are given consecutively, with an additional half-day scheduled soon after to review topics, answer questions, and cover additional material.

This hands-on training teaches participants how to create and integrate the fundamental assets needed to build a website from scratch, taking full advantage of Cascade CMS. The majority of the content is directed at technical System Administrators and Developers.

Topics included, but not limited to:
Cascade Interface, Dashboard, Site Content Views
Administration, Users, Groups, Roles, Workflows
Creating a Page: Convert an HTML Page to a Cascade Page
Introduction to Coding Formats using Velocity for Page Content
More Formats and Index Blocks, Navigation, Breadcrumbs, Macros
News Section, Articles, Archives, Feeds, Content Reuse/Syndication
Managing a Site, Settings, Publishing, Connectors
Reports for Managing Content and Users
Open Block, Dedicated time with Trainer
In addition to the Groupcamp and Bootcamp, our training team has developed various comprehensive programs for both technical and non-technical users of Cascade CMS and Clive. All training sessions can be either remotely or in-person and are recorded with raw video files provided at no additional cost.
Finally, we offer periodic no-cost training demonstrations for end users, as well as no-cost Minicamps—a half day of technical training—for developers.
Be sure you're subscribed to our mailing list to receive updates!
To explore the full list of Cascade CMS & Clive training offerings including custom options, please visit our training page.