The Cascade CMS User Conference Call for Speakers is Open
By Laura Rives — May 4, 2021 11:00 AM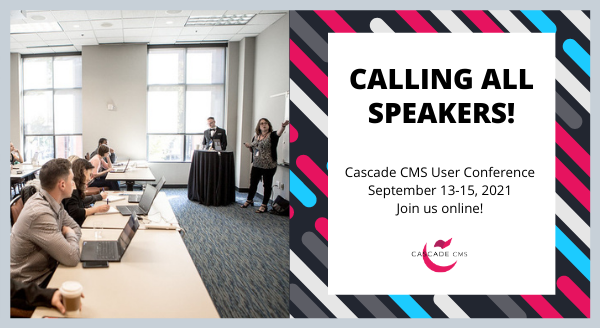 One of the greatest things about Cascade CMS is its network of fellow users who so generously share their ideas, experiences, and lessons learned with the community. There's no greater opportunity to share your story than speaking at this year's user conference.
From developers and administrators to marketers and designers, everyone is excited to hear about the great work you've done with Cascade CMS. If you've made a breakthrough, solved a problem, or made something more efficient, we want to hear from you!
What's involved:
Submit a proposal to be considered for a 50-minute speaking slot at the 2021 Cascade CMS User Conference. Accepted customer-led sessions include one complimentary main conference registration (workshops excluded).
Sample topics include:
Programming and backend development
Web team structure, leadership, and governance
Web accessibility
Storytelling, content strategy, content reuse
Redesign, web trends, adapting to pandemic challenges
Personalization
If you've never done this before or if you've stood up in front of a crowd hundreds of times, we encourage you to submit a proposal. It's the diversity of presenters and topics that make the Cascade CMS User Conference special.
Important information:
The deadline to submit a proposal is Friday, June 25. We will notify you on or before Tuesday, June 29 if your proposal has been accepted.
All customer and partner sessions will be pre-recorded. If you are able to add captions to your video, that is preferable. If not, the Hannon Hill team will add captions for you.
Please let us know if you are willing to answer live Q&A after your session has aired.
The deadline to submit your video is Friday, August 20.
A limited number of industry / partner sessions are available. If your proposal is accepted, a fee will apply.
Event details:
When: September 13-15, 2021
Where: Online
Who: Cascade CMS users
Format: One day of technical workshops (optional), followed by two days of traditional conference sessions
We look forward to reading your submissions! Feel free to drop us a line at conference@hannonhill.com with any questions or visit conference.hannonhill.com to learn more.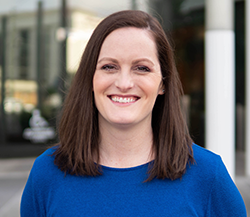 Laura Rives
VP of Sales and Marketing
  laura.rives@hannonhill.com
Categories