By Daisy Perper — Sep 7, 2021 11:00 AM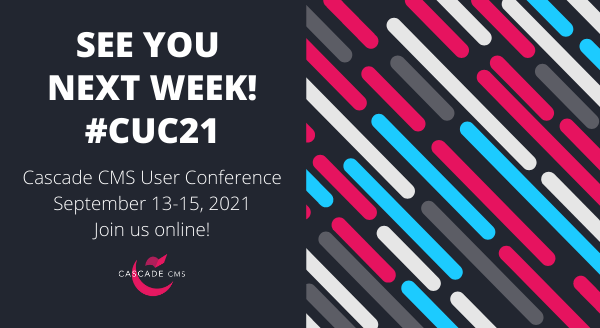 Next week Hannon Hill will launch its 14th annual Cascade User Conference, uniting Cascade CMS Administrators, Developers, Marketers, and End Users from all over. During this three-day virtual event, we'll discuss the latest in web development, content strategy, content marketing, and much more.

We're more than a little excited to kick off this year's festivities. We've got workshops, diverse session topics, and networking opportunities to help make this conference unforgettable.
Here's a rundown of a few things to look forward to at #CUC21:
Training: From the optional one-day technical workshops (registration is now closed) to the Workflows mini-workshop included as a multi-session during the traditional conference days, we're excited to include multiple training opportunities. 
Sessions: We're offering nearly 20 different sessions showcasing what users & partners have accomplished with Cascade CMS & Clive. Get tips, tricks, and ideas from your colleagues, as well as Hannon Hill developers and trainers. Check out the full line-up!
Recent Releases: Join Hannon Hill experts as they do a deep dive into recently-released features, polishes, and fixes in both Cascade CMS & Clive. 
The Roadmap: Get a preview of what you can expect from Cascade CMS & Clive in 2022 and beyond. Our CEO and VP of Engineering will walk you through updates and changes we'll make to the products in the future.
Networking: Join us after a full day of sessions to unwind with your peers at our virtual breakout sessions. Choose your topic, and join in on the conversation! In addition to the networking hour, enjoy one-on-one messaging opportunities with attendees at any time within the platform.

To all registrants, please be on the lookout for an e-mail message containing conference FAQs including how to log on during workshop and/or conference days.
If you haven't registered yet and would still like to attend, passes to the two-day traditional conference are still available. You can register here. 

For any additional inquiries, please email us at conference@hannonhill.com. We look forward to seeing you online next week!