By Asheley Bullen — Oct 27, 2022 10:00 AM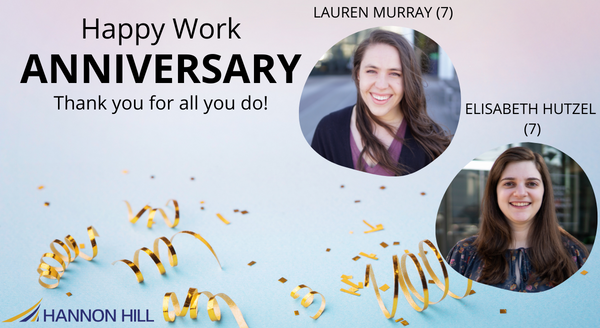 In the month of October, we're proud to celebrate the work anniversaries of two Hannon Hill team members. 
Lauren Murray, Services Project Manager, 7 years 
Lauren joined Hannon Hill in 2015 as the Success team's Client Advocate. She heads into her 8th year with us as the Services Project Manager. In her current position, she continues to put her stellar organizational and relationship-building skills to work, helping customers through implementations, migrations, and all other Services projects. She's got a knack for ensuring projects run smoothly and is the glue that holds the Services team together.
When we asked Lauren what her favorite thing about working at Hannon Hill was, she said:
"Easy answer - the people!
Everyone that works here is so kind and always willing to help, whether it's related to their role or not. We also really care about each other and enjoy spending time together. Everyone at Hannon Hill is so invested in our clients' happiness and always willing to go above and beyond to ensure client success."
What does Lauren look forward to in the future with Hannon Hill?
"One of the things I have always really liked about Hannon Hill is our leadership's willingness to let everyone try something new.
Because of that, each team member has the ability to learn new things and grow. I like seeing my team get excited about new projects or tasks and watching them grow professionally. I also get excited thinking about the possibilities of improving different processes for the team."
Elisabeth Hutzel, Services Senior Web Developer, 7 years 
Elisabeth joined the Hannon Hill team as a Web Developer in 2015. She's a pro at understanding customer needs, preferences, and overall vision and then putting it into action in her projects. As a Senior Web Developer, Elisabeth takes pride in completing complicated projects on time and to the highest degree of quality for each and every customer. 
When we asked Elisabeth what her favorite thing about working at Hannon Hill was, she said:
"This one is easy, definitely the people! I know we all say this, but I really enjoy having a great rapport with my teammates, even now that I'm working fully remote. I also like to expand my answer whenever I get asked this to include our clients as my favorite thing, too, as they are definitely part of "the people!"
Hannon Hill would not be such a great experience if I couldn't build such amazing relationships with a lot of our clients.
It allows me to communicate with them more effectively and make sure that what I develop is what they are looking for, especially with our repeat and long-term clients."
What are you most looking forward to in the future with HH?
"I think I'm always excited about the future of Cascade CMS, as it is the focus of my work. Going from version 7 to 8 was amazing!
We are constantly adding new features to the product to make new things possible and keep up to date with the latest and greatest technologies. I'm also interested in any new verticals or products we might delve into, as this would expand who and what I get to interact with."
Lauren and Elisabeth are an integral part of the future success of our organization, and we are proud to have both on our team.
Thank you for your hard work and dedication.