Cascade CMS User Conference
We're excited to announce the upcoming Cascade CMS User Conference! 
Taking place February 20-22, 2023, this conference will be held fully online and will offer both technical workshops and the traditional two-day conference format.
To learn more, please visit our conference page.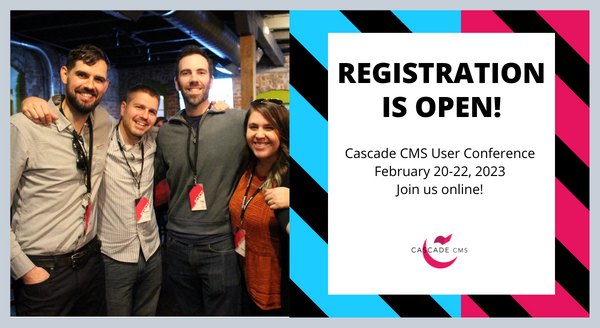 Create Next-Level Digital Experiences
Cascade CMS and Clive is the preferred content management suite for those who value maximum flexibility, high-quality content, and the highest return on investment. Our tools are focused on keeping your users engaged in the CMS and invested in their content by providing action items to help create, manage, and publish more effective content.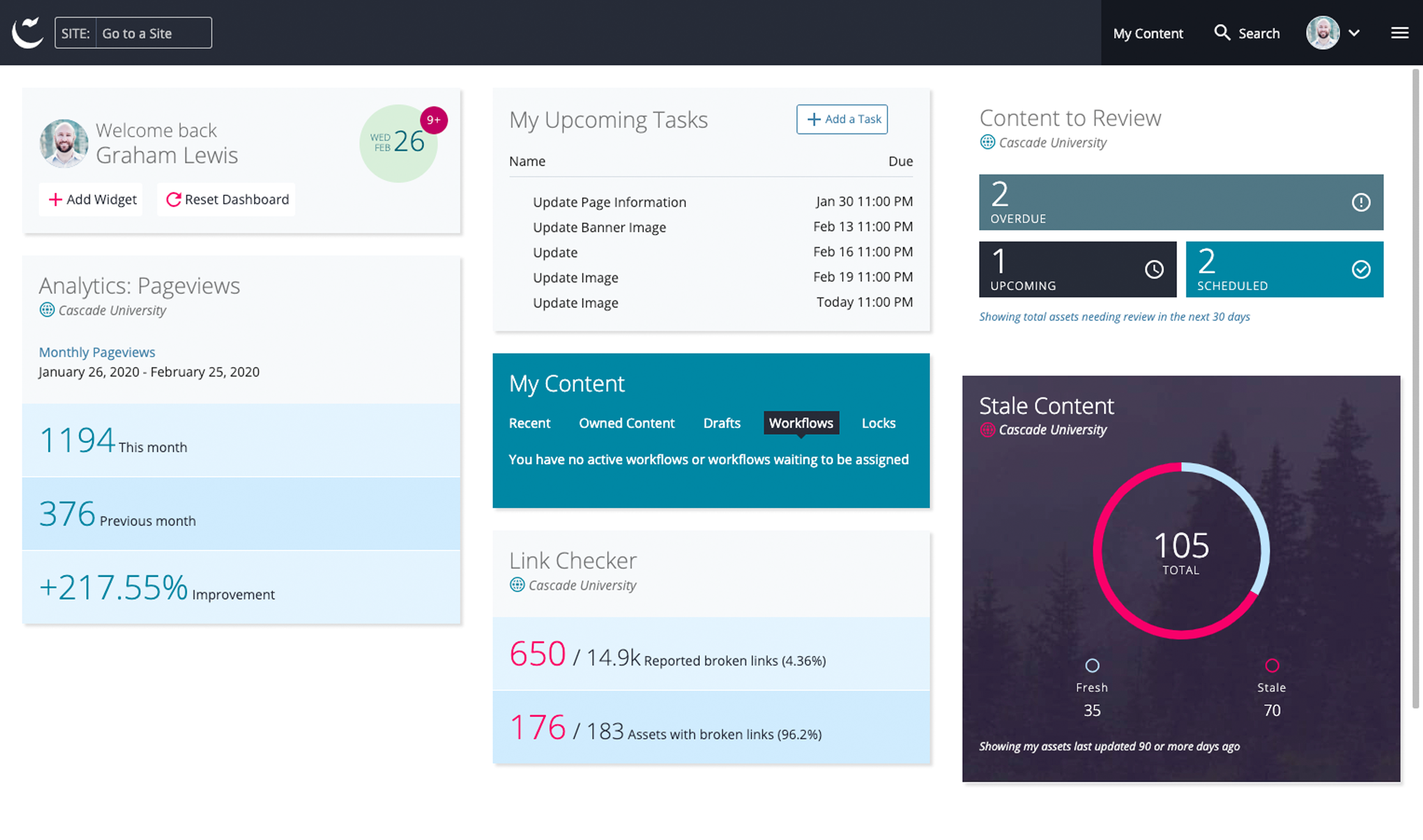 Customer Spotlight
When UCSD switched to Cascade CMS in 2008, it required a well-structured web content management system to load hundreds of sites quickly and efficiently migrate its existing content to a new CMS. This spotlight celebrates how UCSD did it successfully.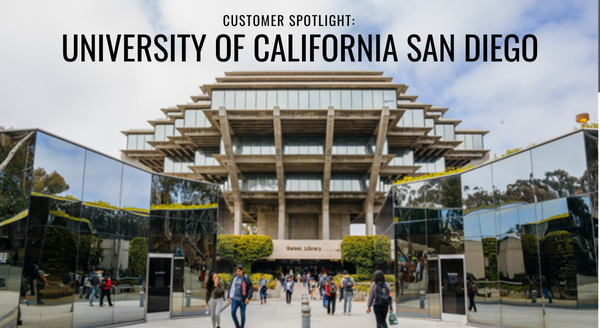 Cascade CMS is an award-winning content management system that empowers users to create, publish, and manage compelling digital content. It's the system of choice for those who value maximum flexibility and unrivaled customer support.
Maximize Content Reuse

Create XML-based content and share it across multiple sites and channels

Enjoy Best-in-Class Support

Lean on us for troubleshooting, product upgrades, and questions about features

Foster CMS Adoption

Augment your contributor base with easy-to-use features and granular permissions

Remove Technology Roadblocks

Build what you need using the server-side language of your choice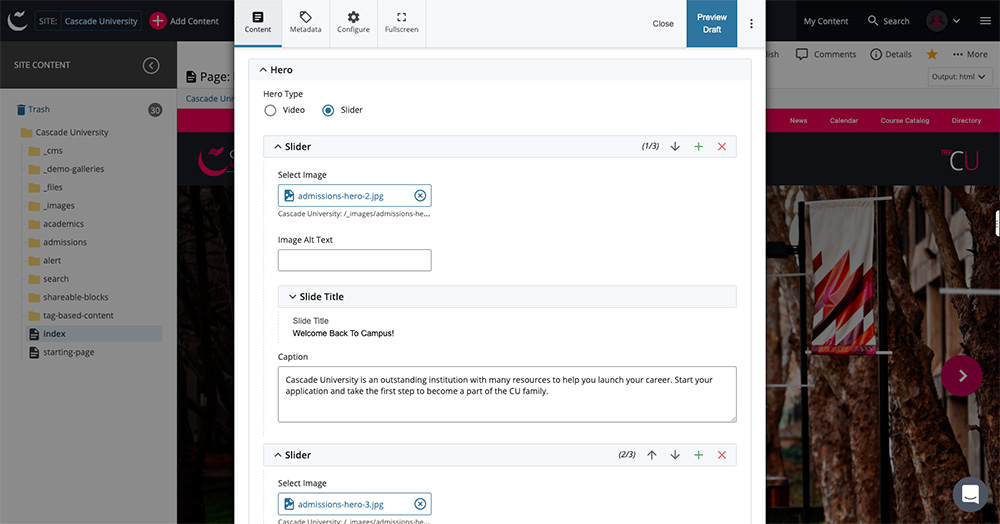 Clive: Deliver Personalized Experiences
An engagement and real-time personalization tool that integrates seamlessly with Cascade CMS, Clive empowers users to create targeted experiences that yield results.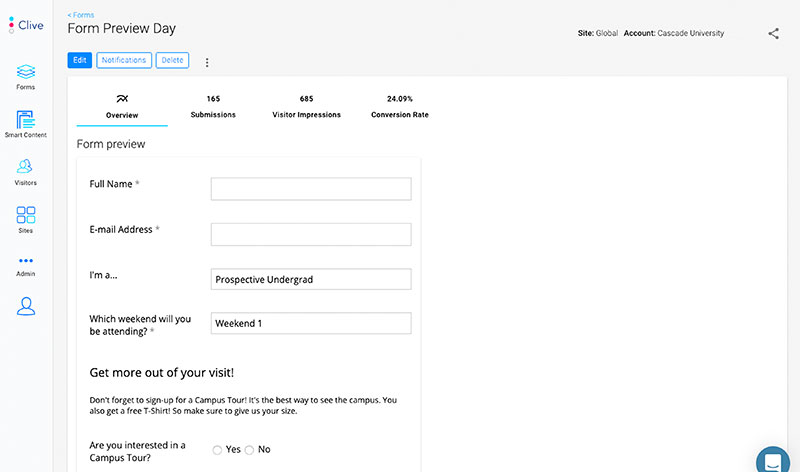 Build Custom Webforms

Capture visitor data that matters most to you, no programming required

Track Visitors at Each Interaction

Collect even more with implicit and explicit visitor attributes

Deliver Personalized Experiences

Provide unique content and visitor journeys based on actual needs and interests

Increase Conversions and Engagement

See the return while providing a targeted experience
Services, Your Web Project Partner
Our team is here to support you every step of the way. With an array of professional services, design, and training offerings, we can be your one-stop-shop for building a robust site.
Testimonials

"Small institutions often rely on outside sources to accomplish what seem like impossible tasks. Hannon Hill has been with us every step of the way, offering assistance when needed and getting us up to speed with our migration to Cascade CMS. We're excited to see where Cascade will take us in the future!"
---

"Hannon Hill is the best vendor with whom I've had the pleasure and opportunity to work. Personally, I was impressed by their professionalism, the speed in which they did the work for us - despite our continually changing requests - and the quality of the work that they provided."
---

"It was a pleasure working with the Hannon Hill team on our site redesign project. They were attentive to our needs and worked closely with us to ensure the back end worked seamlessly with the front end. The team did an amazing job coding in the CMS to streamline the entire publishing process. I wouldn't hesitate to use Hannon Hill's client services in the future."
---

"The support available at Hannon Hill is simply phenomenal. They seem to really know their customers, the industries we work in, and understand the challenges we face."
---