By Laura Rives — May 21, 2020 11:00 AM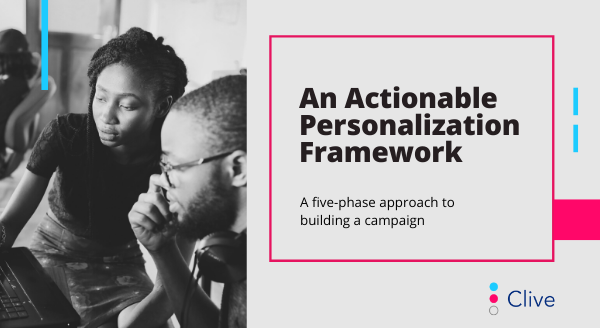 "Personalization has braved its journey from promise to pratfall to myth, and back again. Lately, it's made the run from white whale to white-hot all over again. Personalization is re-emerging today with newfound relevance, sophistication and ubiquity." - Jeffrey MacIntyre for Bucket Studio

Personalization has widely-celebrated case studies like Amazon, Spotify, and Netflix; but the reality is most organizations struggle with execution. We're actually in a bit of a stranded state as the practice of personalization has not kept pace with technology.

Great news is, there's an abundance of opportunity to connect with audiences during this time of change and uncertainty. In order to thrive, we must get creative, stand out from the crowd, and deliver nuanced user experiences.

The time is now.
Let's "Do Personalization"
Great! You've decided that personalization is a worthwhile endeavor for your organization. You know that it's an ambition, not an end game. You have analytics data on hand. You are committed to involving cross-functional teams like IT, Marketing, and UX.

But, now what? Enter: stalled efforts, delays, or inaction due to assumptions about scope, budget, and time required. Maybe you're experiencing analysis paralysis pondering the abundance of personalization techniques available.

Instead, pull yourself from the trees and look at the forest. Begin by brainstorming what information is reasonable to collect, what value it can help you deliver, and which tactics best compliment this data.

Then, jot down three to five organizational goals that can be supported by the website. Examples include:
Grow e-commerce revenue by 35%
Boost conversions among non-male buyers by 20%
Increase international student applications by 10%
Remember that personalization itself is not a goal—it's a tool in your marketing arsenal. Begin with intent, define your objectives, and determine how personalization can help.
Determining Which Tactics to Use
There are numerous personalization tactics and tools that support them. Examples include: geolocation, clicks, pageviews, behavioral profiling / digital body language, data points collected through form submissions, and many others.

Colin Eagan, a user experience manager at ICF Interactive, suggests that the best tactics can vary dramatically based on your audience and how they interact with you.

Machine learning, for example, is best suited for organizations with long session times and a high volume of visitors. Personalization based on clicks and pageviews works best when traffic is consistent.

Personalization based on geolocation and user-offered information (via form fills) are tactics that do not require long session times or a high volume of visitors to be successful. If you're getting started on your personalization journey, begin here.
Documenting Your Campaign
An organized approach can really tamp down anxiety and get the creative juices flowing. There are four steps in this phase, followed by UX decisions and copywriting.

Step One: Define your three highest-potential segments. You may have many, but we recommend starting personalization efforts with three audiences in mind.

Imagine a subscription service that delivers monthly science and art kits for children. The three highest-potential segments might be current subscribers, non-subscriber moms aged 24-35, and non-subscriber gift givers such as grandparents.

Step Two: Determine how you will identify these segments on your site.

Perhaps subscribers are tracked via cookies after they've logged-in, while non-subscriber segments will self-identify via a dropdown option on your site.

Step Three: Assign at least one goal to each segment. Use timelines and percentages to hold yourself accountable.

Pro tip: these should align with the organizational goals you wrote down earlier. If you're forcing it, you've likely misidentified your highest-potential segments.

For example, the subscription service might strive to improve conversion rates among non-member gift givers by 5%.

Step Four: To build out your framework, consider the value you're bringing to each segment. Determine how your efforts will alert visitors to something (show time-sensitive information), make a process easier (promote site functions), cross-sell (notify user of relevant products or services), or enrich (notify user of relevant content).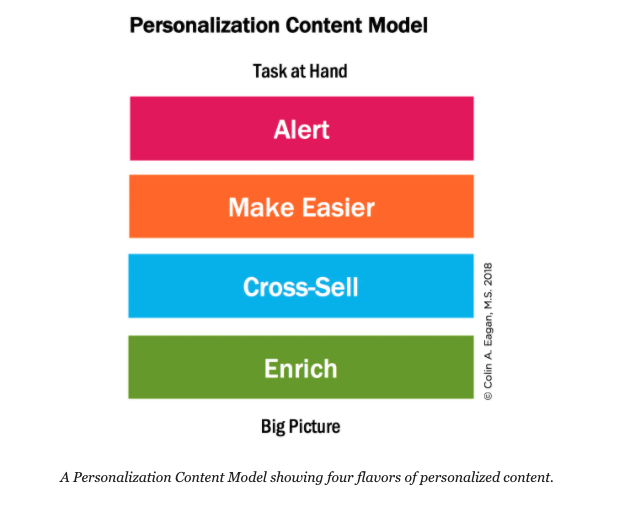 For example, a current subscriber might benefit from:
Alert: a list of available coupons or active sweepstakes
Make easier: links to profile information
Cross-sell: an ad for kit enhancements or add-ons
Enrich: a members-only blog post
Think through this exercise for your three high-potential segments to create a list of 12 bullet points.

Pro tip: multiple audiences can benefit from the same offer.
Making UX Decisions
You're nearly there! The next step in the process is determining where on the site you want to run your personalization campaigns.

We recommend an underlying default content set, with approximately three personalization zones per page type.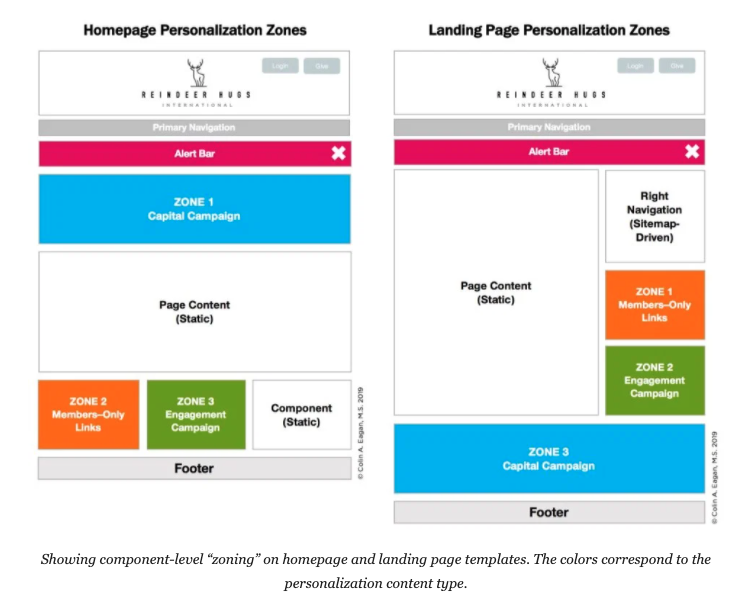 Credit: Colin Eagan for A List Apart
Writing a Copy Deck
No panicking allowed. Believe it or not, the hard work is behind you.

Follow these three steps to flesh out the suite of copy, offers, and images for your personalization campaign.

Step One: Choose the value-add—alert, make easier, cross-sell, or enrich—that feels most attainable or realistic for your business.

Step Two: Per segment, write one headline, craft two sentences of copy, define the call to action, and choose one image that corresponds to the value add.

Pro tip: Refer back to the bulleted list you came up with during step four of the documentation phase.

Step Three: Repeat this exercise for the remaining three value adds.

You'll end up with a complete campaign of 12 examples to implement within the personalization zones on your site. Well done!
Wrap Up
Running a personalization campaign might feel like a pipedream. You might be thinking we don't have the time, the resources, the budget, or the tool.

But this is a challenge you'll need to meet, especially in these trying times. And it's more attainable than you think.

We're here to put your mind at ease by reminding you that we're personalizing around main content.
In fact, too much personalization increases the risk of getting it wrong, negatively impacts SEO, and can propel you into the infinite content loop of feeling like you need to write something for everyone.

Use this framework to take a stab at documenting a campaign. If it feels exciting and exposes you to the possibilities of personalization, run with it!

Finally, as a reminder, never forget that while your efforts are not malicious, there is a fine line between providing helpful information and betraying trust. Be transparent in your methods and always provide an opt-out or reset mechanism. For more information on this topic, check out our blog post on respecting visitor privacy.

We can't wait to learn how personalization has delivered positive results for your organization. If you're interested in learning how Clive can help you deliver targeted experiences, please reach out to schedule a guided tour of the product.