By Daisy Perper — Nov 11, 2021 11:00 AM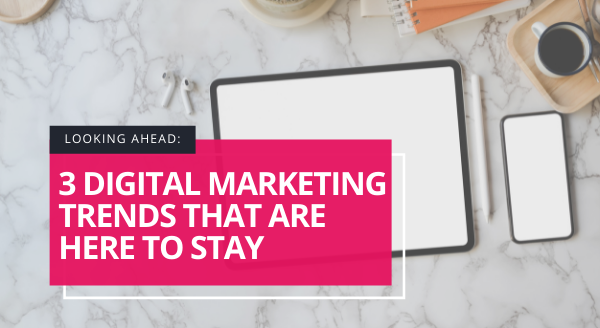 During the COVID-19 pandemic, more than ever before, organizational websites became the central hub for audiences to receive resources and information, engage with the brand and explore offerings and experiences that were now taking place purely online. This caused marketers to quickly update their digital strategies. While we continue to shape how the digital landscape looks post-pandemic, let's dive into the trends that are here to stay.
Digital Personalization: No Longer a Nice to Have, It's a Must
No surprise this is first on our list, but if you're not currently planning to or utilizing digital personalization to provide targeted content throughout a visitor's journey then you're behind. A recent survey shows that 99% of marketers say personalization helps advance customer relationships, with 78% claiming it has a"strong" or "extremely strong" impact. This further highlights the importance of focusing on the needs and wants of the individual in order to increase engagement, return and overall conversion.

In our digital age, our audiences demand to have those needs and wants recognized. Take Netflix or Hulu, the "recommended for you" personalized homepages prove that the platform understands your likes/dislikes thus eliminating the need for additional action. We're programmed to believe we should no longer sift through content that serves no purpose to us, so it's no secret that websites that aren't proactive to push out targeted content will be left for one that does.

Speaking specifically of Higher Education, you may be at an advantage based on the amount of data that can be readily available for each prospective student, and a great way to utilize that is a customized digital viewbook. Starting by asking a few interest questions, you're able to quickly spit out a personalized virtual experience that contains only relevant information for the individual. Say goodbye to extensive print materials!
Online Interaction is an Expectation
Speaking of digital experiences and interactive content, it's only going up! Even with the return to in-person, your target audience expects to maintain the option to have access to a lot of the same experiences online as they would in-person.

As we've learned throughout the last few years, the website is a powerful recruiting engine. While sophistication is on the rise in terms of updated virtual interactions including chats, tours, digital office hours and more, we're also seeing an increase in the use of quick video snippets that capture response and conversations that can mirror the in-person interaction. While these can range in complexity, using video is not only a great way to elicit brand sentiment, but can now be a great opportunity for direct lead capture (yes, inside the video!). More specifically, Wisita conducted an analysis that determined forms places in the first 10-20% of the video have the highest conversion rates.

Continuing on with the emphasis of interactive experiences as the expectation, digital storytelling and narrative journeys will continue to give individuals the opportunity to visualize relevant pathways that can be personalized and revisited at their own convenience. These present an opportunity to extend relationships beyond just the in-person visit.
Even More Importance on Accessibility
While digital accessibility has always been moving forward, the pandemic definitely pushed things ahead, and it's important to continue that momentum. Just as visitors expect more out of their digital experience, the bar has also risen on ensuring your sites are usable by everyone.

As teams look to enhance and grow their digital strategy, these exercises can be a smart time to audit, update, and ensure accessibility standards are being met (if not exceeded) to provide the best possible digital experience for all visitors.

With accessibility in mind, we invite you to register for our upcoming webinar, 5 Key Tips For Better Web Accessibility in 2022. This insightful session will feature our partner, Monsido, for actionable tips on better web accessibility in 2022 as well as insights on ensuring ongoing ADA and Section 508 compliance.