By Meg O'Connor — Feb 4, 2021 11:00 AM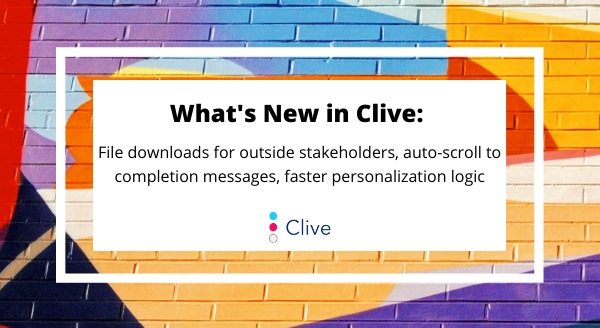 We're starting off the new year with some exciting Clive updates! Here are the latest improvements from the past few weeks:
Files uploaded as part of a Clive form submission are now accessible without a Clive user account.

Form submission notifications will include a unique link to included files that can be downloaded without a Clive login, allowing you to route those form submissions to outside stakeholders.
When visitors submit a form, we'll make sure they see your form completion messages by automatically scrolling them up to the message area; especially helpful when working with long forms.
Faster Personalization Logic
Fetching visitor data is faster than ever for improved performance when evaluating Smart Content and form submission action rules.

Thanks to the performance boost, we've also increased maximum Segment sample size to the most recent 10,000 visitors.
Smart Content Version Order
We're giving you more control over which Smart Content version a visitor sees if they match multiple possible personalized versions.

If a visitor matches two or more personalized Smart Content versions, they'll be shown the first matching version in the list. You can drag and drop versions in the list to adjust the order of precedence.
To learn more about Clive, please reach out to us for a personalized product demonstration.