By Meg O'Connor — Aug 24, 2021 11:00 AM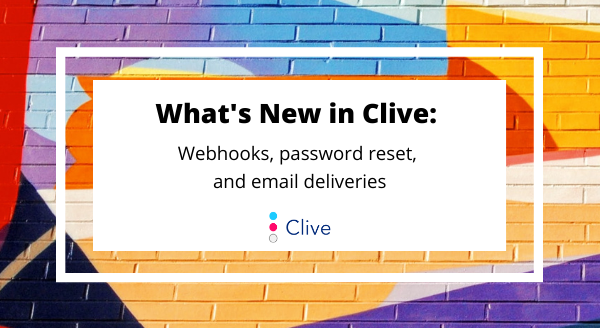 🪝

Do More With Your Form Data With Webhooks
 
You can now send Clive form submission data to one or more destinations for additional processing with Webhooks. Use webhooks to push form submission JSON in real time to third-party apps and automation services like Zapier. Here are some ideas to get you started:
Send submission notifications to Slack.

Insert rows in a Google Sheet.

Get a text message when a form is submitted.

Add submission data to a database.
Write integrations to interact with third-party APIs such as student management systems or CRMs.
Webhook form submission data includes the submission date and time, the form values submitted, and information about the form itself and the visitor. Webhooks are currently available for Enterprise account plans.
🔑

Create and Reset Your Password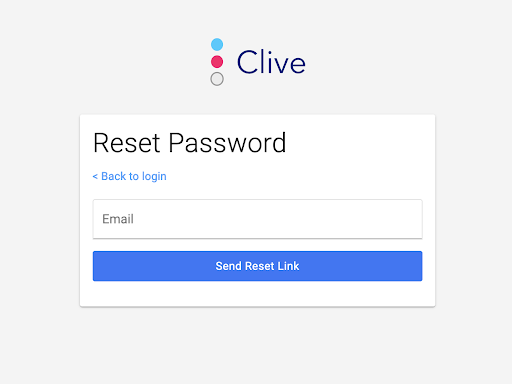 You can now use the Reset Password link at the login screen to reset your password if you've lost or forgotten it. Just provide the email address associated with your Clive account and a password reset link will be sent to you.

Clive administrators, when you create a new user they'll receive an email containing a link to create their Clive password. We hope you find these changes make setting up and managing your Clive user accounts easier and more secure!
📧

Track Your Email Deliveries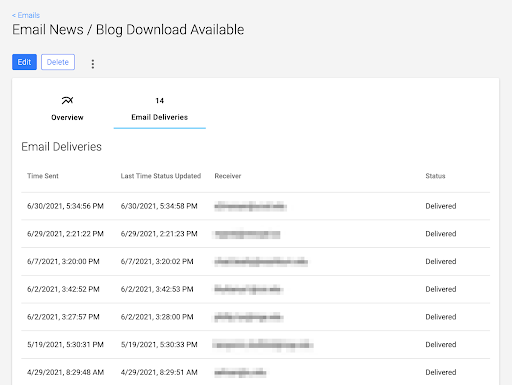 We've added an Email Deliveries tab to the Autoresponder Emails area so you can see if your emails are being successfully delivered to visitors.
Each email sent will list the time it was sent, the recipient, and the status of the email:
Sent - the email was sent but no delivery confirmation was received.
Delivered - a delivery confirmation was received.
Bounced - the email was not delivered, and additional information about the type of bounce error may be supplied. For example, a full mailbox or an email address that doesn't exist.
Rejected/Complaint - the email was rejected by the recipient (manually or automatically) or a complaint was sent. For example, the email was marked as spam.
Coming Soon: Salesforce CRM Integration For Clive

We're getting ready to test a beta release of a new integration for Clive with Salesforce CRM, designed to help capture Clive form data in Salesforce and eventually to use CRM data to help power personalization in Clive. If you're a current Salesforce CRM user interested in becoming a beta tester, we'd love to hear from you!
Don't Miss Out! 
Don't forget to register for the upcoming 2021 Cascade CMS User Conference. Taking place fully online September 13-15, we are eager to share what we've been up to, where we're headed, and hear about all the cool things our customers have done in Cascade CMS and Clive. To learn more, please visit our conference site.