By Laura Rives — Mar 15, 2022 11:00 AM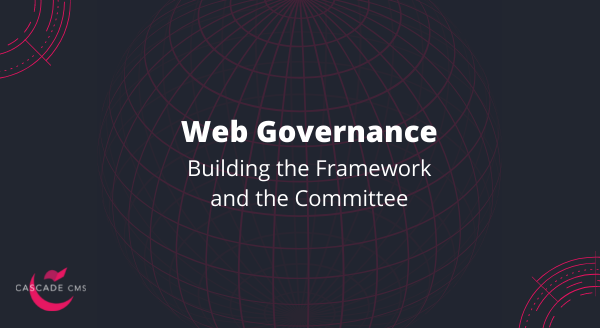 To distill it down, web governance is a plan for managing your web presence in a sustainable way to help you meet your goals. It encompasses everything you need to manage digital assets in an orderly way while boosting efficiency, increasing accountability, and maintaining compliance.

Considering today's state of more sites, more audiences, more technologies, more complexity, more demand, and so on, engaging staff and helping leadership feel at ease is mission critical. And this is not said to instill fear or make you feel inadequate. Web governance is not as difficult at face value as people make it out to be.

Why web governance is important

Web governance protects your investment in your website. Afterall, your sites represent your organization to the general public 24 hours a day, 7 days a week. Within your organization, the website may be managed by siloed teams—but to visitors, it is all one site. One holistic representation of your brand.

Web governance has multiple benefits for your organization, including:

- Heightened awareness of strategic focus
- Less risk and waste
- Increased collaboration and accountability
- Measurable ROI

Where to start

We recommend starting simply and iterating over time. Scrambling to put something together, or copying someone else's plan, may leave you poorly equipped to answer future demands.

Begin with a document that outlines how you will handle different digital channels, how you will prioritize requests, and how you will resource those requests. Take a moment to sit down and make an outline for how things should work.

How to scale

With your document in hand, talk to different groups, explain the plan, and get their buy-in. Your first step is helping all players understand they are part of a larger web presence.

Next, set a broader roadmap including a framework and committee.

Web governance: the framework

Perhaps your team has a high volume of projects and you can't get ahead of the curve. Maybe your organization is highly decentralized with little collaboration. Or it could be that your organization is severely under-resourced.

Enter the framework. Key components include:

- Procedures and prioritization techniques for inbound work
- Who will staff new and existing projects; budget requirements
- Internal communication strategy and SLAs
- Web standards, brand guidelines, brand voice
- Web goals, metrics, KPIs; when and how those will be reported
- New systems or tools required to meet those goals
- Who is responsible for ongoing maintenance and optimization

Web governance: the committee

A web governance committee should be a diverse representation of your organization, composed of stakeholders who are willing to collaborate with and advise leadership. Overall, the goal is to maintain momentum and ensure adherence to an overall vision.

Most web governance committees have a Champion, under whom falls the Web Steering Committee and the Chief Digital Officer. Under those two groups, you'll find Web Contributors and the Web Team, respectively.

A web governance committee will:

- Uphold the web governance framework; enforce guidelines, processes, and SLAs
- Help with transparency and buy-in; rally people towards a greater good
- Highlight the needs of resourcing; make the case for additional resources, if necessary
- Find opportunities to augment and create efficiencies; help teams prioritize web projects
- Report against web goals and KPIs

Key takeaways

- Web governance is not a finite project; it is a fluid framework that requires continuous effort
- Benefits of web governance include: eliminating redundancy, increasing accountability, improving collaboration and communication, delivering a better visitor experience, and more
- An investment now will lead to balance among people, processes, and policies—no more chasing 'all the things'. You will be able to determine if new projects are in harmony with your business strategy.