By Chris Rapozo — Oct 12, 2023 11:00 AM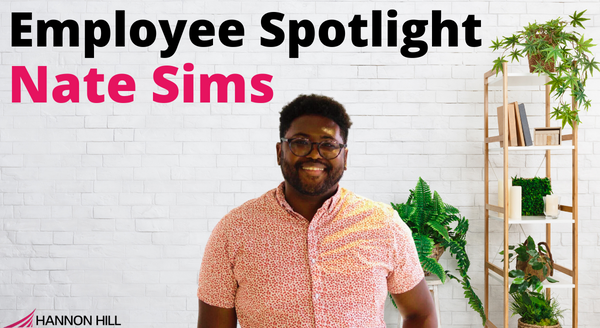 What do you do at Hannon Hill? 
I am a Web Services Developer. I work on implementing new client sites into Cascade CMS, adding new features to their current implementations, custom front-end code, and consulting clients when they are stuck or have questions regarding their implementation. 
Before Hannon Hill, where did you work?
My last job was as a web developer at a local marketing agency, Accent Creative Group, specializing in marketing/branding for state tourism and local government. 
The agency hired me when they were beginning to expand their Web department. I got to work on a team collaborating with UX designers, copywriters, and another developer to create websites. 
Who inspired you to pursue the career you have today?
I don't know if it is any one person who inspired the career track that I'm currently on. It is a combination of everyone I have worked with and learned from thus far that has made me fall in love with what I do!  
After graduating from college, I did freelance web development for local businesses while looking for my first professional position. I learned a lot more about web dev during that time and discovered that I love coding to solve business pain points.   
What's the best advice you can give to someone who just started their career? 
Get comfortable with not knowing everything and that you will probably never know everything. Be prepared to learn something new every day.
Know that you have to tackle problems you have little to no experience with. Learn how to take a big problem and break it down into smaller ones. Sometimes, projects can seem overwhelming, but they are a lot easier when you take them step by step.  
What has been your favorite project at Hannon Hill?
A tie between the recent Southern Illinois University Carbondale redesign project and the current Program Finder for Reynolds Community College. 
SIU's project was really fun because I got to work with another front-end development firm outside of Hannon Hill. I feel like this alone made the project so smooth. 
The smoothest project that I have worked on so far! It was great working with our partners at New City because they are so thorough in their deliverables and are just generally very knowledgeable. 
I felt like I could have technical conversations with their team without putting everything into layman's terms. The current project for Reynolds Community College is my first custom front-end project. So, it's really fun to implement my own code!
What do you do for fun?
I enjoy cooking, playing video games, caring for plants, and reading! 
It is almost soup season in my house, which means I make a different soup once a week. I want to kick start soup season with pozole, a rich Mexican stew made with hominy, shredded chicken or pork, and broth. 
I also play video games in my spare time, mainly on my Nintendo Switch. I'm on a huge Legend of Zelda kick right now and recently finished playing Tears of the Kingdom for probably almost 200 hours.   
I also love taking care of plants. I have probably 30 plants at home that I keep on a tight maintenance schedule. The plants that I have at my office desk are the ones I no longer have room for at home!  
Lastly, the Hannon Hill Book Club got me really into reading again. I'm finishing "A Man Called Ove" and will need another book to read when I'm finished!
What motivates you?
Making mom proud! My parents were very ambitious as I was growing up and have inspired me to create a certain life for myself. I am always looking to reach the next level, which I think I also get from them. I want to be that same kind of inspiration for my children. 
Most favorite place you ever visited and why or what place would you like to visit one day?  
I loved visiting Peru with my girlfriend after college graduation. It was my first solo international trip, and we explored multiple cities. As someone born in Colorado, I've always cherished mountains, so experiencing the Andes was exceptional. The food, wildlife, and abundance of alpacas were highlights, and seeing domesticated dogs freely roaming the cities was unexpected!
What's your favorite food? 
I adore Asian food, especially Chinese, Korean, Japanese, Thai, Vietnamese, and Indian cuisines. Fortunately, I live in an area with many authentic Asian restaurants, mainly Korean and Vietnamese. I appreciate the diverse flavors and unique ingredients not commonly found in American grocery stores.
What's your favorite motto, quote, or personal mantra?
"The best time to start was yesterday. The next best time is now." 
I love this quote regarding changing your life and achieving a goal. Big changes or goals can seem overwhelming, but you can still put yourself on that track to achieving that goal. We can get caught up in feeling like it's too late to do something, but this quote is always a wonderful reminder that life is too short not to go after what you want!