By Chris Rapozo — Mar 23, 2023 11:00 AM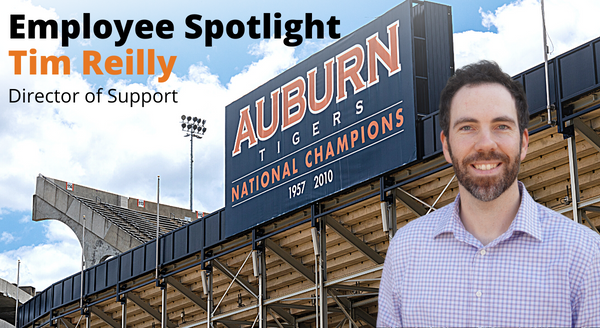 What do you do at Hannon Hill?
I am the Support Director at Hannon Hill. As Support Director, I help our team to field bug reports, feature requests, and various other inquiries surrounding our Cascade CMS and Clive products. I also have a hand in working within our Systems team to manage our Cascade Cloud infrastructure.
Where did you go to college and what did you study?
During my senior year of high school, I planned to visit about five or six different schools around the Southeast. I wanted to be somewhere that was away from the general area where I grew up, but still close enough to where it would be easy to travel back home for random visits and holidays. 
The first school on my college visit tour was Auburn University. After arriving, my parents and I spent just a few minutes driving around campus to see everything and ultimately ended up in downtown Auburn for some lunch. I remember us parking on S. College Street and when I got out of the car, I had already made my decision.
I canceled the remaining trips I had planned to other schools and decided that Auburn is where I wanted to be. To this day I would make that same decision a million times over. There is just something magical about Auburn that I feel can't be replicated anywhere else.
Auburn is where I earned my bachelor's degree in Software Engineering.
WAR EAGLE!
Before Hannon Hill, where did you work? 
Hannon Hill was actually my first job out of college and I'll be celebrating my 18th year with the company in August. Prior to that, throughout high school and even during summers when I was home from college, I worked at a tennis shop in Atlanta as a racquet technician/sales associate and store manager. In addition to stringing racquets, I was also dealing with customers face to face on a daily basis. I gained a lot of relevant customer service experience early on through those interactions.
How did you find the job at Hannon Hill, and what were your responsibilities back then?
Back in 2005, I came across a web developer position at Hannon Hill, which had been posted on Craigslist. I applied by emailing our founder, David Cummings, and he brought me in a few days later for an interview. I was lucky enough to land that job which involved implementing customer websites within Content XML (which then became Cascade Server and is now known as Cascade CMS).
After a couple of years in that role, I switched over to being a Support Engineer and then eventually on to the role of Support Director where I am today.
What has been your favorite part about working at Hannon Hill, and why? 
Aside from the obvious answer which is the people (both my team members and customers), it has been really cool just to be a part of all the changes we've been through over the past 15+ years. We've seen a lot of growth over the years and I'm impressed by the way we've been able to adapt with the changing technology landscape.
What do you do for fun when you're not working? 
I enjoy playing competitive tennis, training martial arts (Muay Thai, Brazilian Jiu Jitsu), exercising, and playing guitar (mainly rock/hard rock, alternative, and metal). I'm obsessed with college football and college basketball, but I also enjoy watching all kinds of sports and I'm tuned into them pretty much 24/7 at my house. I also love hanging out with my dogs.
What motivates you?
I like the sense of accomplishment that comes at the end of the day when I've been able to solve some sort of problem(s) (whether it be a software issue at work or some sort of repair at my house).
What place would you like to visit one day?   
Thailand sticks out to me for both its scenery as well as the opportunity to train martial arts there with some of the best instructors in the world. Aside from that, it'd be really cool to hit up all of the tennis Grand Slams (Australian Open, French Open, Wimbledon, US Open) in a calendar year.
What's your favorite food?
I can't narrow it down to a single item. It is a pretty well known fact at Hannon Hill that I'm a huge fan of eggs. I'll typically eat four to eight eggs per day cooked all different ways. Aside from that, pizza is way up there along with waffles, pancakes, and french toast (basically anything drenched in syrup).
Over the past year I've really perfected my own cauliflower pizza recipe and I'll typically crush three to five of those a week. It's great because despite downing so much pizza, the caloric aftermath isn't so devastating when the crust is cauliflower.
What are you currently binge-watching or reading?
A&E has been airing a Biography series, "WWE Legends," which covers many of the wrestlers I watched as a kid. Every episode I've seen so far is phenomenal, and it brings back great memories from when I was growing up.
Related fun fact: I once sold a tennis racquet to Lex Luger (featured in s2e5 of the aforementioned series).