By Chris Rapozo — May 30, 2023 11:00 AM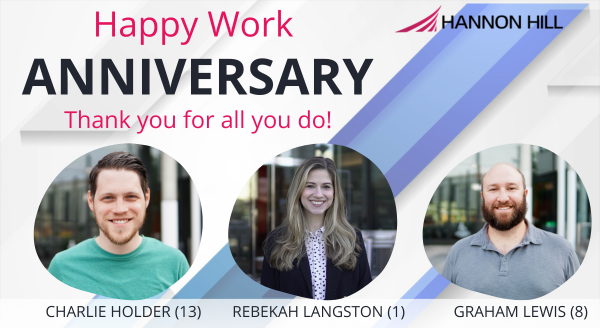 In the month of May, we're proud to celebrate the work anniversaries of the following two Hannon Hill team members:
Charlie Holder
Charlie Holder joined Hannon Hill in 2010, held several positions at the company, and currently leads the Customer Success team.
Charlie graduated from Georgia Institute of Technology, aka Georgia Tech, with a bachelor's degree in Science, Technology, and Culture, also known as STAC, and still frequently speaks to incoming freshmen or people still deciding whether they want to attend Georgia Tech.
Before I joined Hannon Hill in 2010, I owned a personal freelance web development agency. I also waited tables at a restaurant while working on my business.
When we asked Charlie what his favorite thing about working at Hannon Hill was, he said:
Everyone says the people. And for good reason, it's true. Our team has some of the brightest and most caring people I've ever met. But apart from that, working with a product that truly is the best CMS for higher education gives me a huge sense of pride and satisfaction.
I've worked with eight different CMSs now, and I would have picked Cascade CMS every time if the decision were up to me.
What was Charlie's biggest achievement since joining Hannon Hill? 
It's hard to pick just one, but having been part of so many different teams has given me a really big perspective and a lot of experience to draw from. 
Since I joined in 2010, I've been the Lead Trainer, a Professional Services Developer, the Sales Engineer, the Head of Customer Experience, and now the Head of Customer Success.
Understanding the full cycle a customer goes through from beginning to end allows me to offer advice with all of that in mind.
What does Charlie look forward to in the future with Hannon Hill?
The biggest thing I look forward to is where our products and services will go. There are a number of opportunities for us to expand our offerings and help our customers do more related to content management and content personalization.
We're definitely trendsetters, as we've seen when launching our other products, and it's always exciting being first through the door with a solution to something our customers need.
Rebekah Langston
Rebekah Langston joined Hannon Hill in 2022 as a Customer Success Specialist.
She spends each day connecting with our amazing customers through email and Zoom calls, hears about how customers use Cascade CMS and Clive in their particular contexts and helps them make sure they are getting the most out of their subscriptions.
Before Hannon Hill, I was a high school English Language Arts teacher! I taught classes like World Literature, British Literature, and AP English Language and Composition.
When we asked Rebekah what her favorite thing about working at Hannon Hill was, she said:
My favorite thing about working at Hannon Hill is the opportunities I've been given to grow professionally. My voice is valued, and my ideas are carefully considered, so I get to see tangible impacts from my role here. 
What was Rebekah's biggest achievement since joining Hannon Hill? 
My biggest achievement has been the satisfaction of building meaningful relationships with our customers. It's an honor to get to chat with people every day to hear about their organization's priorities. 
What does Rebekah look forward to in the future with Hannon Hill?
For the future, I'm looking forward to continuing to get to know our customers so that I can serve them in the best way possible.
Graham Lewis
Graham Lewis joined Hannon Hill in 2015 as a Services Developer, and now works with the Sales Department as the Senior Sales Engineer.
Before joining Hannon Hill, Graham worked at Jacksonville State University as a Webmaster. JSU used Cascade CMS when Graham worked at the university and still does.
Graham graduated from Jacksonville State University with a degree in Graphic Design marched on the drumline of the school's marching band, known as The Marching Southerners.
When we asked Graham what his favorite thing about working at Hannon Hill was, he said:
The customers! I love engaging with them all throughout their journey with Hannon Hill. Seeing what they are able to do is what makes it all worth it.
What was Graham's biggest achievement since joining Hannon Hill?
I'm not the best at public speaking, so I think presenting at our Users Conference was pretty special.
What does Graham look forward to in the future with Hannon Hill?
I'm looking forward to not only where we can go as a company but where the Web space, in general, will go. So many things are happening right now that make things really exciting.
Closing
Charlie, Rebekah and Graham are integral parts of our organization's future success, and we are proud to have both on our team.
Thank you for your hard work and dedication!