By Chris Rapozo — Feb 7, 2023 11:00 AM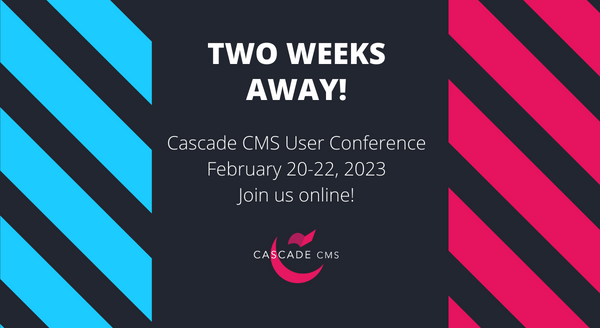 The 2023 Cascade User Conference is right around the corner! If you're interested in joining us online in two weeks for informative presentations, training opportunities, networking time and more, then here's your reminder to claim your spot before it's too late! 
Please note that we sold out all workshop tickets. 
Event Details
When: February 20-22, 2023
Where: Completely online
Who: Cascade CMS users
Two-Day Conference Price: $75 (plus taxes & fees) - *Only a few seats remain.
SOLD OUT - One-Day Workshop Price: $350 (plus taxes & fees) 
SOLD OUT - All-Inclusive Three-Day Pass: $425 (plus taxes & fees) 
#CUC23 Highlights
For more information including the full conference schedule, please visit the Cascade CMS User Conference site.