By Chris Rapozo — Sep 27, 2022 11:00 AM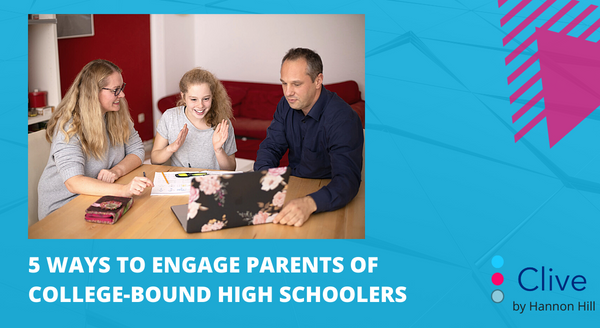 Parents are among the top influencers of college-bound high schoolers deciding which university or college to attend.
A recently-released survey conducted by EAB revealed that parents of Gen Z high school students highly influence their decisions on where to go to college. The study, which spanned over a 10-year-period, focused on Generation X parents, born between 1965 and 1980, and what they expect from prospective universities or colleges their kids consider.
These parents and caregivers operate with a so-called "intensive parenting" style, brought on by a shifting post-pandemic mindset. This mindset is influenced by a rise in gun violence on school campuses, heightened anxiety due to the ongoing COVID-19 pandemic, and a lack of overall trust in media and the government.
74% of Gen. X parents and caregivers also have less money to splurge on an education for junior than their parents did and are six times deeper in debt, leading to a more transactional mindset regarding where their kids go to college. 
Despite knowing about the rise in greater parental involvement in college recruitment, "enrollment leaders are uncertain about exactly how and when to best engage parents," reveals the study. 
The EAB report shared five takeaways from the findings of more than 2,000 surveyed parents and guardians of high school students, their preferred communication methods and overall concerns. 
The following paragraphs are a blend of the five takeaways EAB shared about the study and our suggestions on how to leverage a more personalized visitor experience to optimize college recruitment efforts in an age of intensive parenting: 
Takeaway #1: "Parents want direct communication from colleges."
Tactics on how web personalization can help colleges reach their target audiences with relevant content:
Gone are the days when generic web copy, impersonal email blasts, and mass marketing print media ads held the awareness of its recipients. With an ever-shrinking attention span, personalized, targeted, and concise messaging wins in today's competitive marketplace.
One way to gather relevant information parents and caregivers want to see is by collecting data that matters. With Hannon Hill's engagement and real-time personalization tool, Clive, colleges and universities have the ability to collect data through form submissions. Upon completion of such forms, visitors get personalized messages and receive autoresponder emails relevant to them. From that point forward, colleges and universities are able to craft direct communication, nurture and strategically engage parents and caregivers using personalized email campaigns that yield desired outcomes. Learn more on how to boost click-through rates (CTRs) during your email campaigns by reading this blog post for five tips to boost email delivery. 
Takeaway #2: "Parents are highly concerned—and often uncertain—about college cost and value."
Tactics on how website personalization can help universities ease uncertainty amongst parents and caregivers. 
Though the value of a college degree has been the point of debate over recent years, there is still no better return on investment (ROI) than a college degree, assures a Forbes article published in 2019. 
This assurance is backed by none other than the United States Social Security Administration, which shares information on average lifetime earnings of college graduates compared to non-college graduates.
Considering the information above, colleges and universities can serve career tracks related to a particular field of study along with potential income opportunities upon graduation via Smart Content.  
Takeaway #3: "Parents' and students' concerns about cost become more similar later in the student journey."
Tactics on how website personalization can help colleges share value propositions early on. 
Using the Smart Content feature mentioned above on university and college websites enables higher education content creators the ability to provide their audiences with applicable tuition and fee information as they browse a website.
A marketing funnel scenario
Your lead generation efforts paid off, and the prospective student and their parents are aware of your school. They visit your website, develop interest, then move on to the academics section, all the way to the page of a particular field of study. They then consider the program as they consume the content of interest. While they are on the page, your web server transfers data about the visitor, also called cookies. This data then prompts the Smart Content tool to provide tailored, relevant content to the visitors, such as information about tuition and fees as well as potential scholarship opportunities. As they move along the website, or bounce, and then come back, the Smart Content tool recognizes the IP address and continues to nurture the prospect further down the marketing funnel, hopefully all the way to enrollment.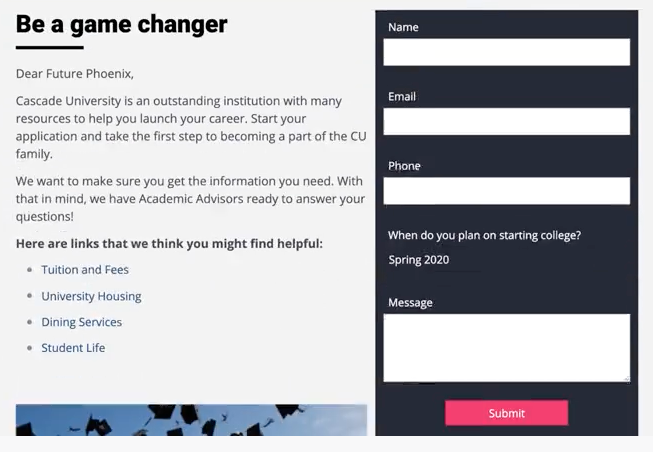 Takeaway #4: "Parents are active participants across many communication channels."
Tactics on how personalization can help universities involve parents in their communication channels.
This blog post has covered a lot about personalization through written form. But colleges and universities should also consider the modality in which personalized content is being delivered. In a recent episode of The Higher Ed Marketer on the keys to successful content marketing, the host, Bart Caylor, mentioned that the mode of communication depends on the recipient's mood. Sometimes people want a text, other times an email, then another time, a call. 
After all, "personalization is relevance, and relevance is respect," says Hall of Fame keynote speaker, best-selling author, and digital marketing expert Jay Baer.
A great way to notate the desired mode of contact per audience member is to utilize the power of many of the higher ed customer relationship management (CRM) tools available, such as the one our partner Ellucian offers. 
Takeaway #5: "Parents' interests shift during the recruitment journey."
Tactics on how website personalization can help colleges serve the right content to the right people at the right time.
Takeaways #2 and #3 focused on the value and cost of today's college degree. This trend will continue as part of the most basic information parents and caregivers want to see on a university and college's website, along with general information, such as available majors/minors, as well as the school's location and size. 
Additional topics our Generation X target audience wants to see include information about the school's application process, available student support services, diversity of campus community chapters, and many more.
Again, a great way to deliver all this desired information neatly packaged and served to the website visitor is by utilizing the power of Smart Content tools to redefine the visitor experience and increase student enrollment. 
To learn more about what and when to show personalized content should be delivered, download one of our free white papers.  
Wrap up
Website personalization is the future, and will be the primary driver of marketing success, predicts the global management consulting firm McKinsey & Company. And that's across the board, regardless of industry. 
The five takeaways and personalization tips outlined above help equip universities and colleges to increase enrollment by tailoring targeted and relevant content to visitors every time they are on a website.     
To learn more about how colleges and universities utilize our personalization tool, Clive, to build great user experiences, view our presentation delivered during the 2021 HighEdWeb Annual Conference, or schedule a personal demo by filling out the form field below.