By Daisy Perper — Mar 8, 2022 2:00 PM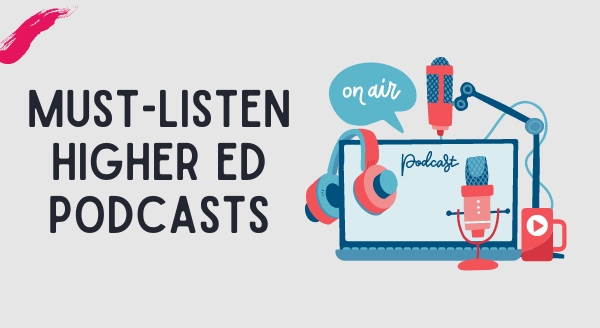 The way we receive our information is constantly evolving, and recently we've seen the popularity of podcasts rapidly increase. Podcasts are versatile, engaging and packed with information for niche audiences. According to Convince & Convert, last year 41% of the US population listened to podcasts on a monthly basis, up from 37% in 2020. The Higher Ed sector is no exception to the podcast trend, with multiple podcasts to choose from.

Here are a few of our must-listen podcasts for Higher Ed web, marketing, and admissions professionals.
The Enrollify Network
The Enrollify Network has a library of great podcasts for Higher Ed marketers.

The Enrollify podcast is released each week, and equips listeners with insights into how the latest trends in marketing and technology are influencing enrollment marketers. Each episode is designed to inspire new and creative ideas for how to optimize current resources to generate the results you need. This is one is a great follow week-to-week, as Host Zach Busekrus brings the energy, diversified guests and hot topics.

The Application, hosted by Corynn Myers, is the newest member of the Enrollify Podcast Network family. It is built around the student experience and provides listeners with actionable takeaways. This is a podcast just for you do-ers in the higher ed space.
The Higher Ed Marketer
The Higher Ed Marketer is centered around marketing professionals in the field of higher education. This weekly podcast encourages viewers to tune in if they're looking for real, practical advice on how to level up in their marketing game. Created by Caylor Solutions & Think Patented, each 30-minute episode features conversations with some of the best and brightest marketing minds in higher education, discussing the future of marketing, new technologies, and more.

Recently, we've written extensively about connecting with the Gen-Z audience, and the Higher Ed Marketer recently covers the topic as well. Dive into the recent episode "Connecting w/ Gen Z via Customized Community" as guest host, Adam Metcalf, co-founder of ZeeMee, discusses Gen-Z's expectations for higher education.
Enrollment Growth University
Enrollment Growth University is a professional development podcast for Higher Education leaders looking to grow enrollment at their college or university. Enrollment Growth University currently has over 230 episodes with a broad range of topics. Each episode features an interview with a leader in higher education, discussing enrollment growth strategies that are working at their institution through topics like enrollment marketing, adult student recruitment, enrollment management, online learning, student retention, data intelligence, online course development, financial aid, academic scheduling, and more.

A recent episode, Advanced SEO Strategies in 2022, covers why SEO is still important in 2022 and outlines tactics Higher Ed professionals can adopt as they evolve their strategy.
EDUCAUSE Exchange Podcast
While not released weekly, this Higher Ed podcast is a must-listen for all things Higher Ed IT. EDUCAUSE Exchange gathers the voices of the Higher Ed IT community to share advice, anecdotes, best practices, and more around trends important to the industry. Listen as experts weigh in on topics such as accessibility, cybersecurity, digital future and more.

Additionally, EDUCAUSE recently released their "Top 10 IT Issues for 2022" which will be utilized as hot topics for upcoming episodes. Be sure to check it out!
College Admissions Decoded
The College Admissions Decoded podcast is a great way to connect with prospective students and truly understand the process from their inside viewpoint. This podcast, created by the National Association for College Admission Counseling, speaks directly to the source: students, parents, and families. College Admissions Decoded examines how the college admission process works for the approximately 20 million students who apply each year. The series also spotlights how college admission in the US can continue to make progress toward more inclusivity, transparency, and service to students.

As campus visits have morphed over the last few years, explore how real prospective students think they can get the most out of their visit.
Wrap up
While these are a handful of our favorite podcasts in the Higher Ed space, we are encouraged by the vast number available. As mentioned before, we invite you to explore all that podcasts have to offer.