By Chris Rapozo — Nov 30, 2022 2:20 PM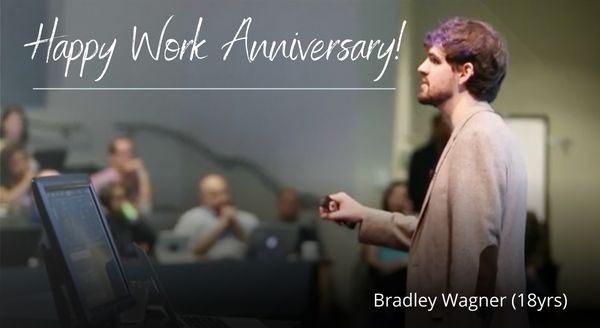 This November, we celebrated Bradley Wagner, our VP of Engineering, and congratulated him on 18 years with the company. We thanked him for his leadership throughout the nearly two decades at Hannon Hill, which helped make the firm one of the leaders in the higher education CMS space today. 
In honor of this milestone, we decided to interview the man behind the product and share his story with you by asking him the following questions about his journey. Enjoy!
Bradley, where are you from?
I'm originally from Washington, DC, but I moved down to Atlanta, GA, when I was very young and have been a proud Atlantan for most of my life. I only left the area for a few short years when I went away to attend college at a small school in Texas. 
Where did you go to college and what did you major in? 
I earned my degree from Rice University, a small private research university in Houston, TX, where I studied computer science. The degree allowed me to follow my passion and enabled me to pursue a career in the software space.
What made you apply for your first job at Hannon Hill?
Prior to joining the company, while attending college, I made ends meet as a poker player.
After graduating in 2004, I started looking for a full-time position and found an intriguing job posting by Hannon Hill on Craigslist. I applied, got an interview, met with the company founder, David Cummings, and the then head of IT, liked those folks, and could see myself joining the firm. The job would allow me to make an impact right away instead of having to intern somewhere, which prompted me to take the job. I also always wanted to work for a smaller company that felt a little more personal and wasn't really interested in working at Microsoft or Google. 
What do you remember about your first day at Hannon Hill?
I remember walking into this small tech startup office, totaling six employees at the time, with no one to be found! I looked around for a bit, calling out to whoever might hear me, and eventually found a team of smiling faces meeting in a room next door.
How has your job changed over the years?
My first job was part of the professional services team as a developer, where I worked on-site at several customers' campuses, including Duke University, where I built out the school's website while living in Durham, NC, for approximately six weeks. 
After a position opened up on the software engineering team, I switched roles to do more developing work as a junior developer. As time progressed and my skills evolved, I received an opportunity to move into leadership roles until ultimately being promoted to VP of Engineering, a position I've held since 2011.
What has been your biggest achievement?
The various new product launches, including our flagship product, Cascade CMS' Version 8, and Hannon Hill's real-time personalization tool, Clive, which was created in conjunction with our CEO, Kat Liendgens. We recognized a need in the CMS space that provided a more personalized and dynamic website visitor experience and invested in Clive a few years ago.
What's your favorite part of the job?
The people, hands down! Both internal and external. I enjoy the level of collaboration I'm able to engage in with clients and co-workers alike. Solving customer problems is at the forefront of my mind when I plan new product updates to ensure clients get the most out of their subscriptions and help them achieve their desired outcomes.   
What's your favorite memory about Hannon Hill of the last 18 years?
There are a few, and I can't really pin it down to one over the past 18 years. But if I had to, one of the memories that sticks out are the company retreats we held prior to the start of the COVID-19 pandemic, which usually took place immediately after our annual Cascade User Conference. Time spent together with co-workers after a job well done is something near and dear to my heart. 
Where do you see Hannon Hill in the next 5-10 years?
I'm really impressed with Hannon Hill's resilience and staying power. We've been through multiple recessions and economic downturns, and I am confident that we will continue to reinvent the company with new products and will continue to hire great talent. I'm excited about where the company can be as there is a lot of opportunity in the content space, and we'll find new, innovative ways to help people take advantage of that.