By Chris Rapozo — Feb 16, 2023 11:00 AM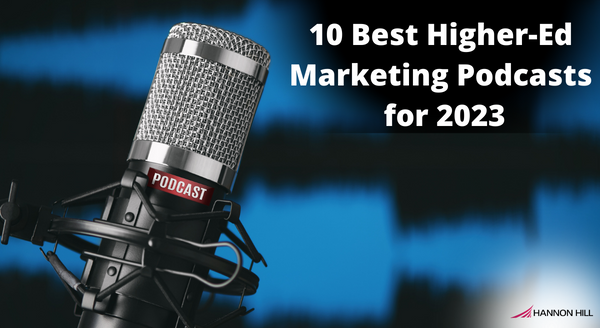 The way we receive our information is constantly evolving, and we've seen the popularity of podcasts rapidly increase. Podcasts are versatile, engaging, and packed with information for niche audiences.  
According to Statista:
"Back in 2006, only 22 percent of the adult population in the United States was aware of podcasting. By 2022, this figure had risen to 79 percent. Podcasting is an increasingly popular pastime in the U.S. with 79 percent of respondents being aware of the format, while over 82 million people listened to podcasts in 2021. This number is estimated to rise even further, reaching over 100 million listeners in 2024."
The higher-ed sector is no exception to the podcast trend, with multiple podcasts to choose from. 
The following list contains 10 must-listen to podcasts* for higher-ed web, marketing, and admissions professionals in 2023:
*Please note that the list of podcasts was created at random and not by popularity or the author's personal preference.
1. The Higher Ed Marketer Podcast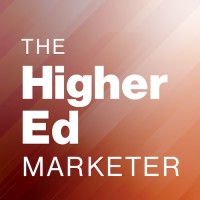 The Higher Ed Marketer revolves around marketing professionals in the higher-ed space. This weekly podcast encourages listeners to tune in if they're looking for real, practical advice on how to level up their marketing game.
Co-hosted by Bart Caylor and Troy Singer, each episode features conversations with some of the best and brightest marketing minds in higher education, discussing the future of marketing, new technologies, and more.
We recently wrote about the art of connecting with higher-ed audiences through storytelling. The Higher Ed Marketer also covers this topic. Dive into one of their episode titled: Empathic Storytelling: Identifying Appropriate Content for Your Audience, in which Cutler Andrews from Emory University shares how his team elevates Emory's brand through impactful content.
2. The Enrollify Network - Confessions of a Higher Ed CMO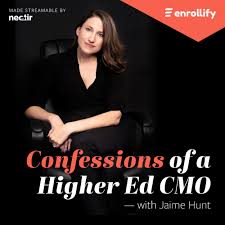 The Enrollify Network has a library of great podcasts for higher ed marketers that equips listeners with insights into how the latest marketing and technology trends influence enrollment marketers. Each episode inspires new and creative ideas for optimizing current resources to generate institutions' desired results.  
Confessions of a Higher Ed CMO with Jaime Hunt is one such podcast. It is a biweekly show that unpacks the tips, tricks, tools and tactics that separate the best higher-ed CMOs from the rest of the pack. Tune in to each episode as Jaime Hunt talks with other CMOs and higher-ed marketing professionals to address current issues related to the higher-ed industry.
The challenges of managing social media in higher education are often underestimated by people in leadership, leaving these talented, always-on professionals facing often overwhelming responsibilities while being under-resourced and undervalued. Listen to a recent podcast episode where Jaime talks with Allie Kuenzi, Social Media Director at UNC Charlotte, about her graduate research into the impact these roles have on the mental health of these practitioners.
3. The Servant Marketer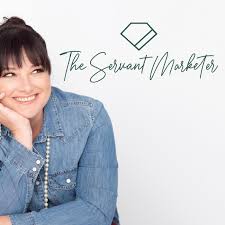 The Servant Marketer with Jenny Petty, VP of Marketing Communication at the University of Montana, a Cascade CMS client, is a podcast that explores the crossroads of Servant Leadership and the marketing profession. In this podcast, marketing leaders, marketers, entrepreneurs, academics, and creatives share their experiences in marketing, leadership, business, and education to develop a new generation of marketers that serve first.
Check out the most recent episode on overcoming perfection, sharing insights on how great leaders can attain self-awareness by embracing practice over perfection.
4. Higher Ed Marketing Lab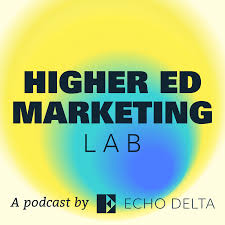 In the Higher Ed Marketing Lab, host Jarrett Smith interviews some of the brightest minds in marketing and higher education to uncover practical insights for your institution's marketing and enrollment efforts.
In a recent episode, Jarrett interviewed brand development expert Jennifer Holland, in which she argued the best way to build an enduring brand is to focus on strong alignment between organizational, marketing, and people strategies.
5. Volt Podcasts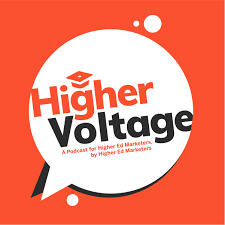 Volt podcasts cover all angles of higher ed marketing & leadership. Higher Voltage is its periodic show that covers the defining topics of the moment in higher ed. At the same time, Volt@ is a live event series that brings you conversations from conferences and other industry gatherings.
Volt's newest podcast, Trusted Voices, explores the latest news and issues facing higher-ed through a communications and leadership perspective.
Listen to the insightful episode tilted "A Marcom Conundrum: CCOs vs. CMOs." A debate on how and why to untangle the often-blended roles of chief communications officers and chief marketing officers in higher ed.
6. Higher Ed Demand Gen Podcast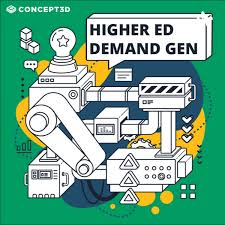 Higher Ed Demand Gen podcast offers the opportunity to listen to higher education marketing leaders share knowledge about learnings, strategies, relevant tactics and how to create demand in today's higher-ed market.
Each week, host Shiro Hatori interviews marketing experts to help his listeners navigate the currents of higher-ed marketing. In his latest episode, Shiro interviewed Brian Piper, a content marketer currently serving as the Director of Content Strategy and Assessment at the University of Rochester. Brian Piper shared his knowledge of content marketing in higher education and the outcomes that result from good content marketing.
See what you can learn today by listening to one of the episodes.
7. Higher Ed Coffee and Conversation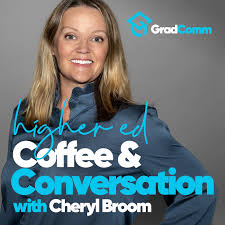 Join host Cheryl Broom each week at the Higher Ed Coffee & Conversations podcast as she sits down with higher education experts to discuss trends in marketing, communications, advancement, and student success. 
Check out the interviews with award-winning writers and editors on how to overcome writer's block and why it's important to do thorough research before you sit down to start writing, and how to create more diversity on campus through the power of communication. Let us know what you think.
8. Higher Ed Storytelling University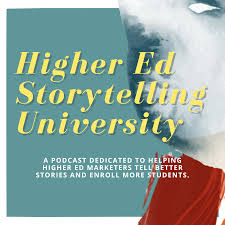 The Higher Ed Storytelling University is a podcast dedicated to helping higher-ed marketers tell better stories and enroll more students. Hosted by video producer and storytelling coach John Azoni, these episodes provide quick-win practical advice listeners can use in their marketing immediately.
Learn how to get clear on your target audience and maximize content that speaks directly to them in one of the newest podcast episodes on the Higher Ed Storytelling University
9. Office Hours with EAB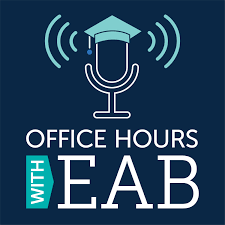 Office Hours with EAB is a new podcast to share ideas, insight, and inspiration with higher education leaders.
A recent episode titled: "Has Time Run Out on TikTok as a Marketing Tool?" explore how banning TikTok on college campuses will impact efforts to engage students, staff, and other target audiences. This is especially a timely topic in an age of influence marketing. Give it a listen.
10. College Admissions Decoded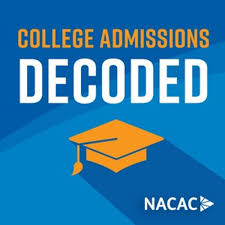 The College Admissions Decoded podcast is a great way to connect with prospective students and truly understand the process from their inside viewpoint.
This podcast, created by the National Association for College Admission Counseling, speaks directly to the source: students, parents, and families. College Admissions Decoded examines how the college admission process works for the approximately 20 million students who apply each year.
The series also spotlights how U.S. college admission can continue to progress toward more inclusivity, transparency, and service to students.
As campus visits have morphed over the last few years, explore how real prospective students think they can get the most out of their visit.
Conclusion
Podcasts allow listeners to learn, be entertained, and stay informed on the go, whether during a commute, workout, or other downtime. Podcasts offer a personalized experience, allowing listeners to choose content that aligns with their interests and preferences. The diversity of topics, hosts, and formats makes podcasts a dynamic and engaging medium.
So, as you discover new frontiers in 2023, further expanding your knowledge and growing in wisdom, consider getting swept away by one of the podcasts listed above.
Commit yourself to lifelong learning. The most valuable asset you will ever have is your mind and what you put into it. – Albert Einstein