The University of New Mexico (UNM) joined Hannon Hill and made Cascade CMS its content management system of choice several years ago. In 2020, after a successful site launch, UNM's College of Pharmacy (COP) was ready to take the next step with its web visitor experience and partnered with Clive, Hannon Hill's personalization tool, to remain relevant in the competitive pharmacy school landscape. 
COP's mission to prepare the next generation of pharmacy leaders began in 1945. It is the birthplace of board-licensed centralized radiopharmacies and is currently ranked 4th in the National Institutes of Health (NIH) funding of all US pharmacy schools.
In the early 2000s, recruiting pharmacy students was relatively easy. As a rule of thumb, if schools had an open seat in their pharmacy program, it would be filled. Fast forward to today, the competition has stiffened, and there is less than one student for every College of Pharmacy seat.
COP's website, along with the rest of its marketing efforts, has to keep up. After reviewing several strategy options and prioritizing personalization paths, COP started their website personalization journey focusing on attracting talent to their doctoral program.
COP's Personalization Story 
COP's website focuses on pharmacy, research, education, and fundraising. To avoid confusion and the alienation of page visitors, the college needed a flexible website that could address the mission areas of the college to its various stakeholders.
COP did this by instituting a flexible template structure with banner images showing different types of calls to action as seen below, which not only shows different rich media, but relevant headlines and buttons to provide a guided experience.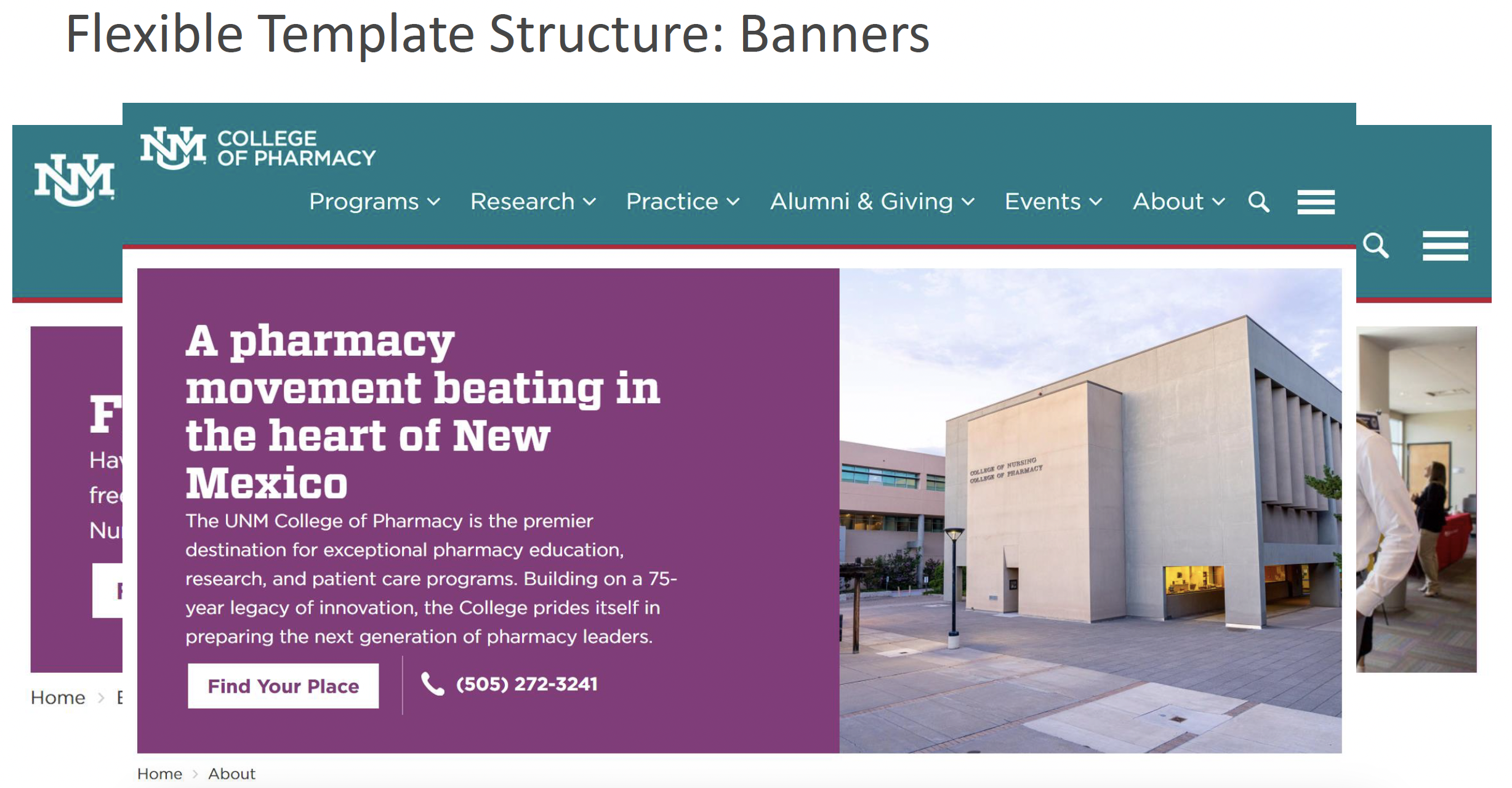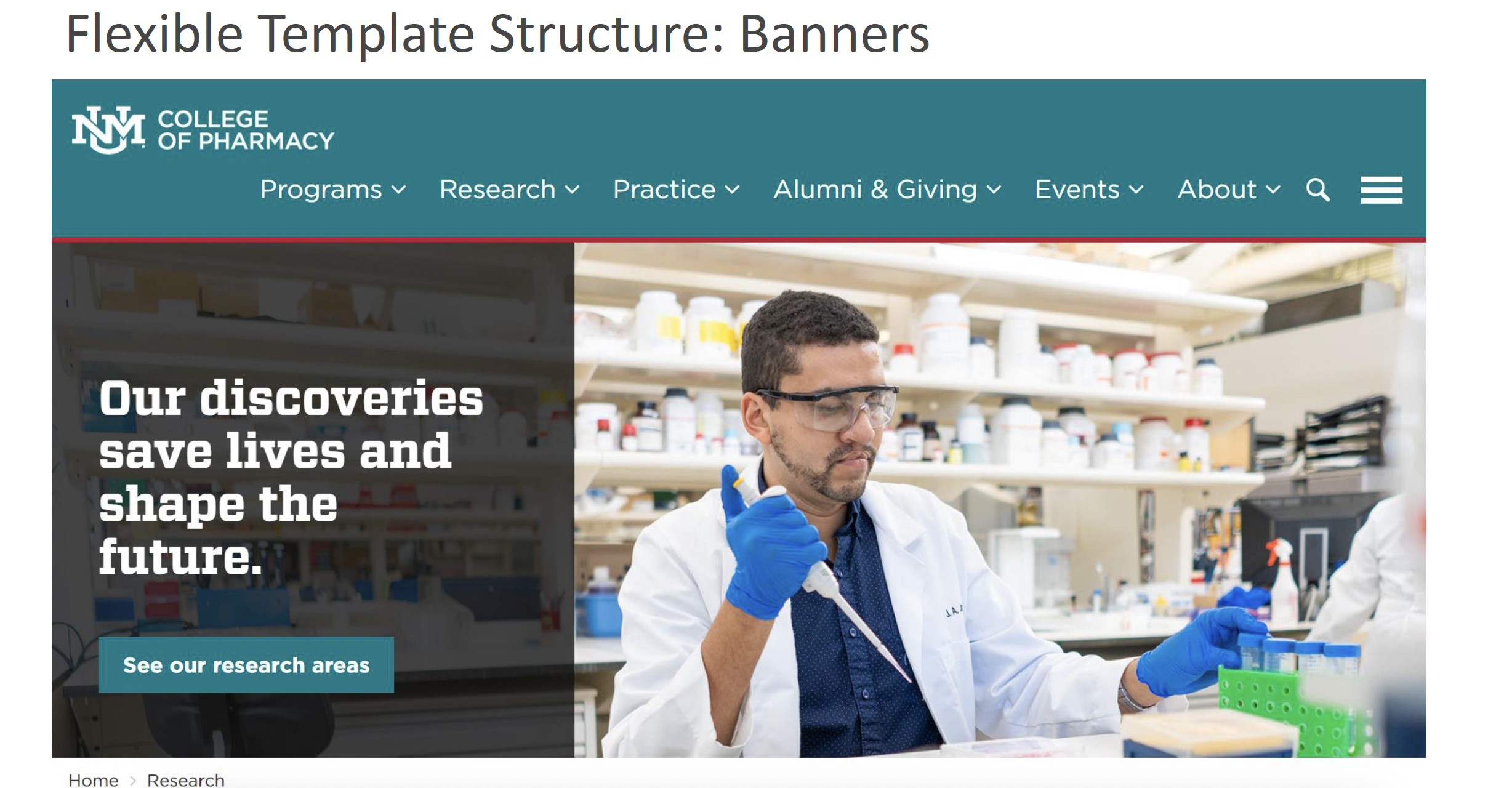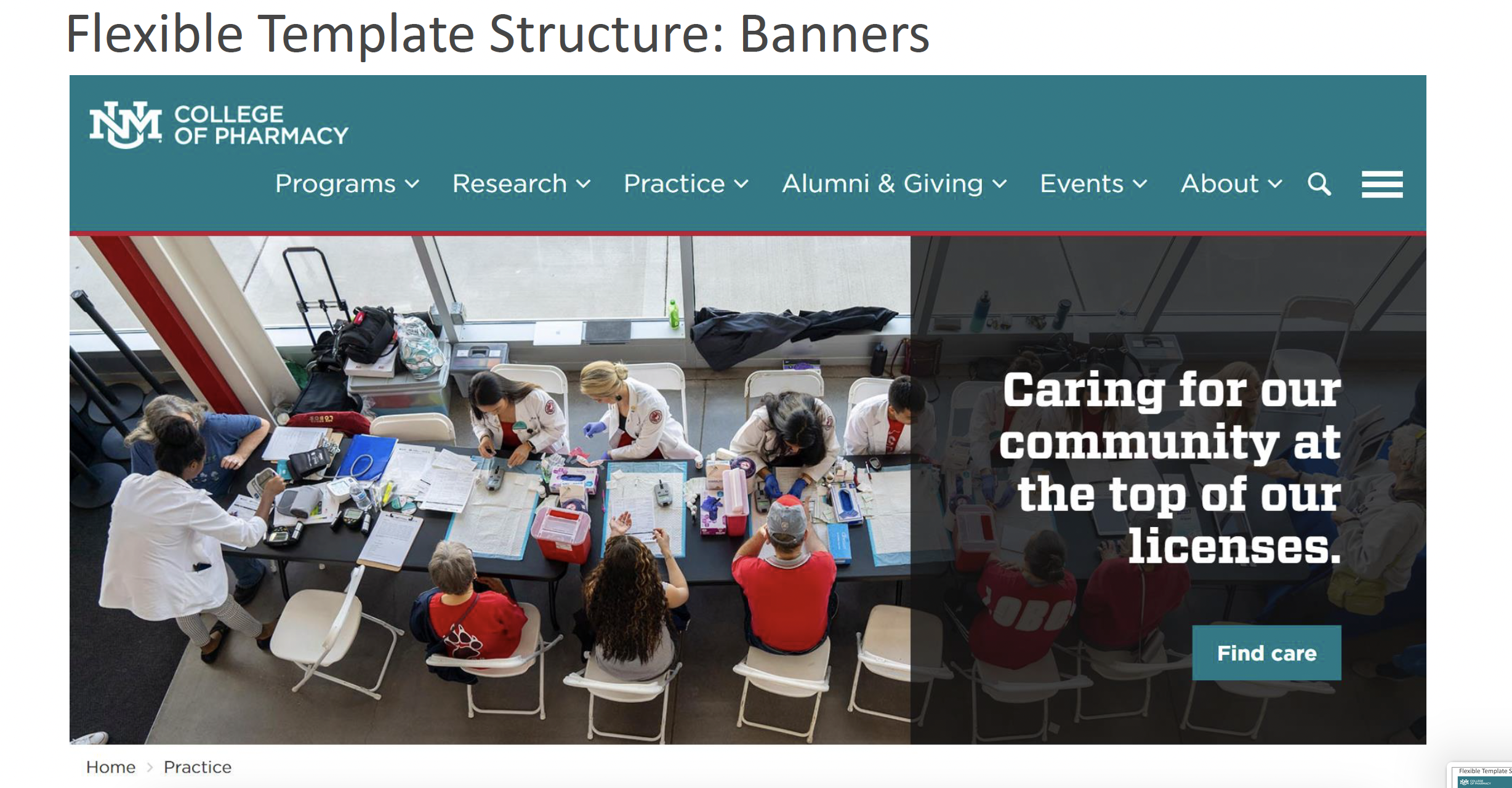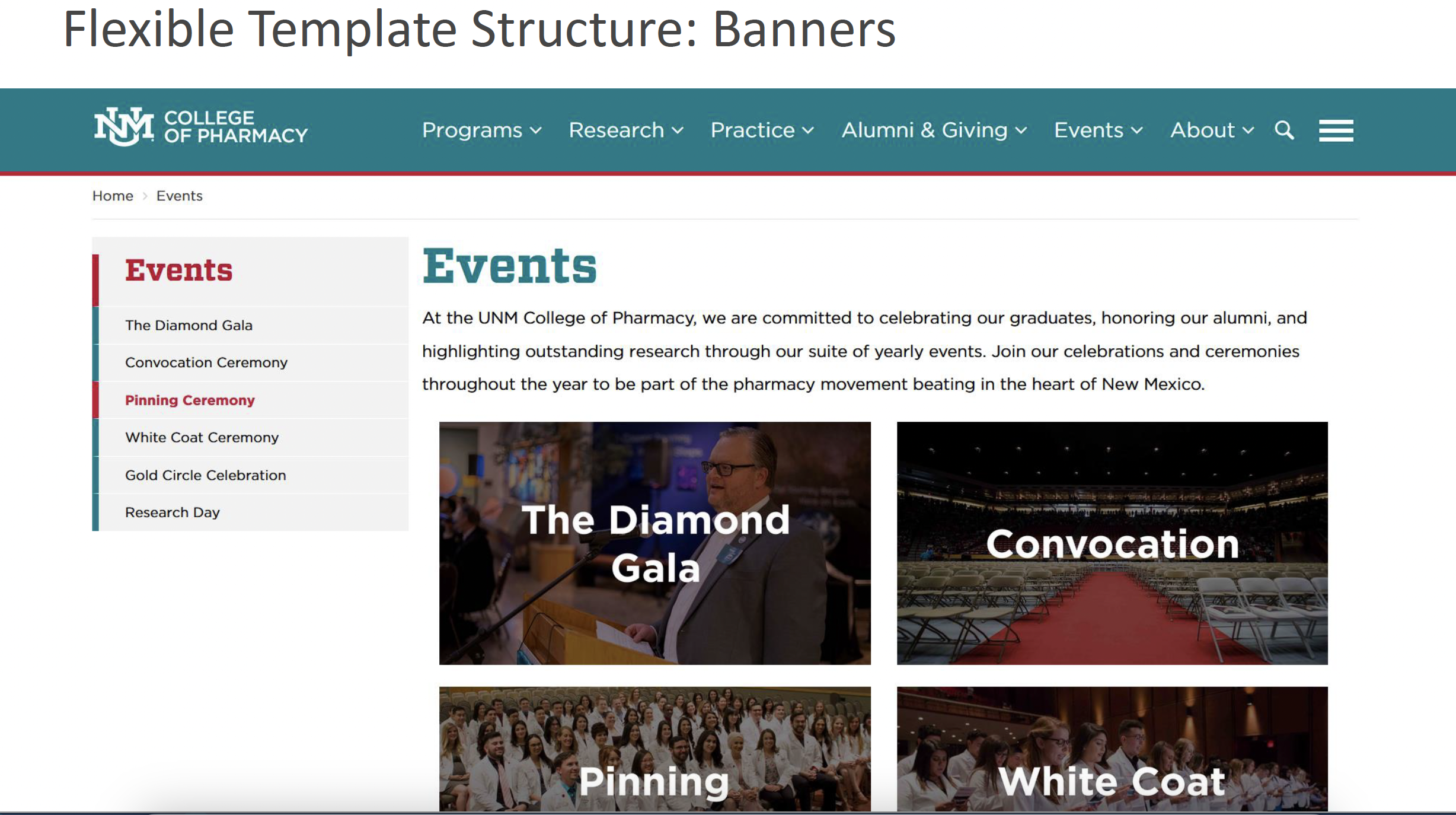 After implementing Clive's smart content, COP saw a measurable uptick in admissions, including a 24% increase in applications and a 16% increase in student enrollment in the Fall of 2021, while applications across the country were down 0.9%.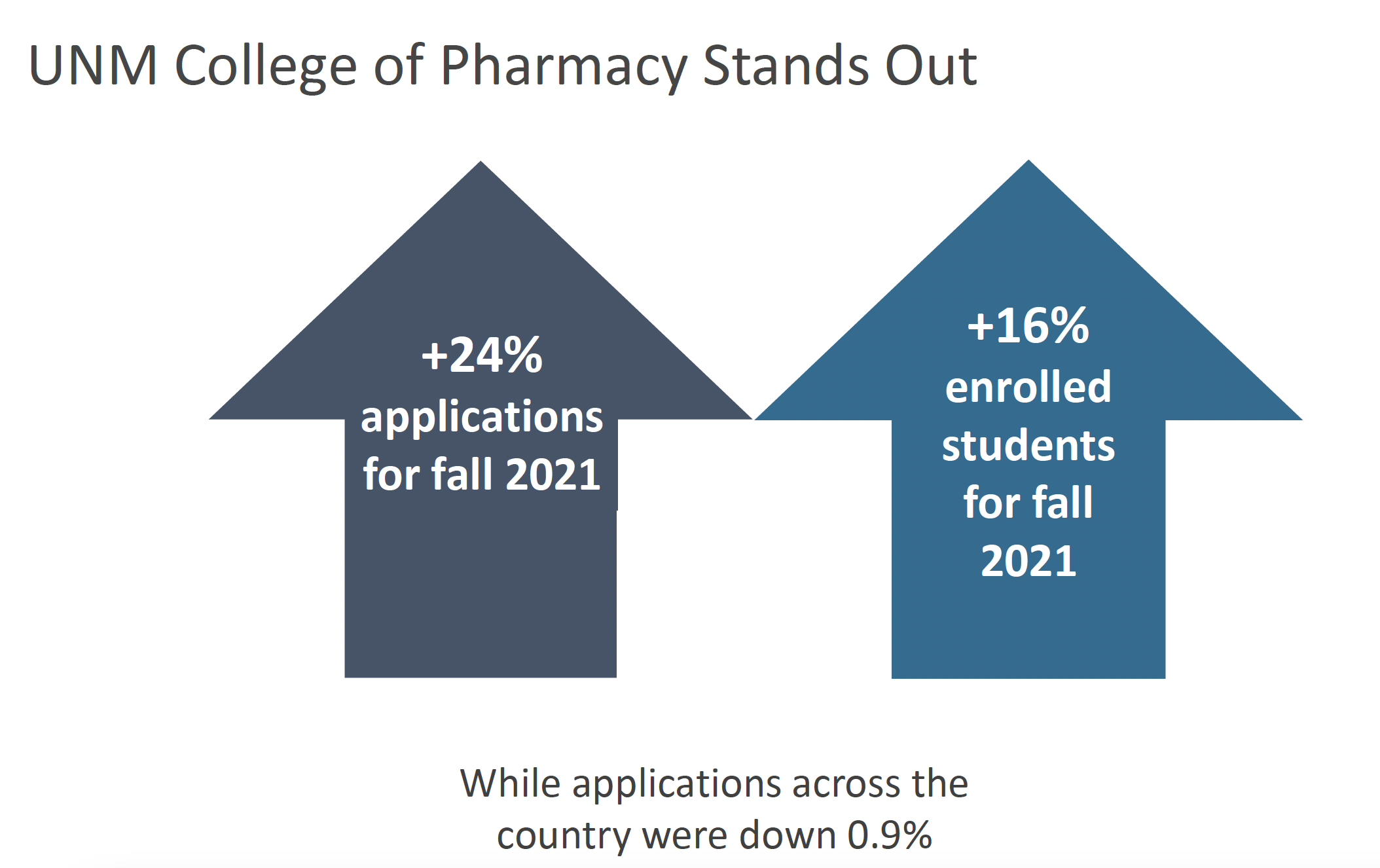 Future Personalization Plans
Because of the positive impact COP has seen during its initial trial with Clive, the college decided to roll out a plan to further personalize the visitor experience on its website, starting with its PharmD program by offering an "a-la-carte" web experience to give prospective students what they care about.
COP's goal is to provide a customized visitor experience to encourage applicants through content that motivates prospects using different personals by:
In-state students
Out-of-state students
Traditional students
Non-traditional students
The Importance of Knowing One's Audience
To get to know the different personas, COP scheduled focus groups and surveyed recent applicants in early 2023 to determine what they enjoyed about their initial experience with the college's website and why they chose COP.
Moving forward, COP will use the feedback received and implement it into their Clive strategy to provide a tailored experience to its prospective PharmD students. Then, they will track what worked and further improve the college's personalized web experiences and present its program in a way that will resonate with students who are looking for only what's important to them, such as:
Tuition
Scholarships
Experience
Geographical location
Practice modality for pharmacists
Personalization in Action 
In collaboration with our strategic partner, Stamats, COP charted out their strategy and different kinds of personalization by determining:  
Who needs to see the content
What content visitors needed to see
Where visitors would see the content
When visitors would see the content
The team considered two paths:
In-State vs. Out-of state
PharmD prospects
The following steps explain the strategic personalization process COP and Stamats created: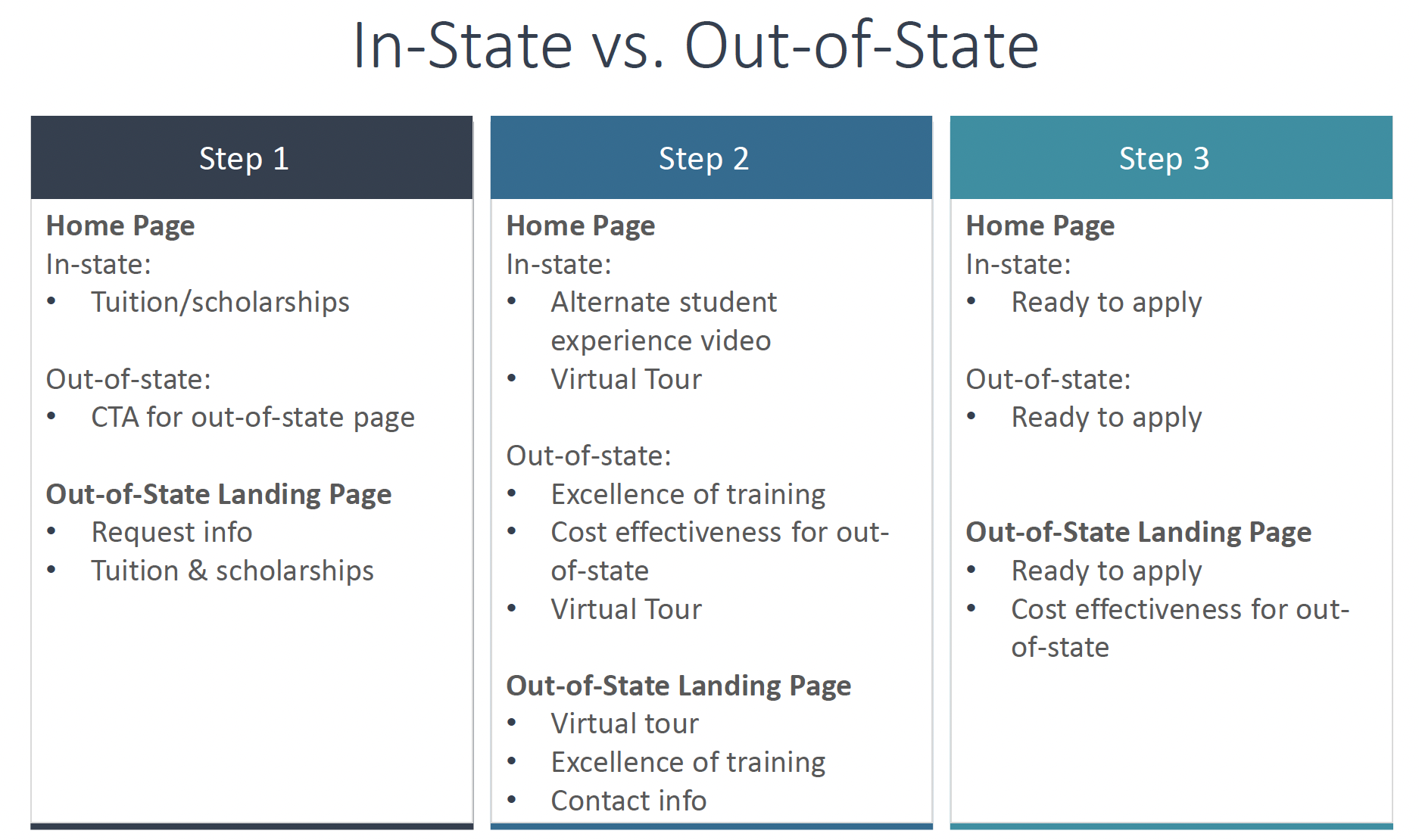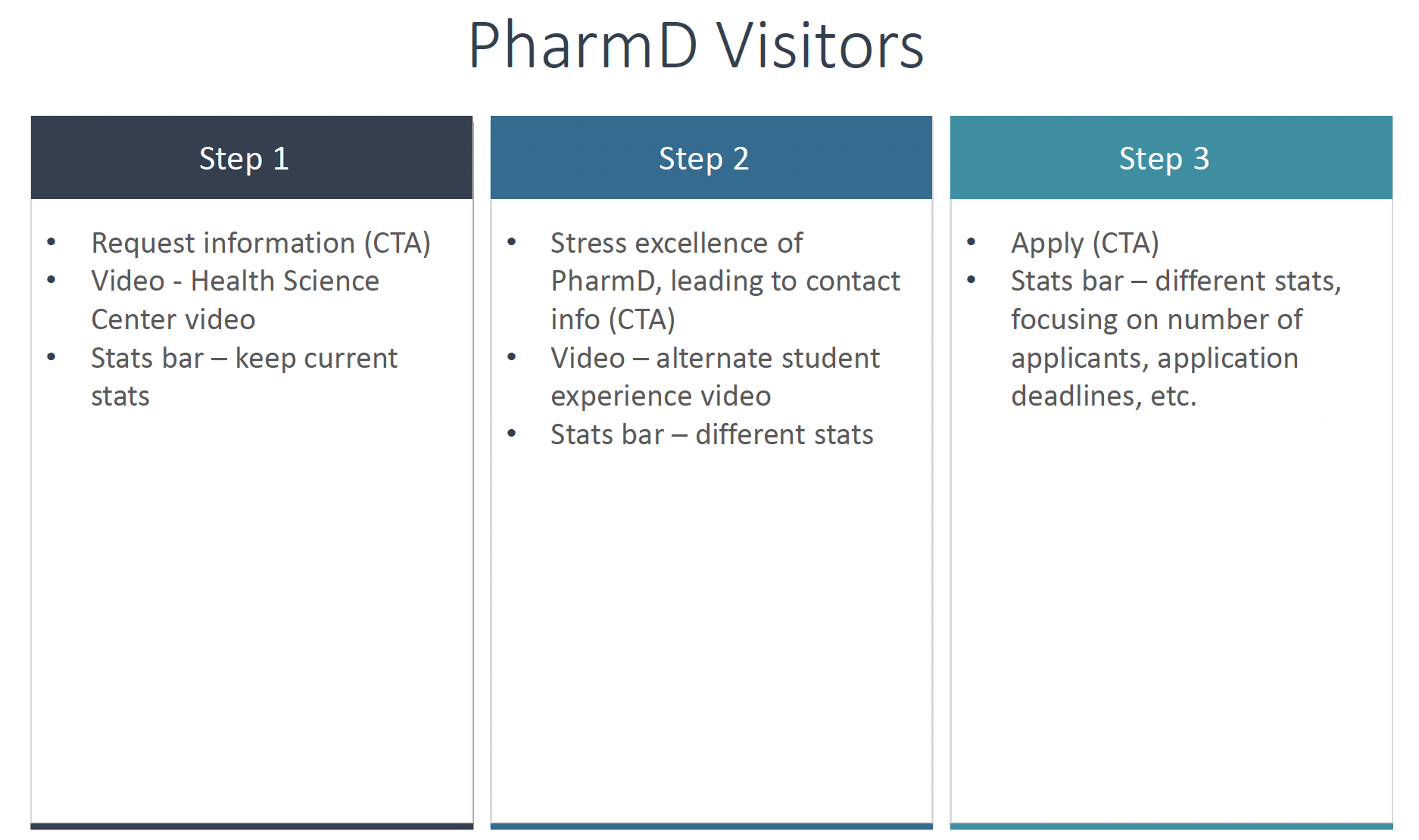 Setting up the personalization process is similar to that of an email drip campaign to define the path of a given campaign. If a prospective student follows an action, then a particular piece of customized content appears. For example:
When prospective students initially visit the PharmD page, they see a custom page presenting a "Request Info" call to action box.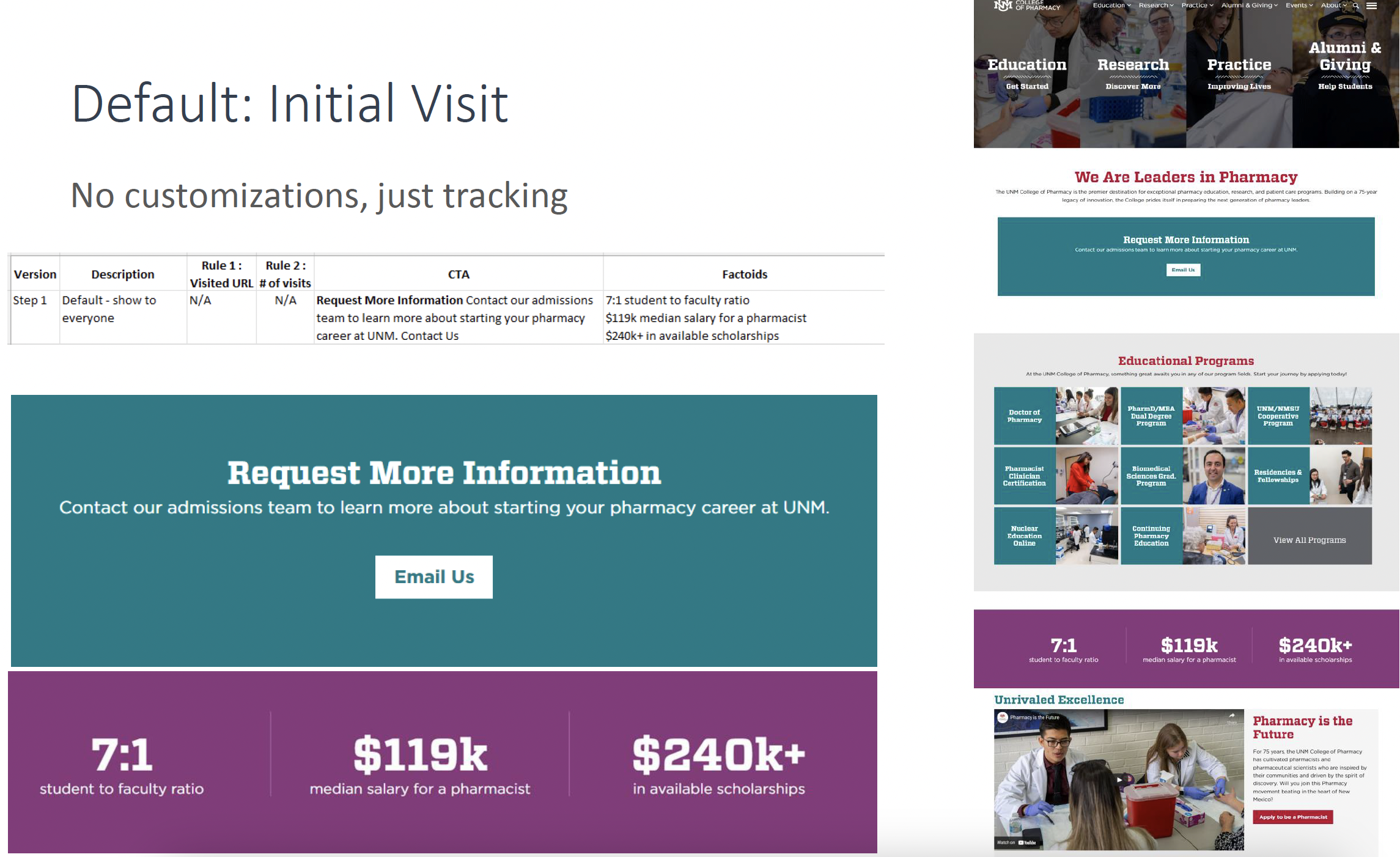 After their initial visit, the content on the page changes and shows video and other information that stresses the excellence of COP's PharmD program.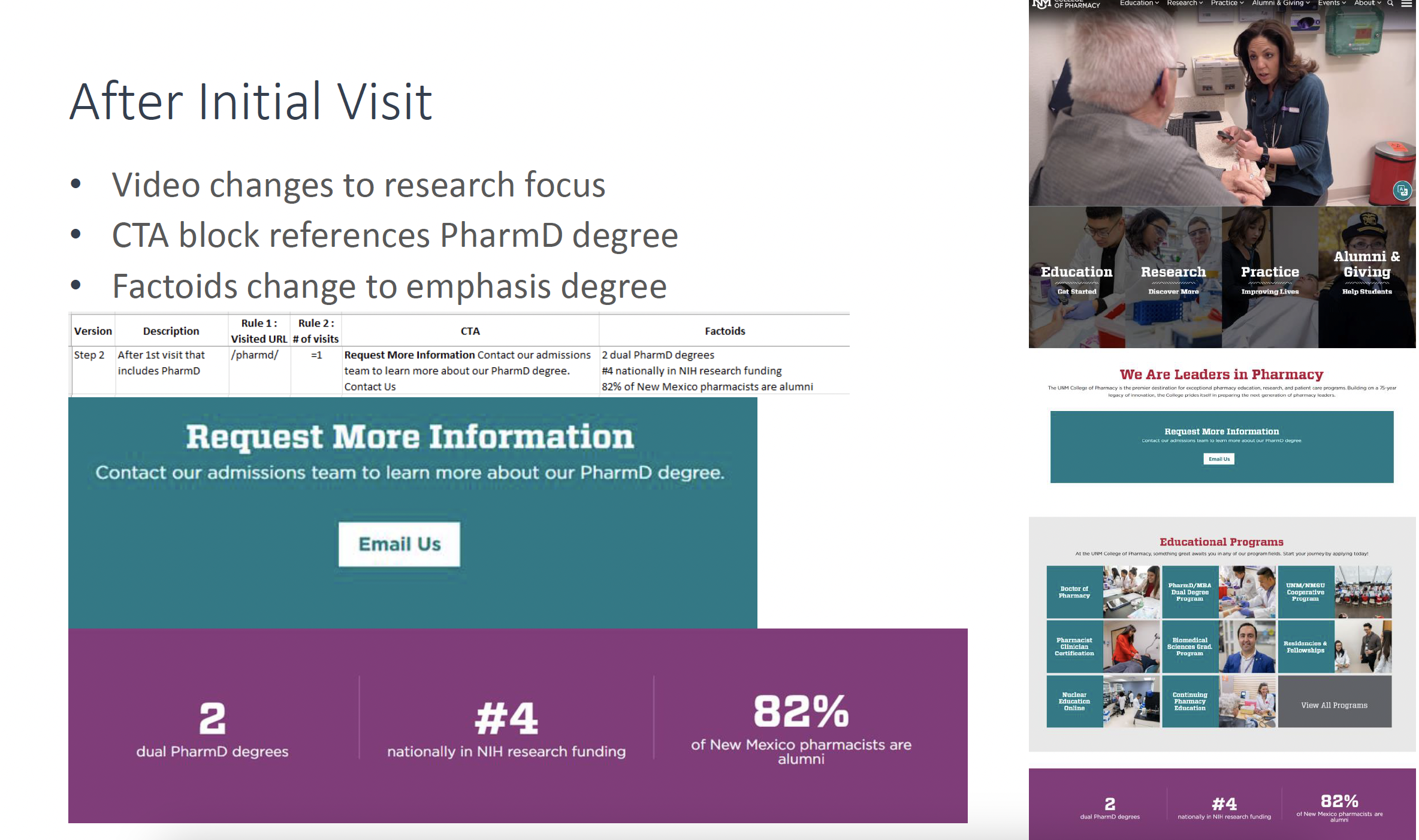 On their third visit, the experience becomes increasingly emotional and creates a visitor experience that encourages the prospective student to "take the next steps," as seen in the changed CTA button.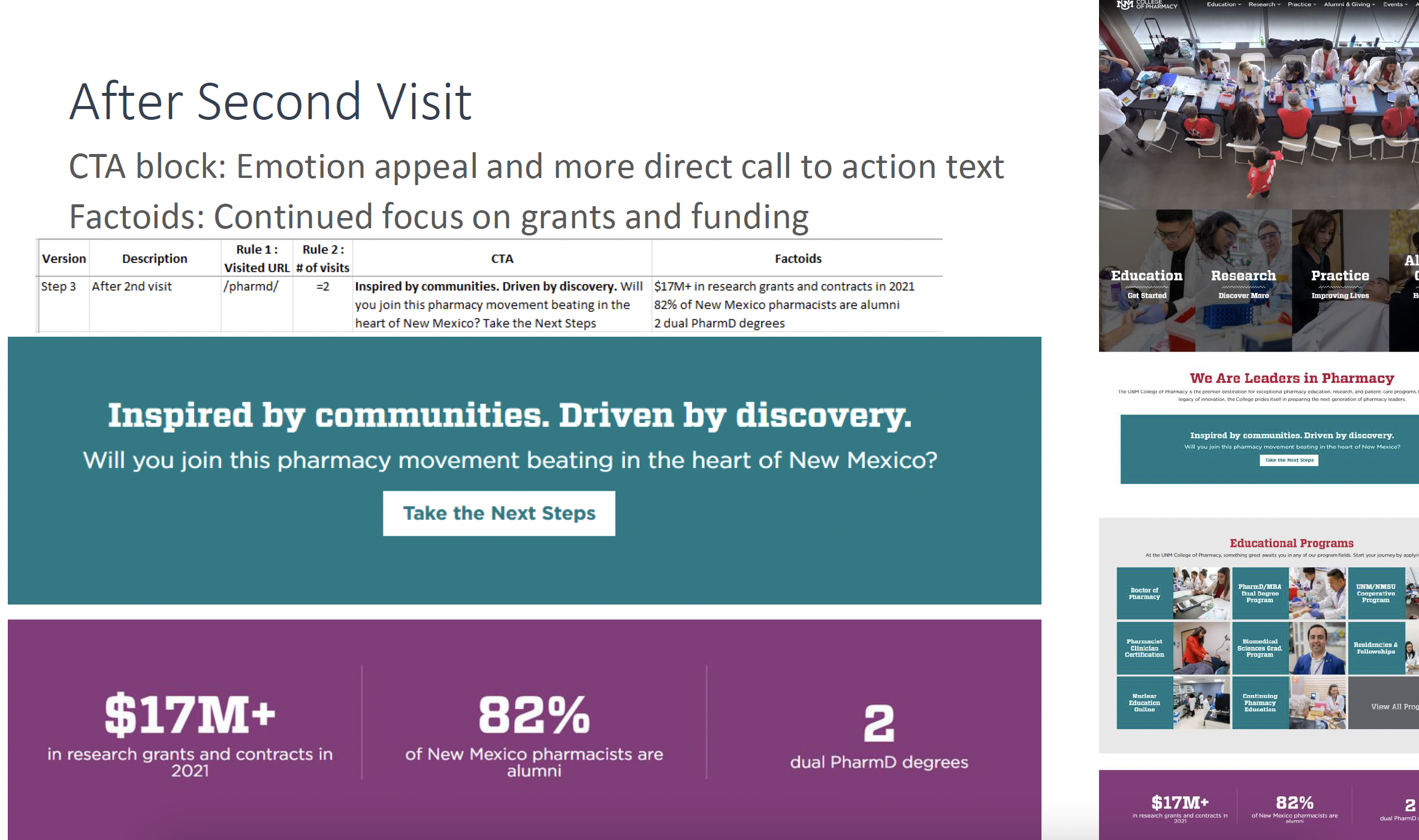 Finally, on the prospect's fourth visit, if they haven't applied yet, an even greater emphasis is put on the school's emotional appeal, talking about the "endless opportunities" within the program or the results of the education received, urging prospects to start their application.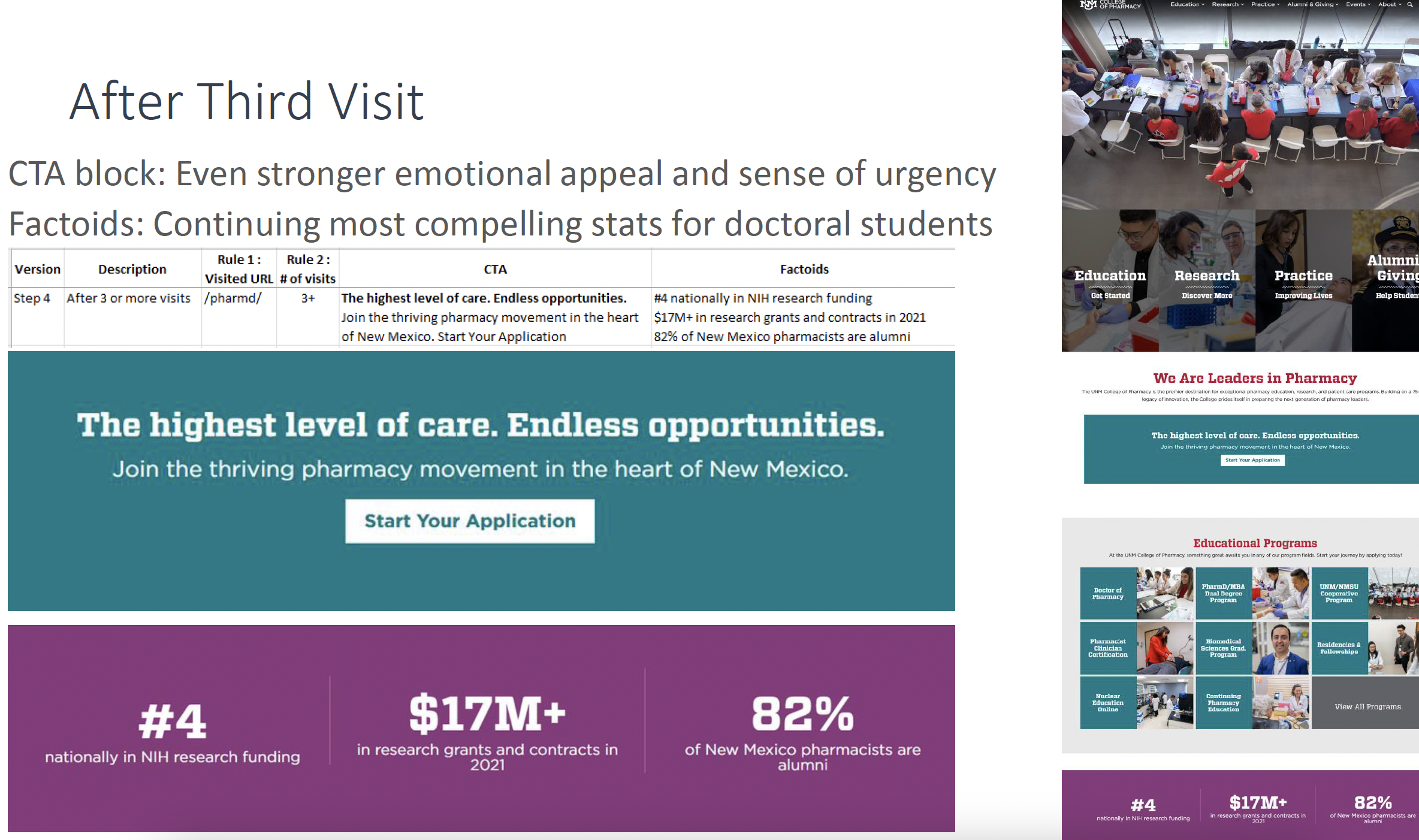 Conclusion
Higher education is in a transitional phase, and the upcoming enrollment cliff presents a significant challenge for universities as institutions strive to maintain enrollment and financial stability in an ever-changing higher education landscape.
To address this challenge, universities must adapt and innovate.
One way to innovate is to harness the power of website personalization and use it to increase enrollment as outlined in UNM COP's customer spotlight above.
Start your personalization journey today and inquire about how Clive can help your institution show the right content to the right audience at the right time by completing the form below:
---