By Graham Lewis — May 4, 2023 11:00 AM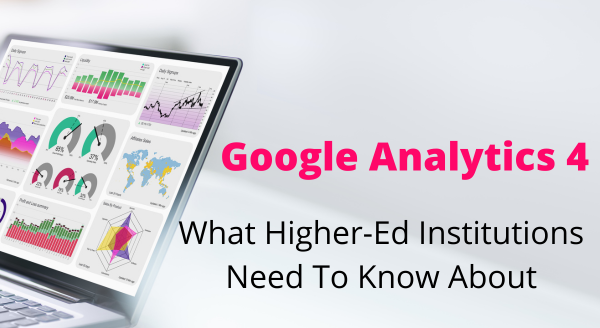 As technology continues to revolutionize the education industry, universities and colleges must ensure that they make data-driven decisions to stay competitive.
One way to stay competitive is by harnessing the power of Google Analytics and its ability to track and analyze website traffic, user behavior, and marketing campaigns.
Google Analytics is an essential tool for higher education institutions looking to optimize their online presence.
In this blog post, we'll explore why transitioning to Google Analytics 4 (GA4) is essential, how to make the transition, and how it can help institutions achieve their goals.
What's New in Google Analytics 4
Come July 1, 2023, Google's standard Universal Analytics properties will stop processing data, which means to track website analytics, you must be on Google's next-generation measurement solution, GA4.
GA4 comes with a lot of improvements and new features that set it apart from Universal Analytics:
Why Higher-Ed Institutions Should Care About GA4
Data-driven decision-making can do wonders for higher education institutions. Here are just a few of the reasons why you should prioritize the switch to GA4 before the deadline on July 1, 2023:
Enhancing student engagement and retention strategies:
Using the advanced data analysis capabilities of GA4, you can gain insights into both a students behavior and their preferences, which will allow you to design more effective engagement and retention strategies in your content strategies.
Optimizing marketing and recruitment efforts:
GA4's integration with Google Ads and its cross-platform tracking capabilities can help institutions optimize their marketing campaigns, targeting prospective students more effectively and improving their overall recruitment efforts.
Understanding cross-platform user behavior:
GA4 provides a more comprehensive view of user behavior across different channels and platforms, allowing higher education institutions to better understand their audience and tailor their digital presence accordingly.
Preparing for the Switch: A Step-by-Step Guide
The switch from Universal Analytics to GA4 is very straightforward. To ensure that your transition is successful, follow these steps:
Setting up a GA4 property:
Begin by creating a new GA4 property alongside your existing Universal Analytics property. Once the GA4 property is created, implement the GA4 tracking code on your website to begin collecting data.
Familiarizing yourself with the new GA4 interface:
Take the time to explore the updated reporting structure and familiarize yourself with new terminology and concepts.
Train your team on GA4:
Making sure your team members are up-to-date on the terminology is going to be key. As a team, explore the new interface and talk through the terminology so that when you complete the transition, it will go smoothly.
Developing a data-driven strategy for your institution:
Since your institution is currently using Universal Analytic, using your current metrics and goals, you will be able to utilize the advanced features offered by GA4 to support these goals, enabling your institution to make more informed decisions.
Ensuring a Smooth Transition
In order to guarantee a seamless transition to GA4, consider the following recommendations:
Running GA4 alongside Universal Analytics: During the transition period, maintain both GA4 and Universal Analytics properties simultaneously. This approach allows you to monitor and compare data between the two platforms, ensuring that you have a comprehensive understanding of any discrepancies or differences in data reporting.
Monitoring and comparing data: Regularly review the data collected by both GA4 and Universal Analytics to identify any inconsistencies or anomalies. By comparing the data between the two platforms, you can make any necessary adjustments to your data collection and analysis processes, ensuring a smoother transition to GA4.
Addressing discrepancies and making adjustments as needed: If you discover any discrepancies or issues in the data, take the time to investigate and resolve them. This may involve refining your data collection methods, adjusting your website's tracking code, or seeking guidance from experts in the field. By addressing these discrepancies early on, you can avoid potential complications during the transition to GA4.
Conclusion
The switch to Google Analytics 4 presents a valuable opportunity for higher education institutions to enhance their data-driven decision-making processes. By understanding the new features and benefits offered by GA4, higher-ed institutions can better prepare for the transition and ensure they are well-equipped to make the most of this powerful analytics tool.
Remember, come July 1, 2023, Google's standard Universal Analytics properties will stop processing data, which means to track website analytics, you must be on Google's next-generation measurement solution, GA4.
To learn more about how the GA4 switch can positively affect higher-ed institution, our team hosted a panel discussion with other higher-ed experts on May 18, 2023. To learn how institutions can leverage the GA4 updates to optimize tracking and drive success for educational institutions, watch the discussion on demand by registering through the link below.