By Chris Rapozo — Jun 1, 2023 11:00 AM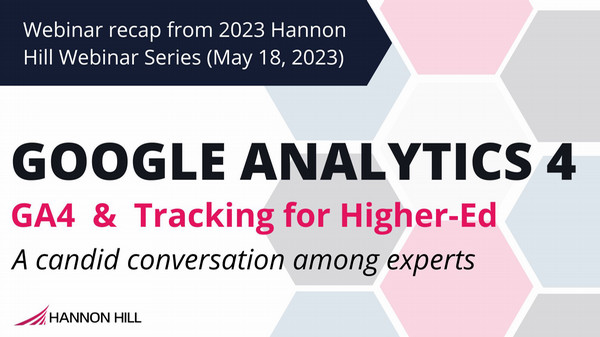 Google's standard Universal Analytics (UA) properties will stop processing data on July 1, 2023, and launch Google's next-generation measurement solution, Google Analytics 4 (GA4).
To commemorate this important event and remind higher-ed web and marketing professionals about it, Hannon Hill and Beacon Technologies joined forces in a panel discussion to inform how colleges and universities can leverage Google's latest updates to optimize website tracking and drive success for their educational institutions.
Troy Singer, co-host of The Higher Ed Marketer Podcast, moderated the round table discussion along with panelists, including:
- Andrea Cole, VP of Digital Optimization, Beacon Technologies
- Graham Lewis, Senior Sales Engineer, Hannon Hill
- Jordan Burleson, VP of Digital Advertising, Beacon Technologies
- Christy Phillips, VP of Project Management Office, Beacon Technologies
- Chris Rapozo: Marketing Specialist, Hannon Hill
The discussion touched on the following key points:
The difference between UA and GA4, and a little bit of Google Tag Manager
Why GA4 is a hot topic right now and the benefits of proper website analytics
Common tracking and analytics issues seen on Higher-Ed Websites
Why is Cascade CMS important in this conversation?
The following is a summary of some of the key takeaways from the discussion. We strongly encourage everyone to watch the panel discussion on demand to get the full benefits of the webinar. 
The difference between UA and GA4, and a little bit of Google Tag Manager
Hannon Hill's Marketing Specialist, Chris Rapozo, kicked off the discussion by explaining the differences between GA4, UA, as well as Google Tag Manager and focused on three key differences:
Data Collection
Cross Platform Tracking
Session Calculations 
Data Collection 
When it comes to data collection, UA uses the following data model:
User (which is a browser-marked by a GA cookie)
Sessions
Hit
When a user arrives on a website, UA starts a session, then records each action a user takes as "HITS." These actions are in the form of page views or button clicks.
A single session can contain multiple hits, depending on how a user interacts with your website.
GA4, on the other hand, is an Event-based model. Each interaction/hit is a stand-alone event (pageview, button click, user engagement). This gives GA4 much more flexibility and accuracy when tracking user behavior.
Cross platform tracking
As for cross-platform tracking, with Universal Analytics, there were two kinds of properties:
UA for measuring websites
GA for Firebase, which measures mobile app activity. 
GA4 offers a cross-platform journey, giving users the ability to track visitors across different platforms (website, iOS app, Android app, etc.) if the website offers a user login to create a user id.
How are website visitors identified in GA4?
User-ID: If you create your own IDs for signed-in users, you can use this data to accurately measure user journeys across devices.
Google signals, which use data from users who are signed in to their Google account.
Device ID: comes from the user's browser marked by a GA cookie.
Session Calculations
In UA, a session represents the period of time that a user is actively engaged with a site. There are a few things that end a session in UA: 
30 minutes of inactivity
The clock passing midnight (resulting in a new session)
The user leaves a site, then comes back to the site (new session started)
In GA4:
Similar to UA, a session ends after 30 minutes of inactivity if you're on the page. If you have a tab open but not actively on the page, GA4 detects that the browser window isn't open and stops the timer. 
But sessions can now carry over across midnight, not automatically starting a new session.

That's especially relevant if you have a global audience because starting a new session after midnight can cause discrepancies in the Session figures.
Beacon's VP of Digital Optimization, Andrea Cole, added her thoughts to the difference outlined above, added the use of machine learning, the privacy concerns that prompted the switch and touched on the relevancy of Google Tag Manager in higher-ed web strategies.
Google Tag Manager (GTM) is like a toolbox for your website that helps manage different tools such as GA, Adwords, or Facebook Pixel without manually adding code to one's website for each tool.
In fact, GTM users only have to add one single code to their websites. The rest is managed in the GTM dashboard. GTM helps non-technical users to make changes to their website tracking without needing the involvement of developers.
Utilizing GTM is a more secure and efficient way to manage website analytics, heat tracking, or surveys, to name just a few of the many options GTM can help track website activities.
Why GA4 is a hot topic right now and the benefits of proper website analytics
If you're reading this before July 1, 2023, you've seen the red banner atop your UA dashboard prompting you to either set up GA4 or complete your GA4 property setup.
As previously mentioned, Google's standard Universal Analytics will stop processing data and only process GA4, which means that all the UA codes on websites will no longer send data to UA.
"If you don't have GA running, you're going to be flying blind on your web analytics," explains Andrea Cole..
Google strongly recommends users to manually migrate Universal Analytics settings to GA4. 
If users do nothing, a new GA4 property will automatically be created for them, and their Universal Analytics configurations will be copied to the new GA4 property.
You'll have at least 6 months (this is not a set date) to export your Universal GA data before it's permanently deleted.
When it comes to the benefits of utilizing GA4 with website analytics, several advantages come to mind, such as:
Understaining Path exploration
The pathways in GA4 help higher-ed marketers and web professionals better understand the prospect's journey and visualize the flow users take on your website. From awareness to consideration to evaluation, all the way to enrollment. This helps to create hypophysis to optimize those steps, leading to the following:  
Data-driven decision-making
Enhanced operational efficiency
Improved student recruitment and retention 
Cross-platform tracking
Cross-platform tracking helps measure all the interactions people have with an institution across devices and platforms (i.e., websites & apps), giving users a complete, relevant, and timely understanding of a student's journey.
Data-driven decision making
A lot of what encompasses higher-education institutions is based on research; thus, it only makes sense to include data-driven decisions during the enrollment marketing process.
A properly set-up digital analytics can help higher-ed institutions identify micro trends that otherwise would have been missed, alleviate website decisions made on assumptions or preferences by web professionals and drive decisions based on visitor behavior.
Common tracking and analytics issues seen on Higher-Ed Websites
Some common tracking and analytic issues the Beacon team observed working closely with higher-ed clients come from the lack of a good site architecture and content design to understand which audience uses what part of the website to better understand how to segment audiences and get the full power of GA.
Not having enough conversion points, such as clickable phone numbers, email links, "apply" calls to action buttons, or contact forms, also hinder colleges and universities from understanding site traffic and using it to their advantage fully. 
Taking a more high-level overview of tracking issues at large in higher ed promoted the mentioning of an EDUCAUSE Center for Applied Research paper, which revealed that higher-ed institutions track more data than ever before.
But what kind of data?
The data tracked by colleges and universities often focus on statistics that satisfy credentialing or reporting requirements rather than strategic marketing-related questions. Analytics is mostly used in areas of enrollment management, student progress, and institutional finances. 
The reasoning behind this approach links primarily to cost. Higher-ed institutions see analytics as an expensive endeavor rather than an investment. Investing in an in-house analytics professional or outsourcing it to a vendor to collect and translate data for the institution can be a barrier for some schools.
However, trying to preserve resources or allocating them to other venus bares certain opportunity costs, including:
Inaccurate or incomplete data collection:

This can happen if Google Analytics tracking codes are not properly implemented on every page of the institution's website.
Cross-domain tracking issues:

Many higher education institutions have multiple domains and subdomains that may turn into gray areas if not properly linked. 
Difficulty tracking multiple audiences:

Prospective students, current students, faculty, and alumni. Segmenting and tracking these different user groups can be challenging if one is not familiar with the GA platform.

Underutilization of Google Analytics features.

We don't know what we don't know, which results in a lack of insights into user behavior, especially relevant with the upcoming demographic cliff, requiring higher-ed institutions to prioritize efforts to demographics and geographical locations previously not tapped into.
Why is Cascade CMS important in this conversation?
The combination of a great content management system, such as Cascade CMS and Google Analytics, can help colleges and universities optimize their website's performance, improve user experience, and provide meaningful insights into audience behaviors and preferences.
This information can help inform content and marketing strategies, leading to increased engagement, conversions, and, ultimately, student enrollment. 
"Having a good content management system is vital to the higher-ed analytics strategies," says Graham Lewis, Hannon Hill's Senior Sales Engineer. "You need to make sure that you have a CMS that makes it easy for content contributors to not only create the content but also share that content among all of the other pages in the system." 
A great CMS enables end users to ensure brand consistency on all of the pages across a university's website and should allow for content contributors to easily update that content.
Conclusion
As the data collection landscape evolves, the migration from Google's UA to GA4 underscores a significant shift in understanding and utilizing data.
The panel discussion by experts from Hannon Hill and Beacon Technologies provided critical insights into the differences between UA and GA4, the importance of Google Tag Manager, and why GA4 is imperative for higher education institutions to maintain and improve their web analytics.
The panel highlighted common tracking issues in higher education, demonstrating the need for robust analytics strategies to thoroughly understand the user journey. 
Institutions must embrace a more strategic and analytical approach to data, focusing less on credentialing and more on strategic marketing-related queries.
This paradigm shift in mindset will enable them to leverage GA4's benefits, such as improved cross-platform tracking and data-driven decision-making, leading to improved student recruitment and retention.
The use of a high-quality CMS like Cascade CMS is instrumental in this process, aiding the efficient management of digital content and enabling the easy integration and application of GA4.
The move to GA4 and an effective CMS can equip higher-ed institutions with a powerful toolset for improved data collection, superior analytics, and more strategic decision-making, ultimately enhancing their success in an increasingly digital world.
Watch the complete panel discussion on demand on our YouTube channel today.